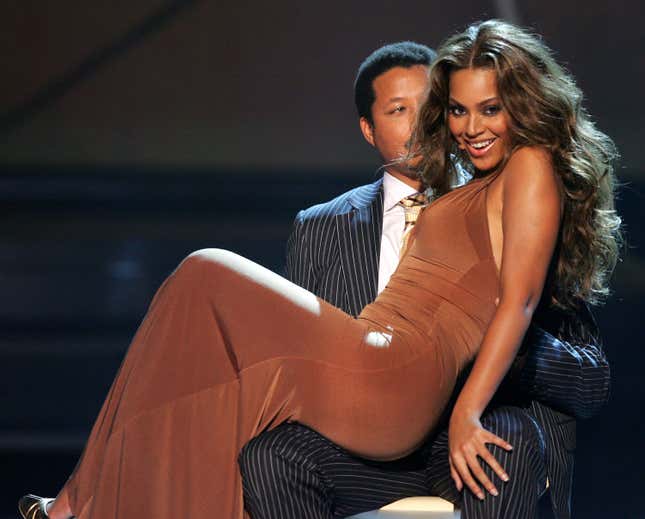 We've been blessed to see another June and with this month comes the blackest night in television. Yup, that's right, it's time we gather around as a family and tune into the BET Awards!

Fighting "Lie-abetes": How To Spot And Combat Disinformation and Conspiracies In Politics | The 411: Part 2
Since 2001 (yes it has been 18 whole entire years), BET has been celebrating the best in our industry, because we all know that no one can celebrate us like we can. The network has made us laugh, cry and question their choices, but even through all of this, we all tune in and show support because that's what you do for family.
In almost two decades, BET has given us some truly memorable moments. So, kick off your shoes and relax your feet, because we're going to take a walk down memory lane and recap some of the best moments in BET Awards' History.
Whitney Houston's Lifetime Achievement Award
In 2001, in Las Vegas, BET paid tribute to actor, producer and the voice known as Whitney Houston with its inaugural Lifetime Achievement Award. "I have to say, Whitney Houston is the truth," said Babyface after Houston got on that stage and reminded the audience of why she'll always be the voice.

Fugees Reunion
It goes without question that the Fugees gave us hits that stick like grits. Sidebar: before you start a grits debate, let me utter that I feel they all belong in the trash. Now, back to the topic at hand: Whether you were ready or not, the Fugees came on stage in 2005 to take us on a journey through the past. It's unclear if Lauryn Hill was punctual for this performance, but she showed up and delivered the classics that made you fall in love with her.
Beyoncé Makes Her Solo Debut With 'Crazy In Love'
Two years after its BET's inaugural show, Beyoncé made her solo debut with "Crazy In Love." It's now 2019 and you can't help but do the "uh oh, uh oh" dance when the spirit of Beyoncé takes over your being. The stage was illuminated with her name in lights and it was evident that we were witnessing the birth of a legend. Equipped with vocals, an ever-powerful fan and her future husband, Beyoncé indeed left us crazy in love with her talent.
Mo'Nique Channels Her Inner Beyoncé
Thanks to Mo'Nique, since 2004, the BET Awards stage has never been the same. At this point in history, BET has had many of us glued to our television screens. They had some of us running home after school to make sure we counted down the top hits with Free & AJ on 106 & Park and also blessed us with the gift that was Cita's World. In 2003, BET was in its prime and it comes as no surprise that Mo'Nique got on that stage and delivered a Beyoncé inspired performance worthy of the King of Music herself. Armed with a host of body positive women, Mo'Nique made that stage her own and showed that you can't place her in a box. On that night, the bar was set high for all future hosts to come.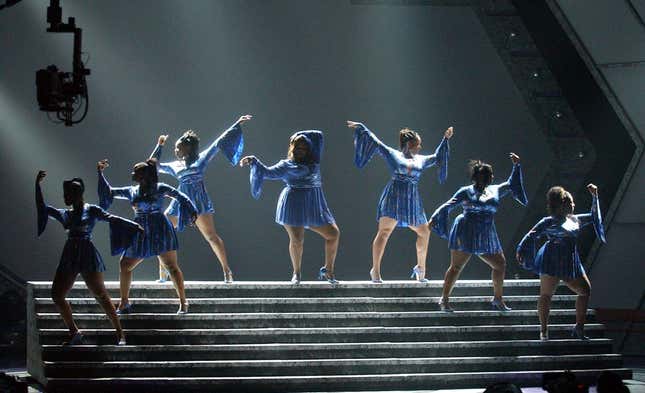 Destiny's Child 'Cater 2 You' Performance
Destiny's Children, as I so affectionately call them, have been through many versions, but with each iteration, they have continued to deliver songs that have stood the test of time. In 2005, the ladies graced the stage with their melodic voices and performed their sensual bop "Cater 2 U." This performance not only entertained the masses, but it changed the lives of Terrence Howard, Nelly, and Magic Johnson. The song was a track off of their Destiny Fulfilled album and it goes without question that the destiny of these three men was fulfilled, because how can you upgrade from Beyoncé, Kelly, and Michelle dancing upon your person?

Janet Jackson on the Passing of Michael Jackson
"My entire family wanted to be here tonight, but it was just too painful," said an emotional Janet Jackson when she took the stage in 2009 to speak on the passing of her brother, Michael Jackson. "To you, Michael was an icon, but to us, Michael is family and he will forever live in all of our hearts," said Jackson. Presumably fighting back tears, she thanked Michael's fans for their outpouring of love and support through this hard time for the Jacksons.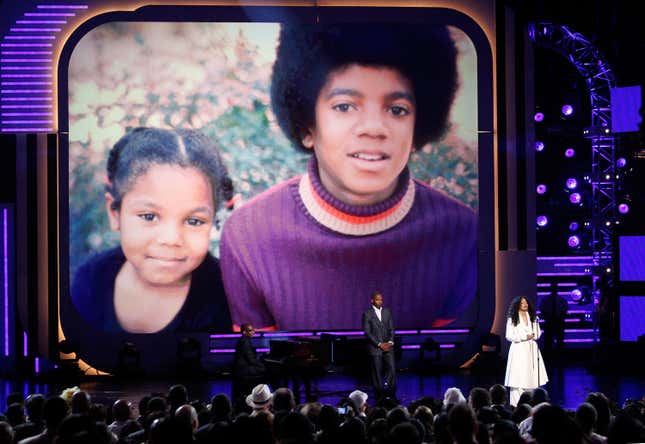 Prince Tribute
He was the artist formerly known as Prince. He blurred the lines, made the crooked straight. Prince made you question everything you knew, then dance it off. Prince was a once-in-a-lifetime iconic artist. A trendsetter. A revolutionary, never to be paralleled. Thus, it was only right that BET honored him with the Lifetime Achievement Award in 2010. In front of the Purple One himself, Janelle Monae, Alicia Keys, Esperanza Spalding and musical and culinary legend Patti LaBelle paid tribute to the man who impacted so many of our lives. During the tribute, the culinary legend caught the spirit and kicked off her shoe to pay proper respect to Prince's talent.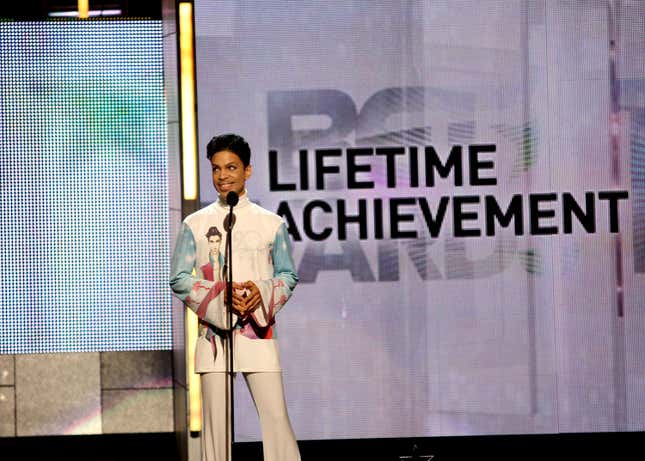 Jesse Williams Acceptance Speech
"This award is for those who believe that a system built to divide and impoverish us cannot stand if we do," said Jesse Williams as he received his Humanitarian Award in 2016. During this speech, he reminded us how police manage to not kill white people every day, but somehow manage to take the lives of many innocent black men and women. "I don't want to hear any more about how far we've come when police can pull a drive-by on a young 12-year-old," Williams passionately stated in reference to the tragic shooting of Tamir Rice. Williams continued by reminding us that this invention called "whiteness" uses and abuses us on a daily basis, concluding by saying, "just because we're magic doesn't mean we're not real." Presumably, this was the point in the show where the doors of the church opened and ushers walked around with their offering baskets.