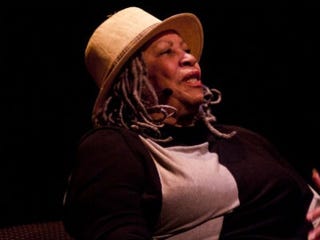 Novelist Toni Morrison broke some hearts on Wednesday when she told fans in Ohio that she has canceled plans to write a memoir. The Associated Press reports that the 81-year-old Nobel laureate broke the news while speaking to students at Oberlin College, saying, "There's a point at which your life is not interesting." She also read from her latest novel, Home.
The Toni Morrison Society, which researches her works, used the event to announce the establishment of a residency at the school. Morrison, a native of nearby Lorain, told the Plain Dealer that she had signed a contract to write a memoir but later canceled it, saying that she'd rather write fiction.
We wish Morrison would change her mind about writing a memoir. We bet that her life is at least as interesting as her stories.
Read more at the Associated Press.