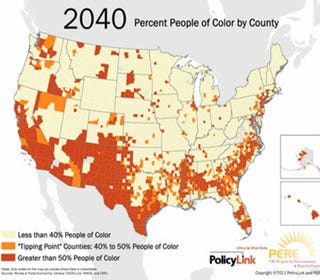 It's no huge secret that by that by the year 2042, the majority of Americans will be people of color. Despite the fact that many African Americans have moved out of major cities to the suburbs, experts and data indicate that the overall number of ethnic minorities, including blacks, will in total comprise the majority of America in the relatively near future.
A recently released time-lapse map produced by PolicyLink, a national research agency dedicated to social equity, provides a visual of this decade-by-decade "browning" of America. The "Map of America's Tomorrow" also shows the states and regions that will be most populated by people of color, including blacks, Hispanics/Latinos and Asians.
"This map makes crystal clear just how dramatically the face of America is changing — and how quickly," Angela Glover Blackwell, the Founder & CEO of PolicyLink told AOL Black Voices.  "Already, nearly half of all young people are of color, and by 2040, people of color will become our nation's majority. Clearly, this snapshot of our future has struck a chord, leaving no doubt that we must invest in and start building the foundation of tomorrow's America today. Let's start now."
This is being called the first visual representation of its kind of the country's racial future. Check out the time-lapse map below or at PolicyLink.
Read more at AOL Black Voices.
In other news: Grown-Up Black TV Network Being Shopped.
Like The Root on Facebook. Follow us on Twitter