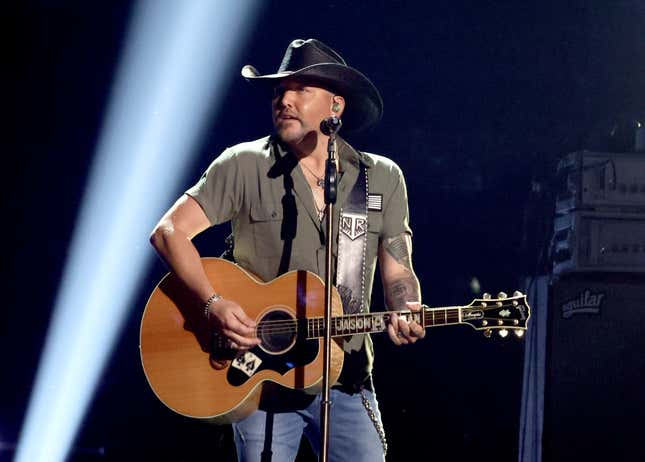 For a group who are constantly claiming to be all about free speech, conservatives really seem to hate it when someone disagrees with them. To that end, the controversy surrounding country singer Jason Aldean's new single and video, "Try That Iin a Small Town" has inevitably led to racist harassment for one social media user.
Courtney B. Vance in Heist 88 Is Our Black TV Pick of the Week
Destinee Stark was one of many who criticized the lyrics in Aldean's song for glorifying gun violence and attacking the Black Lives Matter protests. The video is filmed in front of a Tennessee courthouse where a Black teenager was lynched in 1927. Following the backlash, Aldean released a statement where he said that "there isn't a single video clip that isn't real news footage." On TikTok, Stark posted a video debunking his claims. As it turns out, a lot of the clips are stock footage from other countries. In response to the post, Stark has been inundated with racist harassment from Aldean's supporters.
"I get online all the time and I share my opinions online all the time. It's something that I do," Stark told NBC News. "And that first video that I made, I posted it at like ... 11:30 p.m. I didn't think it would go anywhere. And I woke up to thousands of messages about it."
Destinee made the TikTok clip to show how the singer used propaganda in the video to pit one side against another. Aldean and his team may claim that these images are real news, but a pretty simple internet search showed that they're not.
"I just think that people have a right to know," Stark said. "Things like this, they inform politics and it informs how we vote, how we see the world and who we interact with. And I just think that if we're consuming content that's not even accurate, that it's just propaganda. And it's just fueling people to commit more violence."
She's received messages with racist slurs, fat shaming and death threats. Stark even tagged Aldean in hopes that he would implore his fans and supporters to stop their harassment. The singer didn't comment on NBC's story.
"They're trying to defend and say that the song isn't racist while using racist rhetoric to tear me down, which literally defeats the purpose of their entire argument," Stark said.
Unfortunately, this is the standard playbook from right-wing conservatives. If you disagree with them about anything, it jumps straight to insults and slurs. However, not liking a country song and exposing an artist's blatant lies is not grounds for death threats or racism. Of course, I realize the people who need to hear that don't care about our feelings and are already busy complaining about Barbie.