Since she initially gained notoriety as Layla Williamson on One Life to Live, then as the business-minded Raina Thorpe on Gossip Girl and model Jenna Rice on The Game, Tika Sumpter's career has steadily been on the rise. Thanks to the role of the messy Candace Young on Tyler Perry's The Haves and the Have Nots cable series, she's an OWN fan favorite. On the big screen, she was featured in Whitney Houston's last film, Sparkle; is Kevin Hart's lady in Ride Along and its upcoming sequel; and had an all-too-brief appearance as Yvonne Fair, one of James Brown's better-known lovers-backup singers-protégées, in Get on Up.
Her role as Bessie Smith's lesbian lover, Lucille, in HBO's Bessie biopic about the pioneering 1920s blues performer—starring Queen Latifah, along with Mo'Nique, Michael K. Williams and Mike Epps, and directed by Dee Rees of Pariah fame—is her most challenging. Sumpter spoke exclusively and candidly to The Root about the part and about her research into black women's sexuality during that era.
The Root: How did you prepare to play Lucille?
Tika Sumpter: [I read] books about Bessie. There's this audiotape of the woman who used to travel with her a lot, which was her niece, not by blood. It was actually Jack Gee's [Bessie Smith's husband-manager, played by Williams] niece, and she used to go with her everywhere. So just listening to her about how it was in those times, it's easy to get in that space.
But also just looking back at pictures of that era and listening to the music and just reading about Bessie, and also just reading about the people who were into her. And then once you get in costume, I was like, "Oh, my God," and then once you go on set, you're just like, "OK, we're really here."
G/O Media may get a commission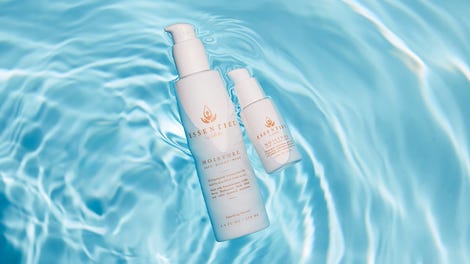 20% off
Essentiel by Adele
TR: I read that Lucille was a composite of different women.
TS: Actually, [she's] based [on] one of the girls that [Bessie] actually [dated]. That's the thing about listening to her "niece" talk. There's this book an author wrote about Bessie. Bessie was in love with two women in her life. Even though she was all over the place, she was in love with one of her dancers, who actually came on board and became part of her troupe.
She was really in love with this woman, but the woman was really scared of Jack Gee and she left. So it was a composite of her and people [Bessie] loved and people who were there and rode for her no matter what and did things for her even though they probably shouldn't have, because Bessie kind of spread herself thin, and she did what she wanted to do.
TR: Is this the first time you've portrayed a woman loving another woman?
TS: Yeah, it is. People ask me, "Well, how was it to kiss a woman?" "Were you nervous?" and I'm like, "It's just as nerve-racking to kiss a guy on set." It's still love; it's still intimacy.
Because me and Latifah clicked and were able to talk, it was just part of the character, and me delving in and being fearless regardless of if it was a man or a woman. But yeah, it was my first time portraying a bisexual woman, and it was totally fine. Kissing Queen Latifah is like, "Oh, my God," so it wasn't like, "Wow, I have to kiss a woman." It was the same to me.
TR: So who is the better kisser: Kevin Hart or Queen Latifah?
TS: That's hard. [Laughs.] They're both 10s in my book.
TR: Seriously, though, it's not safe for same-sex couples in some areas now; what did your research reveal about those times?
TS: The crazy thing is, you could go to jail back in that time, but there was a specific group of women, like Ma Rainey, Ethel Waters, all into women. At that time, nobody really cared about the law. If you listen to their lyrics, they are pretty out there. There was no kind of undertones. It was like, this is how you please a woman.
I think they just lived their lives. They had to run their businesses. They had to write their songs. They had to create the music. They were a one-woman show, so I think they were just like, "Well, this is who I am. Accept me or not." They weren't afraid. That's what I realized. It was what it was, and people knew.
They knew she was going to these flat houses where there was sex going on, there was everything going on. There was liquor, which was illegal. I think they were more bold during that time. Everybody knew how wild [Bessie] was. She was a rock star before "rock star" was a [concept].
She had it all. She was like, "I'm gon' have this, I'm gon' have that, I'm gon' have the whole buffet." Like, literally, [these spots] used to be called "buffet flats" [speakeasies or brothels]. There were these houses where people threw parties [and] there was anything you could think of. If you wanted it, it was there. She would tell people, "Don't tell Jack," [but] she was bold. She was superbold.
Ronda Racha Penrice is a freelance writer living in Atlanta. She is the author of African American History for Dummies.