HBO's Bessie is a gem. In a film that was 22 years in the making, Dana "Queen Latifah" Owens delivers a powerhouse performance as Bessie Smith, the Empress of the Blues (1894-1937).
Writer-director Dee Rees (Pariah) continues her game-changing trajectory of making films that are beautifully human and complicated—films that tell stories about the complexity of love and the human spirit. In an industry where biopics—especially TV biopics—rarely do their subjects justice, Rees' Bessie (which debuts May 16 on the cable network) does an excellent job of placing Smith and her legacy of music, sexual freedom and bravery in a historical and cultural context.
Owens conveys Smith's talent, strength and vulnerability in a tour de force performance that solidifies her place among the industry's best actresses. Owens' depth as an actress is on full display as she moves thoughtfully and intentionally through the story of Smith's turbulent life, which was marked by scandal, despair, triumph and courage.
Smith was publicly bisexual at a time when women and men were tortured and jailed for engaging in same-sex relationships. Her unconventional approach to blues singing was reflected in her unconventional relationships with men and women who were intoxicated by her self-determination, yet threatened by her indomitable spirit.  
Smith studied under the tutelage of Gertrude "Ma Rainey" Pridgett (played by Mo'Nique), the Mother of the Blues, who was just as fearless, feisty and free as Smith. Rainey's territorial nature ruptured their friendship. The relationship would eventually be repaired, but only after much turmoil and disappointment.
G/O Media may get a commission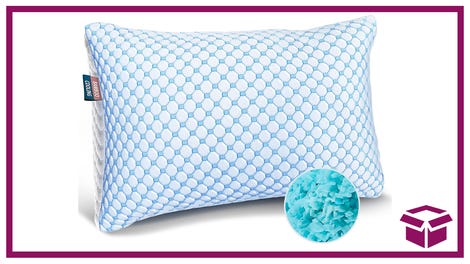 23% off
Nestl Cooling Pillow - Queen Size
Mo'Nique's bold depiction of the blues legend is mesmerizing. The proverbial baton that was passed from Rainey to Smith is reflected in the passing of the baton from an Oscar-winning actress (Mo'Nique) to Owens, who already has an Academy Award nomination under her belt—for 2002's Chicago—and who certainly has an Oscar win in her future.
The chemistry between Mo'Nique and Owens is unparalleled on-screen, as is the story of a self-possessed woman who risked fame and fortune to live the life that she wanted despite the odds against her. Michael Kenneth Williams (The Wire, Boardwalk Empire) stars as Jack Gee, Smith's devoted husband, whose penchant for power and other women helped fuel Smith's alcoholism. For Smith, alcohol was a means of dealing with the demons in her past that affected her future.
Tika Sumpter, Khandi Alexander, Tory Kittles and Mike Epps shine in supporting roles in a film that captures the beauty and the beast of trying to be "free" at a precarious moment in history when freedom was for only a handful of people. The film does a great job highlighting the racism, sexism, homophobia and elitism of whites and some blacks during the rise and fall of Smith's career.
One of the greatest disappointments in film history is that the only footage that exists of the blues great is from 1929's St. Louis Blues. Producers Richard and Lili Fini Zanuck, Shelby Stone Owens and Shakim Compere (Owens' longtime business partner) have come together, however, to ensure that one of the most important figures in music history is not left out of the visual narrative of blues music and culture.
Rees strips away Smith's many layers to make a film that brilliantly captures musical and social history and offers a history-making representation of a black woman that is rarely seen on the big or small screen. Rees' audaciousness in filmmaking—coupled with dynamite performances, amazing costumes and terrific set design—makes HBO's Bessie a treasure trove among a sea of biopics.  
Nsenga K. Burton, Ph.D., a media scholar, is digital editor in chief at Grady Newsource and a faculty member of the Cox Institute of Journalism, Innovation, Management & Leadership at the Grady College of Journalism and Mass Communication at the University of Georgia. She is founder and editor in chief of the award-winning news blog the Burton Wire. Follow her on Twitter here or here.