If the number seven represents completion, Tiger Woods has about 18 months until his roller coaster comes to an end.
Considering all that has occurred since that fateful Thanksgiving in 2009—when then-wife Elin Nordegren chased Woods out of the house and he crashed his Escalade into a fire hydrant—you might think the last year and a half of his season would be drama-free.
For one thing, the period has been relatively free of victories. Prior to being outed as a serial adulterer, Woods could point to three years when he won at least eight tournaments. But he has won just eight times total since 2009.
That must not be enough suffering to please the penance police. In addition to not winning on the golf course, Woods has been losing when he's off it.
The latest indignity arrived Sunday when his girlfriend, Alpine skier Lindsey Vonn, broke up with him after three years. Making life worse, the relationship ended around the same time his father died (May 3) in 2006.
G/O Media may get a commission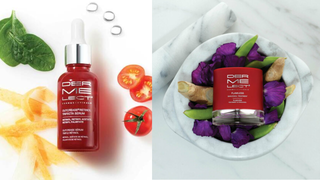 Save $19
Retinol Renewal Kit
"This three-day window is really hard," Woods told reporters Tuesday as he practiced for this weekend's Players Championship. "I haven't slept. These three days, May 3 through the 5, is just brutal on me. And then with obviously what happened on Sunday, it just adds to it."
Woods could lament everything he has lost. The No. 1 ranking. His wife and kids. A chance to tie Jack Nicklaus' record for major championships. Millions of dollars in endorsements.
But a funny thing happened during his fall. No longer the world's best golfer, he's arguably become a better man.
The old Tiger was cold, robotic and distant, seemingly impervious to normal feelings and emotions (aside from anger when shots went awry). He was excellent at his craft, an all-time great, but he was smug and sucked at the human touch that can draw empathy when a public figure stumbles.
Being dumped by Vonn gives him more of an everyman feel. Who hasn't had his or her heart broken? But even before that, a softer, gentler Woods had begun to emerge. Despite his crumbling golf game and balky body, he seemed to be finding peace.
"I would say I practice much less now," Woods told reporters in February, after a career-high round of 82 at the Farmers Insurance Open. "I want to spend as much time as I can with my kids. I have split custody, so when I'm at home, I want to be home with them, take them to a soccer game or to school or to activities, whatever it is. I'm their dad."
Last month at Augusta National, when he played in the Masters Par 3 Contest for the first time in 11 years, he stole the show. The pictures might spark pain now, but he was accompanied by Vonn and two of the cutest caddies you'll ever see—his 7-year-old daughter, Sam, and his 6-year-old son, Charlie. The foursome appeared to be a perfectly happy unit, and Woods looked as if he couldn't care less about his struggles entering the Masters.
His future as an elite golfer was never more in doubt, having played just 47 holes (at 15-over!) in 2015 and not at all since February. Observers questioned whether he should come back on golf's grandest stage, afraid he might embarrass himself.
The results were better than expected, not terrible, but far from the form he displayed in winning four Masters championships. "It was mostly positives," Woods told reporters afterward in assessing his 5-under-par performance, good for a 17th-place tie. "Considering the state of my game where it was … I did some really good work."
His best golf likely is behind him, but the really hard and important work is ahead. That includes raising Sam and Charlie, bouncing back from losing Vonn, and finding his place as a famous, wealthy athlete headed toward the downside of his career.
He's more relaxed and more comfortable with the media, more friendly and outgoing with the public. That could be a trade-off for his misdeeds, advancement as a human and regression as a golfer.
Just don't tell him that the latter is a done deal.
"I've made some huge, huge strides since what I was [in February]," he told reporters Tuesday. "To go from that to what I was at Augusta, I worked my ass off to get to that point. Now I just keep building on that, keep chipping away at it, keep getting progressively a little bit better.
"I'm on the right road," he said. "I've made all the big changes. Now it's just incremental changes, incremental implementation. Eventually it'll click in and I'll have a little run here, and some runs are like two years ago when it was five wins. I can get on runs like that."
It's possible he only needs a good 18-month run.
Then the new and improved Tiger might start a fresh cycle.