SUNDAY APRIL 11
 It's difficult to determine what's more amazing. The fact that Tiger Woods took five months off and went through hell, yet was a favorite to win the Masters? Or the fact that he actually contended all weekend after a five-month layoff and a tour of his personal hell, to finish tied for fourth?
            If you ask Woods, the answer is none of the above. "This is not what I wanted," he said Sunday after an up-and-down final round. "I wanted to win this tournament. As the weekend went on, I kept hitting the ball worse. I hit the ball good on Friday but after that, not very good."
            Asked to put his performance in perspective, which is incredible by any measure considering his rust and the scrutiny of his serial philandering, Woods conceded himself nothing. "I entered this event and I only enter events to win," he said. "I didn't get it done. I didn't hit the ball good enough and I made too many mistakes around the greens."
            In his news conference on April 5, he said life isn't all about winning championships. But he still can't stand losing.
 ALL OVER HIS FACE
            Woods' grimaces, frowns and gestures usually foretold the ball's destination before CBS' cameras picked it up. And we saw that he didn't like his tee shot on No. 1, No. 2 and many shots thereafter. There was some magic mixed in, like an eagle on No. 7 when he raised his arms in triumph and flashed a high-watt smile. But he blew up after a wayward tee shot on No. 13.
G/O Media may get a commission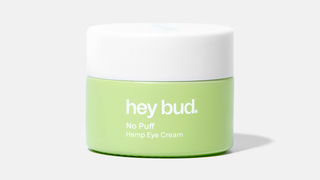 15% off
Hey Bud - No Puff Hemp Eye Cream
            "God Ti-ger!" he said, loudly and clearly on the broadcast. "Je-sus Christ!" (Even Buddhists call on J.C.) He downplayed his emotional outbursts, which received considerable attention after the third round. "People are making way too much of a big deal of this thing," he said. "I'm not going to be smiling and happy all the time." He said if he's hitting bad shots, "I'm not going to be walking around with a lot of pep in my step."
 BOOM AND BUST
            Woods had four birdies and two eagles, which should've led to a terrific score like his young protégé Anthony Kim recorded (7-under for the day). But Woods also had five bogeys, which led to just an OK score (3-under for the day). He fell out of serious contention on No. 14, when he missed a makeable birdie putt and then, totally frustrated, rushed his par attempt. The ball had barely stopped and he had barely set up, leading to a gimme tap-in that lipped out. That was totally uncharacteristic. "I made too many mistakes around the green," he said. "Not things I normally do."
            That figures. It's going to be a while before things are close to normal for Woods and the sporting public.