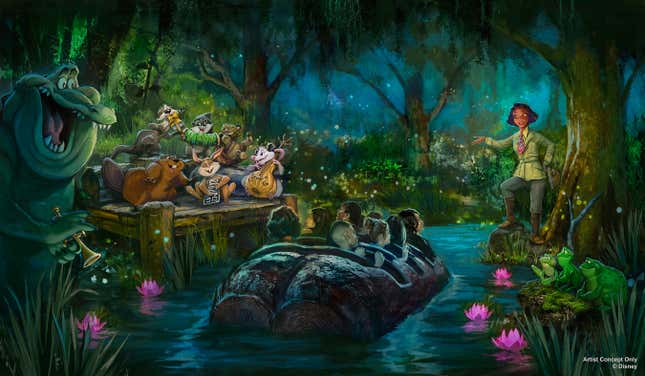 Have you ever been on a ride at a theme park and wondered, "How did they put all this together?" If you're asking yourself this question in 2024 while enjoying Disney's new attraction, Tiana's Bayou Adventure, the answer is it's a long, extensive process involving tons of research and exploration. During one of these recent trips to New Orleans, The Root was among a group of press who traveled through the city with Walt Disney Imagineers as they revealed the people and places behind the new attraction.

The Little Mermaid Can Talk To A Crab But She Can't Be Black? Get Out Of Here!
Tiana's Bayou Adventure is replacing Splash Mountain at Disneyland Resort and Magic Kingdom at Walt Disney World in Orlando, Fla. Fans of The Princess and the Frog have wanted more representation for Tiana—the company's first Black princess—in the parks. Instead of building a new attraction, it makes sense to adapt an outdated ride like Splash Mountain, which is based on the very racist 1946 movie Song of the South. It is currently under construction at both theme parks and is scheduled to open in late 2024.
Tiana's Next Chapter
Per the official synopsis: "Guests will join Princess Tiana, Naveen and jazz-loving alligator Louis on an adventure through the bayou as they prepare to host a one-of-a-kind celebration during Mardi Gras season. Along the way, guests will encounter familiar faces, make new friends and travel through the bayou to original music inspired by songs from the film as they are brought into the next chapter of Tiana's story."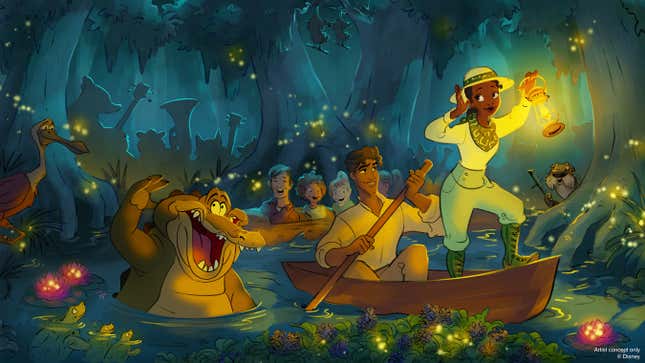 The story starts when Tiana realizes she's missing a pivotal ingredient for the celebration and guests tag along on the search. In addition to 17 new characters, the movie's voice cast, including Jenifer Lewis as Mama Odie; Bruno Campos as Prince Naveen; Michael Leon Wooley as Louis; and Anika Noni Rose as Princess Tiana are all set to return for the ride.

If you've ever been to New Orleans, you may have noticed that there aren't any mountains nearby. However, fans of Splash Mountain have nothing to worry about because the ride's famous landmark will now be a salt mine that's part of Tiana's food co-op. These new elements are part of a big push for authenticity in the attraction. The Imagineers worked with The New Orleans Historic Collection and the New Orleans Jazz Museum to ensure that props and set pieces matched the 1920s setting.
"We know that people love the previous attraction. We know there's a lot to love there. We think they love the feeling that they get. The thrill of the adventure. So we say that is sacred," Ted Robledo, Executive Creative Director, Walt Disney Imagineering told The Root. "We cannot take that away. We can always do better. Yeah, something is good. Something is great. But as we learned a few more things and said 'How can we make everything that we do better?' And at the essence of what we're doing here, that's all we're trying to do. We're not we're not trying to burn it all down. We want to add to it."
And did I mention that the smell of fresh beignets will also greet guests as they wait in line? Yeah, that might be my favorite part of this whole ride.
Tiana's New Look
Obviously, Tiana can't go on a journey into the bayou in a huge ball gown, so she sports a more outdoorsy look in the ride. She rocks pants, boots and a jacket for the adventure. And because we know a Black princess would make sure her hair was taken care of before she went on a trip like this, Imagineers sought guidance from an experienced cosmetologist when it came to Tiana's hair. Carmen Smith, SVP & Executive Creative Development Product/Content & Inclusive Strategies, Disney Parks, Experiences and Products, explained how crucial hair and costuming were to the attraction's creation and showcasing Tiana's Blackness.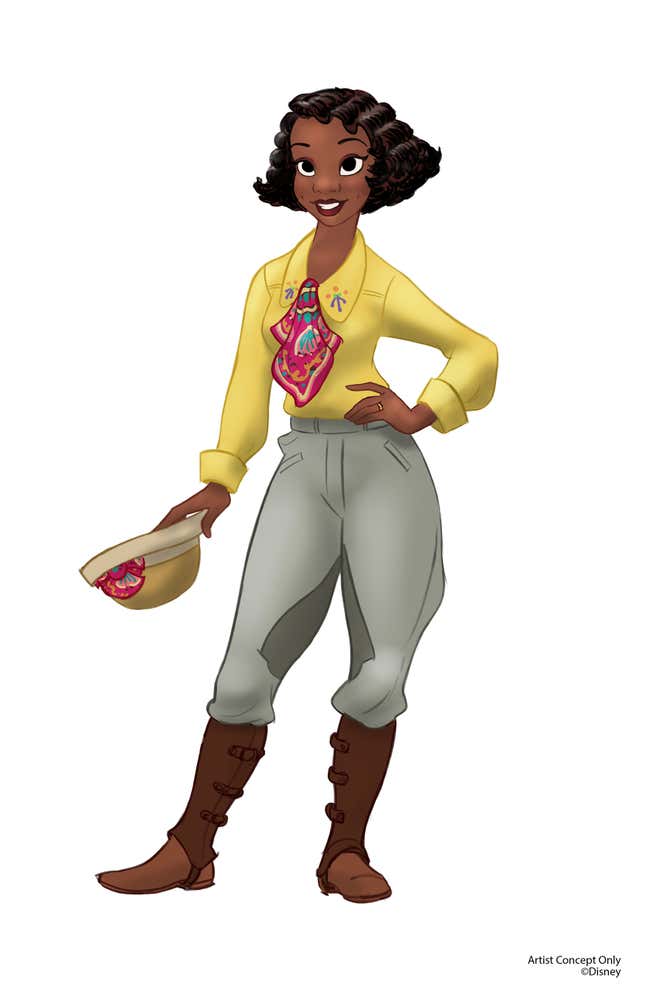 "[They were] our guiding force, giving us insight into hairstyles at this particular place in time. We were guided by the research and the costuming as well," Smith said. "We have a superb costume designer, and these women came to us with research and data, texture, color. Many of them had worked on previous projects that focus on this particular time period, so they have access to great information."

New Music
Since this ride is based on a popular Disney film set in New Orleans, music is central to its story. Grammy-winner PJ Morton will write, produce and arrange a new song for the ride. Plus, Oscar-nominee Terence Blanchard will arrange music for the queue, and help choose songs from the film for the attraction. In the movie, Blanchard is the true genius behind trumpet-playing alligator Louis. Both musicians are New Orleans natives who will definitely bring the city's special vibe to the water ride. To recognize their work on the project, animated versions of Morton and Blanchard will also be featured in the attraction.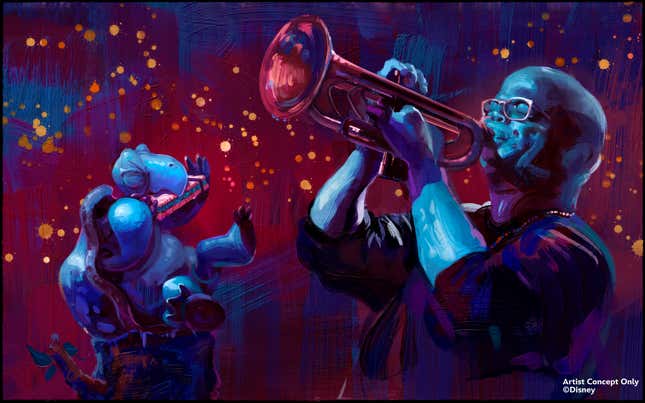 "It was exciting to me the idea of creating something original for this. But that was also a challenge," Morton said. "People are very familiar with them now. The challenge was to try to fit in with what already existed, but also bring something fresh and move the story along."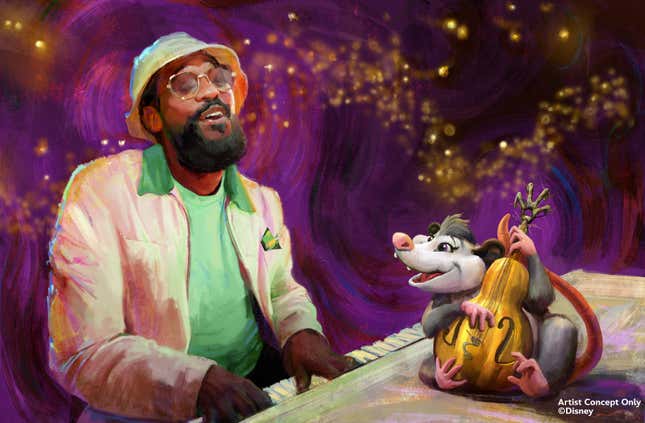 Tiana's Bayou Adventure opens at Disneyland Resort and Walt Disney World in 2024.