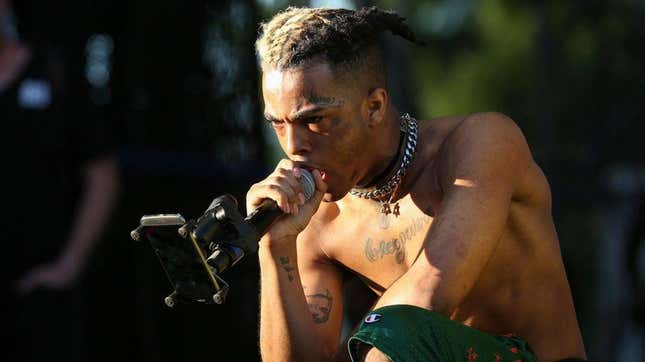 It's been five years since beloved Florida rapper XXXTentacion was fatally shot in front of his car during a robbery attempt outside of a motorcycle shop. The 20-year-old rapper was killed just as his promising career was beginning to take off.
Chuck D's Fight The Power: How Hip Hop Changed The World Is Our TV Pick
On Monday, the three men who were accused of murdering the "SAD!" rapper were convicted of first-degree murder and armed robbery, according to The New York Times.
The convicted suspects are Michael Boatwright, 28, Trayvon Newsome, 24, and Dedrick Williams, 26. A year ago, a fourth suspect, Robert Allen, 25, pleaded guilty to second-degree murder and testified against the other three suspects in court.
Per the report from NYT, prosecutors argued that as XXX was attempting to leave the motorcycle shop, an SUV blocked his car from leaving, and two gunmen, Boatwright and Newsome, came out of the vehicle and shot the Florida rapper multiple times. As one of the suspects was shooting, another grabbed a Louis Vuitton bag that contained $50,000 from inside the car. The two gunmen then returned to the SUV and Williams, the getaway driver, drove away from the scene.
Surveillance footage that was played in court shows the attack unfolding.
Each of the three convicted suspects are set to appear in court again on April 6 for their sentencing hearing. They each face life in prison.
XXXTentacion's rise to fame
Born Jashseh Onfroy, XXXTentacion was a 20-year-old Florida rapper who was one of the hottest young artists out before his death. He rose to fame in 2017, after he released the single, Look at Me," on SoundCloud.
Shortly after, he signed a $6 million distribution deal with a subsidiary of Capitol Music Group. The last album he released before his death was the 2018 album, ?, which included the hit single "SAD!"
Since his death, two posthumous albums have been released, SKINS in 2018 and Bad Vibes Forever in 2019.
Past controversy
Even though XXXTentacion was a hot rapper who was growing in popularity, he wasn't without his own controversy. In 2016 he was arrested on charges of aggravated battery of a pregnant woman, false imprisonment and domestic battery.
Weeks before his death, his ex-girlfriend, Geneva Ayala, came forward with harrowing details about her time with the rapper and accused him of abuse and harassment.