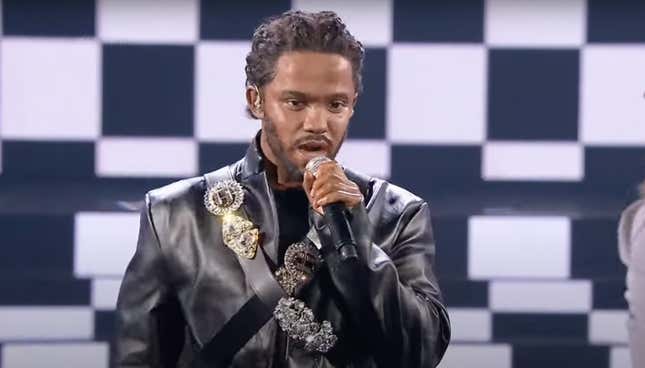 Never underestimate the arrogance of white people, whether that's in the United States or Europe.
ULTA Beauty Faces A Boycott For Being Trans-Inclusive In Their Marketing
Have you heard of the show, Your Face Sounds Familiar? No? I don't blame you. It's a Polish game show where celebrities portray popular artists and musicians. If they win, they are allowed to donate the prize money to a charity of their choice.
Sounds fun and innocent right? Nah. Sometimes the portrayals can go too far, especially when it's a white celebrity portraying an African-American artist in Blackface.
During their latest episode, white Polish singer Kuba Szmajkowski dressed as hip-hop superstar Kendrick Lamar and performed a rendition of his hit track, "HUMBLE." The clip shared on social media showed Szmajkowski wearing Black leather clothing in full Blackface, wearing braids, and rapping the lyrics to the song.
Honestly, I don't know what to say that hasn't already been said. This is so deeply racist and disgraceful that I'm lost for words. Who is the Polish TV executive who approved this show? Who is the producer who told Szmajkowski, "It's cool. We're just going to paint your face brown and put fake braids in your hair"? There are so many questions that need to be answered.

Of all the artists he could've cosplayed as, why Kendrick Lamar? Why couldn't it be Eminem, MGK, or Jack Harlow? I mean there are so many other white options that were available to him. Even if Lamar was his best option, did he have to dress in Blackface? Did he have to say the N-word? Hell no.
But this also isn't the first time the show has had white celebrities dressing in Black face. In 2021, Polish actor Tomasz Ciachorowski dressed in Blackface to perform a rendition of Kanye West's "Stronger."
It also happened years ago when a contestant cosplayed as Jason Derulo.
In any case, I don't know who's in charge of this show, but they need to shut this shit down before you have another white person put a lick of Brown paint on their face.