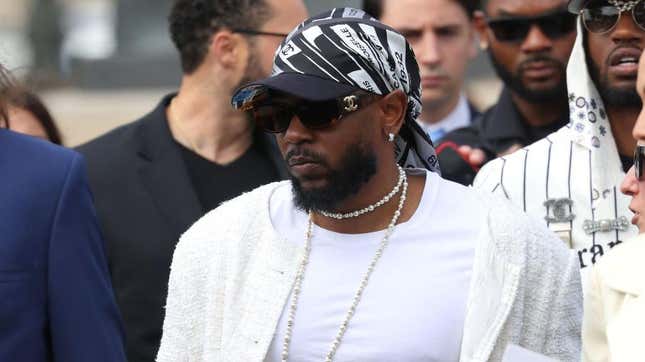 Is this smoke I see? Because in this (alleged) newly leaked verse from Kendrick Lamar, it sounds like he has plenty to go around.
Grammys 2022: 10 Black Artists Who've Won Album of the Year
Early Thursday morning, a short clip of a verse from K. Dot started making the rounds on social media. It sounds like an earlier version of "Paramedic!," a track from the 2018 Black Panther soundtrack. But in the clip it was titled, "ELEMENT OG (Paramedic)."
Initially, I wasn't expecting anything too crazy, just a few subliminals like always. But no, Kendrick emptied the clip on all of his rivals including Big Sean, French Montana, and Jay Electronica. He even mentioned Drake and Meek Mill.
You would've thought this was 2013, the way Kung Fu Kenny was listing off names.
The shots start when Kendrick raps, "Fuck subliminals I put you on the roll call/ French Montana speaking on me in interviews/Very cynical, dry hating something I don't approve/ Jay Electronica put silencers on my Grammy night/Another dead prophet hoping the God'll give him life."
He continues, "Big Sean keep sneak dissin' I let it slide/I think his false confidence got him inspired/I can't make them respect you baby it's not my job/You finally famous for who you date not how you rhyme (boi!)."
The track ends with Dot saying, "Cute-ass raps, get your puberty up/Then make you a classic album before you come at us/Drake and Meek Mill, beef might got you gassed up/ But I'm a whole 'nother beast I really fuck you up."
Whew. I know the soundtrack came out five years ago but damn. When names are mentioned on wax like this, rappers tend to get mad.
I don't know what it is with Kendrick, but when he mentions one name, he has to mention all of them. Just think, the last time he actually went at other artists directly was on his Control verse when he challenged J. Cole, Big K.R.I.T., Wale, Pusha T, Meek Mill, A$AP Rocky, Drake, Big Sean, Jay Electronica, Tyler, the Creator, and Mac Miller by name.
The last time people speculated that Dot was going at someone else was on "The Heart Part 4," but nothing came of it.
So although this leaked verse is old, It'll be interesting to see if any of the Mcs mentioned think it's enough to go at Kendrick on a track. We shall see.