Updated Monday, April 16, 2018, 4:30 p.m. EDT: An attorney for Dominque Collier reached out to The Root to shed further light on his client's lawsuit against Steve Harvey. In the letter, attorney Jehan Carter said that TMZ incorrectly framed Collier's lawsuit strictly as a sexual harassment suit. Carter said that Collier was intentionally misled by the show's producers about the theme of the show.
"At no time during the taping ... was Ms. Collier aware of the pictures or videos shown or what was said about her," Carter wrote in an emailed statement. Carter said that her client was blindsided by Harvey and his producers, and only learned after the filming and when the episode aired that the show had framed her as a woman who enjoys dressing provocatively. She says she had no idea going into the program that it was a "dress intervention" show.
As for emotional damages, Carter added that Collier is a sexual assault survivor and that the "intentional misrepresentation and conduct on air and behind stage" was triggering for Collier and effectively revictimized her. Her attorney also said that Collier almost lost her military career over the "disparaging episode about her sexuality."
Earlier:
A fitness model is suing Steve Harvey over a 2016 episode during which, she says, Harvey and his show's producers made her dress more provocatively in order to fit a specific arc the show wanted.

G/O Media may get a commission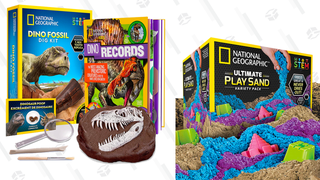 Up to 33% off
National Geographic Science and Activity Kits
According to TMZ, Dominique Collier guested on an episode of The Steve Harvey Show after responding to a casting call for "single professional women who like to show off their looks." Producers told her that the show would "highlight her being a professional single mom who's also a fitness model," TMZ notes.
But once Collier showed up, she says, the 61-year-old comedian and the show's producers made her change out of the outfit she came in—a long-sleeved blouse and pencil skirt—into a much more revealing one. Collier's lawsuit claims that she was made to wear a halter top and formfitting skirt; the live studio audience later judged her looks in a poll.

The responses Collier received: "whore," "slut," "ratchet" and "daddy issues." She adds that the show had also altered photos of her shown during the segment to make her look sexier.
The purpose, it seems, was to make her "transformation" later in the show appear more dramatic. Later, Collier came out in a yellow, knee-length dress, to the delight of the audience.
After the taping, Collier says, she cried backstage. She also claims that Harvey went up to her and returned the clothing she had arrived in—including her underwear. Later, she sent a cease and desist letter asking for the poll to be removed from the show before it aired, a request that the show complied with.

Collier says that the experience left her feeling humiliated, demeaned and sexually harassed. She's suing Harvey; the show's production company, Endemol Shine North America; and NBC for at least $2 million.