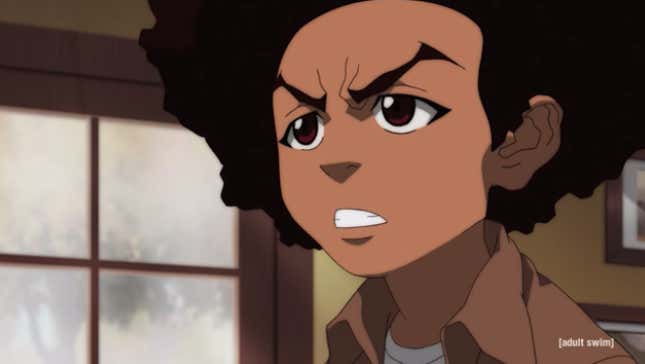 As a big fan of The Boondocks, the animated satire that aired in earnest on Adult Swim in the early aughts, I've often wondered what Huey Freeman, the show's pint-sized "power to the people" protagonist, would have had to say in the era of Donald Trump.
Fighting "Lie-abetes": How To Spot And Combat Disinformation and Conspiracies In Politics | The 411: Part 2
Well, apparently, we'll all get to find out, because the show, which had a final season 4 in 2014, is coming back!
Yes, according to Shadow and Act, Sony Pictures Animation announced at the Annecy International Animated Film Festival that "a complete reimagining" of the show "for the modern era" was on the way. And as an added bonus: The show's original creator, Aaron McGruder, is on board for the reboot.
For those who may not be in the know as to how The Boondocks came about, as CNN explains:
The Boondocks was originally a comic strip written and drawn by McGruder that ran from 1996 to 2006. Seen through the lens of the main character Huey Freeman, the comic strip offered a satirical take on African-American culture and politics.

The animated show premiered on Cartoon Network's Adult Swim in 2005 and ended its run in 2014 after four seasons and 55 episodes. The final season of the show was produced without McGruder.
Now, as The Root has explored, the big question may be whether or not the "reimagined" Boondocks will be able to bring the old team together to voice the characters.
Powerhouse talent Regina King voiced Huey Freeman in the original series, as well as Huey's gangsta younger brother Riley. Comic legend John Witherspoon was the voice of the boys' old-school Granddad.
While the award-winning King may be tough to get, Witherspoon, as CNN reports, hinted to Joe Rogan on the Joe Rogan Experience podcast that he would be returning to his role.
"I'm on the cartoon, what is it? The Boondocks? I didn't change my voice for The Boondocks," Witherspoon told Rogan. "And they coming back. The Boondocks is coming back. It's one of the best cartoons I've ever been on."
And while we wait for season 5 of The Boondocks, take a trip down memory lane with some scenes from the last time the Freemans graced our airwaves: