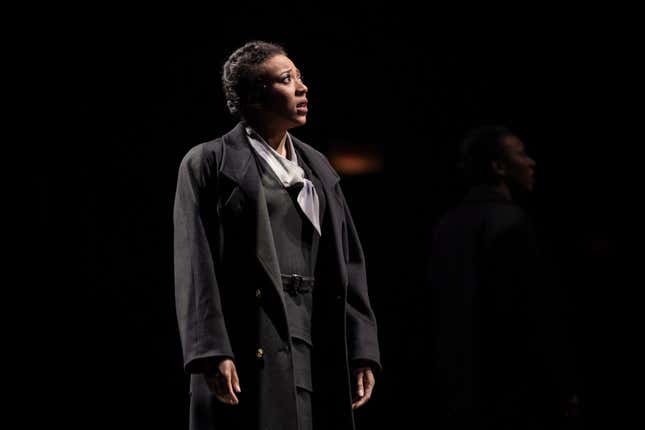 There's a moment during Shakespeare's The Winter's Tale when pivotal character Paulina pauses in the midst of imploring an obstinate king for compassion to roar at the lords attempting to restrain her, "What needs these hands?" before resuming her pleas. As played by Christiana Clark (opposite Dan Donahue as King Leontes) in the Goodman Theatre's current production of the tragicomic play, the line is relatable to almost every woman in the audience—certainly, every black woman—as Shakespeare's line literally translates to "Why are your hands on me?"
Tackling A Black Maternal Health Crisis & Embracing Reproductive Justice | The Root Institute
The moment elicited audible responses from the Goodman's audience on opening night, much to the delight of Clark, who tells The Glow Up, "I think that comes from the stage, giving out an allowance for them to be there with us, and not to be at the museum. It's not, 'don't touch the paintings.' It's 'let the paintings touch you.' Like, let it in."
Clark is the sole black woman performing in this diverse production of The Winter's Tale, her performance driving even jaded audience members to their feet when she emerged for her bow at curtain call. As an actress who has performed predominantly Shakespeare for the past eight years of her career, she's accustomed to being one of few minorities in the genre, even in the most "colorblind" of casts. While it's not known whether Goodman artistic director Robert Falls specifically had a black actress in mind when casting Paulina, Clark imbues the role with a power that is wholly unapologetic, simultaneously embracing and defying the prototype of the "strong, black woman."
Clark was raised mere miles away from the Goodman, on Chicago's South Side. And yet, Shakespeare seemed worlds away from the basement bedroom she and her siblings shared growing up, where she recalls staying up past her bedtime to watch black-and-white sitcoms like the Dick Van Dyke Show, The Patty Duke Show and I Love Lucy.
"I like to say that's where my acting career started," she laughs.
"I wanted to be like Lucille Ball. I wanted to be on TV, and I wanted to be funny, and I wanted to have lots of characters," she adds. "That's kind of the kernel of thought [that began] life as an actor…I only knew it from TV."
With a church-filled upbringing and both parents in education, Clark's early years included attending parochial school in a predominantly white area, where she quickly became familiar with the "code switching" with which so many of us are intimately acquainted. The experience also afforded her the opportunity to become acquainted with Elizabethan English (also known as Shakespearean English), by memorizing bible passages.
"We would have to memorize chapters of the King James Bible," she remembers. "Our eighth-grade graduation, I think the whole class had to recite Matthew 5, 6 and 7 from memory."
It was only a few years ago during a post-performance talkback that Clark realized those passages had laid the foundation for her gravitation to Shakespeare.
"People asked me, 'you hold the language so well; how do you that?" Admittedly, a pause-worthy question to ask a black actress, but Clark experienced a revelation in her response. "[F]rom eight years old and on, I was memorizing the same syntax and structure of language that is in Shakespeare, coming from the King James Bible. …So, this language has been in my mouth and in my spirit for all of my life."
But initially, Clark thought she'd be following her elder siblings into a theological career, hopefully as a drama minister. Out of high school, she spent a year in the Rockford, Ill., outpost of Christian leadership training ground Master's Commission (now renamed City First Leadership College). Finding almost immediately that it wasn't a good fit, in a moment of true kismet an ad in the paper led to a spur-of-the-moment audition for the American Academy of Dramatic Arts (AADA) in Los Angeles—and she was accepted.
AADA was Clark's first exposure to Shakespeare outside of English class—in addition to the roots of the screwball comedy she grew up loving.
"The Shakespeare that I had seen before...it always seemed so far away from everyone else. It was an elite group, and they understood it," Clark recalls. "And if you didn't understand it, in my reasoning, you weren't smart enough."
But after a year at AADA, family matters called her back home—now, to the Twin Cities, where the Clarks had migrated. Working a series of dead-end jobs, she'd all but given up on her acting dreams when she discovered the thriving Minneapolis/St. Paul theater scene, and soon found herself under the tutelage of award-winning director and playwright Marion McClinton, of the famed Penumbra Theatre Company.
"Working with him opened up for me what he calls 'the jazz' of what we do. Which, for me, speaks into Shakespeare," says Clark, who, despite being a Chicago native, considers the Twin Cities her theatrical home.
"When you look at the people that are created in these stories, they are filled with jealousy, and lust, and rage, or indignation; and the scope of the stories and the scope of the beings of these people are so much larger than the tight box and sterilized museum versions of Shakespeare that are so often put out in front of us," she continues. "Working with Marion clued me back into the 'jazz.' There is rhythm in the language, and there is play."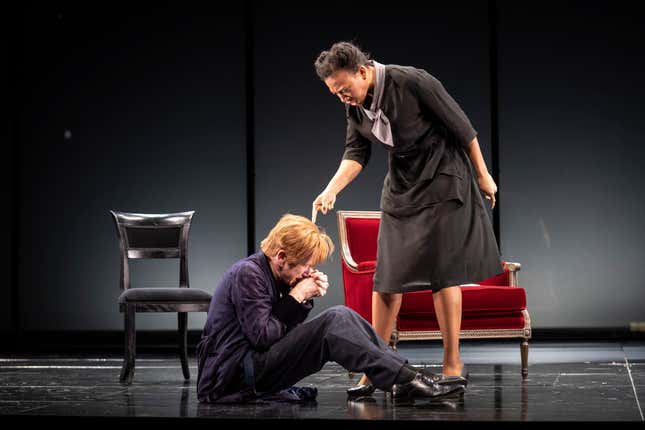 For the past eight years, Clark has predominantly been a Shakespearean actress. When she closes The Winter's Tale, she'll embark on her 7th season as a company member with the acclaimed Oregon Shakespeare Festival (OSF), where she initially understudied Paulina in 2016.
"I remember thinking, 'Man, I really want a chance to get into that woman,' because I feel like whoever Shakespeare wrote that for, he must've loved that woman," she says, referring to the "bomb ass" speeches written for Paulina. "Just on paper alone, she is this strength, and she is this truth, and she is an agent of redemption, so I have had my eye on that role."
Clark credits director Falls with giving her the reins to take on Paulina, telling us that any directions "were always speaking to her strength." As the only black woman in The Winter's Tale—who, as she reminds us, "is coming in to speak to a room full of white men in suits and in power," Clark's 400-year-old role echoes that of many contemporary women navigating predominantly white, male spaces.
"[W]hat are the tactics I may use? Do I use humor? Do I use directness? Do I try to reverse psychology and [let them] think they're holding the power while using that as the opportunity to speak the truth?" she asks. "And any time that I would move in a direction where I was more giving away power, Robert [Falls] would just be in my ear to remind me to hold it. ... I think gave me a great 'in' to her, character-wise, and it reminded me of how I intend to show up in rooms, in work, and in life."
And if there any were concerns Clark's portrayal of Paulina might devolve into an "angry black woman" caricature, she was helped by a timely reminder from another powerful woman, when Beyoncé's Homecoming special dropped during rehearsals for The Winter's Tale.
"It was, to me, a masterclass in the ownership of your divine," Clark says. "The way that she speaks to our culture and our history by what she does in her art, and doing it in excellence and not apologizing … in a way that owns that and generously gives that back at the same time as receiving it. I came back to rehearsal that next Tuesday with a renewed devotion to owning that which is in [Paulina]. …
"There's no such thing, in my mind, as 'colorblind casting,'" Clark later adds. "Being of my body, holding a role, there are a dozen or more opinions that'll filter through people's minds just to see me walk on stage before they're told who I am in this world....If I'm concerned about seeming too powerful, the honesty is that that's not on me; that's on the person who has the dozen-plus preconceived ideas. So, it comes down to letting someone else's judgment about it go. Because we are multitudes…all of those things are allowed to exist in the same being."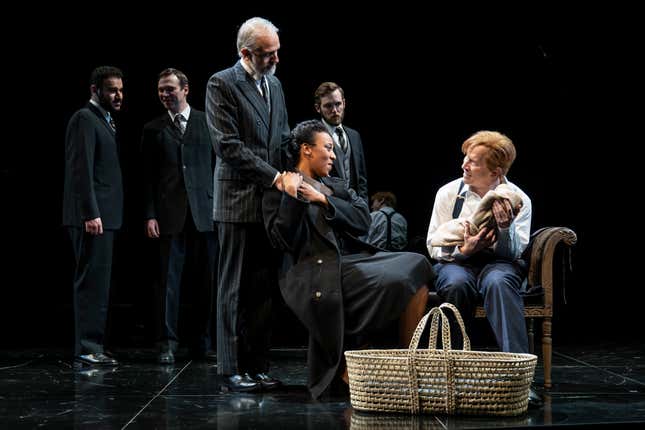 Neither is Clark's repertoire exclusively Shakespearean; when The Winter's Tale closes on June 9, she'll rejoin OSF as part of the ensemble cast of Christina Anderson's tribute to contemporary black creativity and love, How to Catch Creation (also recently produced at the Goodman). While her approach to developing her characters remains the same, Clark admits that in many ways, playing Shakespeare is easier.
"The language and the keys into are so plotted out in Shakespeare's words," she says, once again referring to the musicality of the bard's plays. "It actually gives me an easier track to follow, because the language lives in a rhythm, and when you learn and trust that rhythm—which for [black people], lines up to an inherent heartbeat that is there—and you allow that and trust that, it actually does a lot the work on its own.
"And all of that should come from the words on that page...which makes me want to see more of this language and this word in our hands, and in our bodies, and in our voices," she adds.
As she speaks, Clark references game-changers like Misty Copeland, Venus and Serena Williams, and Tiger Woods—all of whom revolutionized fields we didn't always see ourselves being allowed to enter, let alone owning. It's a goal she has for herself as she continues to help change the face of Shakespeare.
"Where are our voices claiming that ownership in a way that's new—and that is asking those that hear and see it to lean in? And opening [it] up, so we know that we're invited in?" she asks. "And honoring the history of it, honoring the classical nature, honoring the structure and the technique, and owning it and then adding to that in a voice of our history, and our power and [providing] something for the future?
"That's something that I see. Me being in this body, I hope to allow and pave the way for more—not just for artists, but so the faces in our audiences can change."
The Glow Up tip: The Winter's Tale, co-starring Christiana Clark, is in production at Chicago's Goodman Theatre through June 9. You can get tickets here.