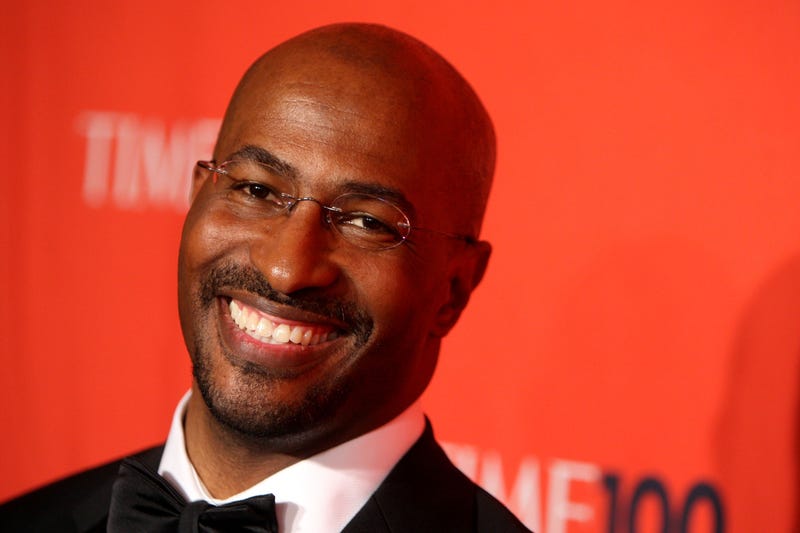 Conceding nothing to Glenn Beck, the resignation of Van Jones as White House special adviser on green jobs, enterprise and innovation may actually turn out to be the best and greenest decision of all. Never mind that Beck and other right-wing blowhards such as Newt Gingrich and Rush Limbaugh will continue to go head-hunting for liberal appointees of President Barack Obama; they were and are going to do that anyway. Make no mistake, I believe that Beck's smearing of Jones was inspired by racism and a fear of black people in power, but whether Jones was right or wrong to sign the petition asking for an investigation into the 9/11 attacks (a petition that seemed to suggest the Bush administration was complicit in those attacks), or whether he was scandalously offensive in calling Republicans "a**holes" are all moot debates now. What matters is if there is any value for progressives in Jones' resignation. The prospects of a post-Jones White House signals yes.
Jones' effectiveness in the administration was never going to match his record outside of it.
There's no question that a void now exists in the White House in terms of a person to remind Cabinet officials that there are communities that suffered from unemployment long before the recession. President Obama made clear from the outset that his American Recovery and Reinvestment Act would allow companies to rehire recently laid-off workers. But Jones' presence in the White House was meant to make sure that not only the recently laid-off would benefit from the stimulus package, but that those funds would also be used to help those who've been unemployed or underemployed for years. However, Jones wasn't much more than a voice for that idea. On his end, he most notably consulted on how best to distribute the $500 million—a modest sum given the billion- and trillion-dollar numbers in the current economic vernacular—in Department of Labor funds set aside for green jobs training. The breakdown of that sum:
·          $5 million for training for entry-level jobs in energy efficiency and renewable energy
·          $50 million for the collection, analysis and dissemination of labor market information, and enhancing labor exchange infrastructure for green jobs
·          $100 million training, placement and preparation for jobs in renewable and energy efficiency industries, as well as green jobs in other industries
·          $190 million for partnerships and coalitions among community- and faith-based organizations doing workforce development as part of statewide energy sector employment plans
·          $150 for "Pathways Out of Poverty" grants targeted at impoverished and disadvantaged communites for training and support services
Measure that $500 million against, the $3.5 billion in ARRA workforce development funds, also distributed through the Department of Labor, that is targeted toward low-income and low-skilled workers. Department of Labor Secretary Hilda Solis was instrumental as a congresswoman out of California in producing the Green Collar Jobs Act in 2007, which authorized $125 million for work that would be prioritized for veterans, displaced workers and "at-risk young people," and was a strong advocate for environmental justice and immigrant workers while serving in the California state legislature.
So suffice it to say that even though Jones is gone, the legacy of green jobs, especially for vulnerable populations, is not gone with him. Solis is a more than adequate protector of green jobs policy and currently commands a bigger pot of money for employment for the poor. Other Cabinet members such as the Environmental Protection Agency's Lisa Jackson, Department of Education's Arne Duncan and Department of Transportation's Ray LaHood have also expressed support for green jobs. Jones may have kept the green jobs notion fresh in the public's mind, but it's not so clear that the secretaries need that reminder, especially given the current employment situation. Which brings us to the fair question of just how effective Jones has actually been in his role as green jobs special adviser. With unemployment closing in at 10 percent and black unemployment going from just under 15 percent on Jones' first day in the White House to just above 15 percent now, it doesn't seem like the jobs have been dispensed as planned. One of Jones' major failings was not bringing a standardized definition of "green jobs" into fruition. In July, Newsweek pressed Jones on why no green jobs definition exists yet and Jones replied, "Fundamentally, we're getting there, but we haven't crossed the finish line yet." This is probably partially why funds for green jobs haven't crossed the finish line yet either and unemployment is getting worse. Meanwhile, last month at the National Clean Energy Summit in Las Vegas, it was Solis who was dealing with reporters' questions about why green jobs were so slow out of the gate.
If Solis is the person answering for faults with the policy, she may as well be the person overseeing the program. Glenn Beck and other conservative bloggers have attributed more power to Jones than he has by trying to associate him with the climate change and energy legislation that just passed through the House and is headed for the Senate. But Jones was only remotely involved in the crafting of that legislation. He has no more influence over energy policy in the U.S. than does Sarah Palin.
Interestingly, there's a weird parallel between Jones and Palin. When Palin resigned as governor of Alaska, many progressives and liberals declared victory, just as Beck and his cohorts are doing now over Jones' resignation. But Palin's resignation actually makes her a more dangerous political weapon for the right. As governor, she was chained to a desk in a state far removed from most of our everyday affairs. Now she's like a pitbull running loose with no leash or muzzle. Progressives may reap the same benefits from the Jones resignation. What he had to suppress due to his White House impoundment can now be expressed without reservation.
This is why his resignation is a good thing. As a citizen again, he doesn't have to apologize for his past. Instead, he can reunite with organizations like Green For All, Apollo Alliance and Green DMV, organizations from which he had to keep a safe distance during his government tenure. Jones' reputation as an agitator and advocate on the "outside" is unimpeachable; his reputation inside the White House unfortunately was not. But the knowledge he takes with him back to the community—and to his national organizations—will be of tremendous value for them.
Already he is something of a martyr. His resignation has already become a rallying cry among many activists, bloggers and everyday citizens who don't believe Beck deserves this "victory." The challenge will be turning that rally into fundraising dollars for the group and causes with which he is associated. If Jones were ever to run for office, people can use the bitter memory of this episode and channel that into votes. There can be redemption from this sour spell.
Brentin Mock is a regular contributor to The Root.