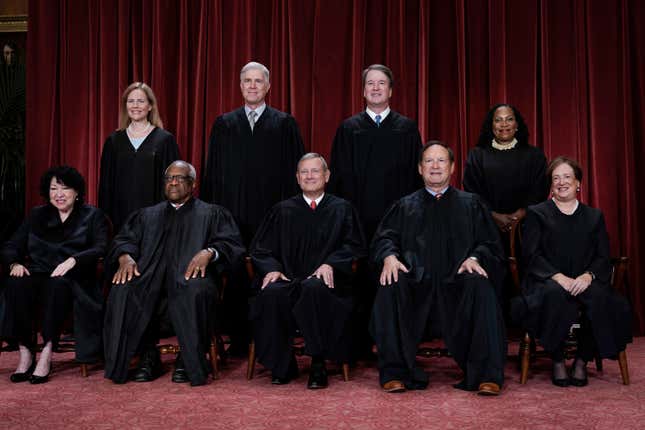 The results are in! The Supreme Court has finally concluded its investigation into who leaked the draft of Justice Samuel Alito's opinion overturning Roe v. Wade.
Is It Safe To Visit Family This Holiday?
Personally, I had my bets on Representative George Santos (mostly for the plot). But as it turns out we're all going to have to live with not knowing. On Thursday, the Supreme Court announced that they were "unable to identify a person responsible by a preponderance of the evidence."
Supreme Court Marshall Gail Curley, who was running the investigation, told NBC News that 97 court employees were interviewed, but everyone denied being the leaker. It's unclear if any of the Supreme Court Justices were interviewed in this process.
The leak, which was published in Politico in May, sent shockwaves through Washington. Not only was the Supreme Court clearly prepared to overturn decades of precedent protecting the right to an abortion; a leak like this had never occurred in the court's modern history.
Chief Justice John Roberts called the leak a "betrayal," before appointing an investigator.
Despite Roberts clear frustration over the leak, on Twitter some folks have questioned whether we've learned the whole truth.
"I told everybody, from the very beginning, that if the Dobbs leaker turned out to be a Republican, the Supreme Court would somehow never find who did it. Welp, the report's out and, what do you know, they don't know who did it," tweeted the Nation's legal correspondent Elie Mystal.
At the time, it was hard to pin-point the exact motivations for the leak. There were compelling reasons for both sides to try to get out ahead of the decision.
Conservatives could have wanted to make it difficult for Roberts or other on-the-fence Justices to say no without appearing like they were caving to public backlash against the leak.
Liberals could have wanted to push conservatives into a corner by showing that overturning Roe would hurt public confidence in the court.
Either way, it looks like we'll just have to accept the conclusion of this very anti-climactic rendition of who d'un it. That is unless someone wants to give us a tip!