Historically known as the analytical arm of the civil rights movement, the National Urban League has long advocated for racial equality through the spectrum of research and data. The organization continued that tradition on Thursday with the release of its annual The State of Black America report, this year under the theme "Jobs Rebuild America: Putting Urban America Back to Work." According to their research, the state of black America is, well, a little bit worse than it was last year.
Identifying the economy as the leading area of disparity between black and white Americans, the National Urban League used its scientific "Equality Index" formula to determine that economic equality declined a percentage point, down to 56.9 percent from 57.9 percent in 2010. In more comprehensible terms: With black unemployment at 15.3 percent, still nearly double the national average of 8.9 percent, the jobs situation isn't getting any better.
"I think people in Washington are distracted and not paying attention to what people are facing across the nation," Urban League president Marc Morial told The Root, on the organization's mission to steer the policy conversation back toward jobs. "Even though there's Libya, Afghanistan and all these issues going on, let's keep the focus on jobs. It's the number one concern for Americans."
With that focus in mind, the Urban League report not only explores the problem; it also offers solutions, including a 12-point plan for putting urban America back to work. While many of the recommendations are familiar and align with priorities already listed by the Obama administration (investing in new energy, targeting black students for science and engineering education, expanding small-business lending, youth summer-jobs programs), the strategy also calls for a hefty dose of federal spending on direct job creation. The "Stimulus Act II"-sounding proposal involves the federal government giving money directly to cities and states for hiring additional public workers such as teachers, firefighters, police officers and housing counselors.
"I've said to members of Congress, 'We have to extend unemployment benefits, or we can take some of that money and put people to work.' It's just a basic choice," said Morial, careful to point out that extending unemployment benefits is still critical. "But the safety net programs are being distressed as long as there's high unemployment, so we have to make that choice."
Adding to the Urban League's arsenal is its recently conducted public-opinion poll, which showed that nine out of its 12 suggestions scored above a 65 percent approval rating. "Our ideas have support in the court of public opinion," Morial said. "It's one thing to say to elected officials, 'Do you hear us?' It's another to say, 'Do you hear the people?' "
G/O Media may get a commission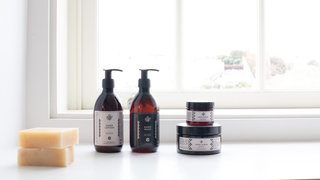 Exfoliate and Hydrate
The Handmade Soap Company
On that note, Morial thinks that President Obama has indeed heard the Urban League, which meets regularly with White House officials. "Within the president's 2012 budget, he made a proposal for what he calls 'growth zones.' This would involve targeting investment in areas of high unemployment," said Morial. "So to some extent, he's heard our call. But we're going to continue to press all of the elected officials here in Washington, D.C., on the issue of jobs."
The Urban League's ideas sound rational, particularly since they don't fall under the never-gonna-happen "Black People Policy" plugged by many activists, focusing instead on areas of high unemployment wherever they may be. But with Congress pushing to cut tens of billions of dollars in federal spending this year, the political will to support these ideas isn't there. Morial remains optimistic.
"We feel that our recommendations are solid and strong," he said. "To anyone that criticizes our recommendations, my answer is, Well, where are yours?"
Cynthia Gordy is the Washington reporter for The Root.