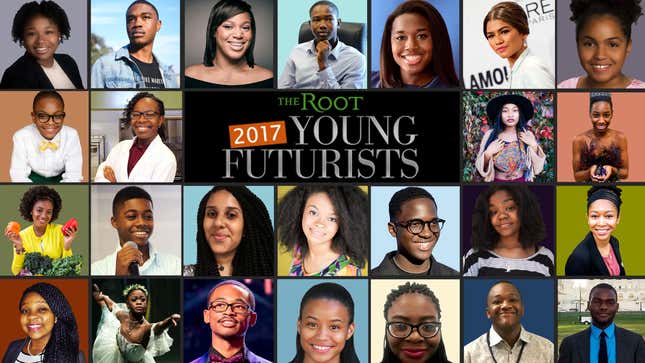 They are young, gifted and black.

They are part of a generation that is poised to change the future. We know this because they are already changing the present.

Comedian London Hughes Talks New Book, Parents Watching Her Very Sexual Comedy, & Beyoncé
Meet The Root's Young Futurists of 2017!

For the past six years, we have honored 25 of the best and the brightest young people, ages 15 to 22, in the fields of social justice/activism, enterprise and corporate innovation, arts & culture, science and tech, and green innovation.

What these 25 men and women have accomplished at such an early age will leave those of us who are twice as old asking ourselves, "What have I done with my life?" And what's even more amazing, they are just getting started.

Meet some of these incredible overachievers:

There's Isaiah Cooper, the 16-year-old who became one of the youngest black pilots to fly around the United States. His next challenge will be even bolder: to become the youngest person ever to make a solo flight around the world, which would set a mark recognized by Guinness World Records.

Using only her determination and ability to organize, environmental activist Destiny Watford, 21, managed to halt the construction of an incinerator project in her Baltimore neighborhood. The project would have emitted 1,240 pounds of lead and mercury—annually. For her work, Destiny was awarded the Goldman Environmental Prize, the highest international award for environmental activists.

Moziah Bridges, the 15-year-old CEO of Mo's Bows, has been selling his colorful, handmade bow ties since 2011. This young entrepreneur has designed and presented a bow tie to President Barack Obama and was named a fashion correspondent for the NBA Draft. This year, he plans to release a classic NBA collection of neckties and bow ties.

Victoria Pannell has been fighting against child sex trafficking since she was 12 years old. At age 13, she started a petition with her mother to get the Village Voice to discontinue printing ads in its newspaper from Backpage, where many young girls are advertised for sex and labor. More than 41,000 people signed the petition, and eventually the Village Voice ended its relationship with the ad service.

Now 17 years old, Victoria recently became the youngest member of New York City's Community Board 1. While she can't vote in local or national elections, she does vote on whether businesses can receive liquor licenses and can demand that new businesses be accessible for people with disabilities—thus continuing her fight to give voice to the voiceless.

There are also a few celebrities featured on our list: Zendaya, the actress and activist, who has become the outspoken voice of her generation; ballerina Michaela DePrince, whose appearance in Beyoncé's "Freedom" video is merely a footnote in her amazing life story; and Simone Manuel, the first African-American woman to win an Olympic gold medal in an individual swimming event.

These are just some of the 25 inspirational young innovators who are well on their way to being future leaders, activists and entrepreneurs. Congratulations to this year's class of Young Futurists!