Michael Arceneaux hails from Houston, lives in Harlem and praises Beyoncé's name wherever he goes. Follow him on Twitter.
As the list of nominees suggests, the 64th Primetime Emmy Awards will likely feature the same levels of paleness and predictability that the TV-awards show has shown in previous years. As an answer, The Root wants to have a little fun and honor our own group of TV shows, actors and personalities — real, scripted, good, bad and those that fall somewhere in between — for their contributions. Enjoy it, honorees — because you're not going to get it from the Academy of Television Arts & Sciences. 
Best Performance in a Trench Coat  
G/O Media may get a commission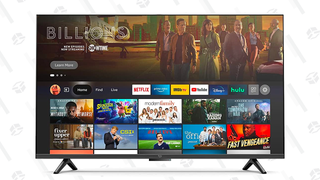 22% off
Amazon Fire TV - 50" Omni Series 4K - Early Access Deal
Kerry Washington, Scandal: Although the reviews of her character have been mixed, it's a shame that Kerry Washington wasn't honored with a real nomination for her role on Shonda Rhimes' political drama, Scandal. Not only does Ms. Washington flex her acting chops, but she does so with impeccable style. We can't wait to see how she and that trench coat she loves strut their stuff in the show's second season.
Worst Reality-Show Player
Stevie J, Love & Hip Hop Atlanta: The lothario is the man your mother warned you about and the dude your girl keeps telling you to run the hell away from as fast as humanly possible. Case in point: While cheating on girlfriend Mimi Faust, not only did the hip-hop producer-turned-reality star knock up Joseline Hernandez, but he also had the nerve to question paternity. Ultimately, as a "peace offering," Stevie J drove her to the abortion clinic and made her scrambled eggs — though Hernandez probably paid for the gasoline and groceries. Ladies, Jody Watley made a song for situations just like this.
Best Mama on a Reality Show
Joyce Jones, Real Housewives of Atlanta: As interesting as the relationships are between Love & Hip Hop stars Lil' Scrappy, Jim Jones and their mothers, Kandi Burruss and her mama's super-sane bond proves that an Oedipus complex isn't a requirement for an entertaining parental relationship on reality TV. Mama Joyce and Burruss also show how great a friendship with your mom can be — so long as you don't bring a male stripper around.
Best Ill Divo
J. Alexander, America's Next Top Model: There were many problems plaguing America's Next Top Model before the entire judging panel was given the boot, but Miss J. was never one of them. The former model and runway coach was not only a top-notch walker who gave the aspiring models credible advice on how to navigate the industry, but he also provided much-needed comic relief. No, we're not counting Tyra Banks' attempts to do so. Neither should any of you.
Best Dysfunctional Family
House of Payne: There are problem children, drug addicts, health scares and various other societal ills afflicting this multigenerational family crammed in the same house. It's the perfect melodrama in Tyler Perry's image — you know, if you're into that sort of thing.
Best Failed Attempt to Steal Some Dragons
Nonso Anozie as Xaro Xhoan Daxos on Game of Thrones: Betrayal and a botched coup involving dragons led to Xaro, a merchant prince, and Doreah, his servant mistress, being locked inside his vault and presumably dying of starvation on the popular HBO series Game of Thrones. So the lesson in that is to, uh, plan better?
Best Song by Reality Star  
"Closet Freak" by Miss Lawrence, Real Housewives of Atlanta: Co-star Kim Zolciak may hold the title for best gimmicky single from a reality star, but hairstylist and Sheree Whitfield sidekick Miss Lawrence isn't too far behind with "Closet Freak." Tackling the "Love me, but from way in the back of the closet" subject matter with a contemporary beat, the spirited, albeit goofy, track is sort of like if Peggy Scott's 'Bill' had a baby with a dance beat.
Sexiest Drug Dealer 
Rotimi Akinosho as Darius Morrison, Boss: So yeah, no one 'round here endorses the consumption or selling of illegal substances, but the model, singer and first-time actor makes bad look quite good.
Best Reality-Show Singer
K. Michelle, Love & Hip Hop: For all the headlines she earns over her beefs and years-old accusations of physical abuse, many forget that K. Michelle is an immensely talented vocalist. Here's to hoping she makes something of this newfound fame from her huge hit on VH1. If not, there's always Joseline Hernandez, Karlie Redd and the other big singer in reality-TV land, Tamar Braxton. Boom.
Best Changed-for-Better-or-Worse Show
The Game: What started out as a scripted comedy on the CW about the lives of the women attached to professional athletes somehow, after BET bought the canceled show, morphed into some black telenovela that caricatured originally beloved characters and tackled serious topics like abortion in less than substantive (or factual) ways. Take your pick on whether that's better or worse, but it's a definite change.
Best Dueling Twins
Tia and Tamera Mowry, Tia & Tamera: For years everything appeared cool, calm and collected in the world of Tia and Tamera Mowry. However, while they certainly care for each other deeply, on their hit Style-network reality show, the famous twins proved that some lingering issues can cause tension every now and again. No wonder they sent Roger home all the time on Sister, Sister: They needed to fix their issues privately. 
Best Spitting Image of His Dad
Damon Wayans Jr., Happy Endings: As evidenced by the matching visages of Damon Wayans and his offspring Damon Wayans Jr., one doesn't always need a DNA test to prove that somebody's your daddy. But while their aesthetic values are nearly identical, their senses of humor couldn't be more different. Choose your laughs however you see fit.
TV Producer Most in Need of a Clone
Shonda Rhimes: How does she do it all? She's got Grey's Anatomy, Private Practice and Scandal, and she's back at it with the FBI drama Under the Gun, which recently landed at NBC with a script commitment. Plus, there's still that film adaptation of Bitch Is the New Black, penned by The Root's Helena Andrews. Joining her in the busy-black-producer model are Mara Brock Akil and Salim Akil; Love & Hip Hop Atlanta creator Mona Scott-Young; and, of course, Queen Latifah.
Most Likely to Succeed
NeNe Leakes: Not only has the reality star successfully crossed over into scripted TV with her role on NBC's The New Normal, but she's even featured in the October issue of Vogue as part of a feature on the Ryan Murphy-helmed sitcom. Leakes recently told the New York Post that she has taken "meetings" about a prospective talk show. Leakes is sticking around for the long haul — proving that sass clearly can pave the way for greater successes.
Like The Root on Facebook. Follow us on Twitter.