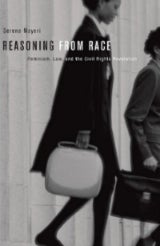 In Reasoning From Race: Feminism, Law, and the Civil Rights Revolution, Serena Mayeri unravels the intimate relationship between the civil rights and women's movements during the height of America's push for equality in the 1960s and 1970s.
Reasoning From Race examines the use of civil rights rhetoric by women's-rights activists following the tumultuous era of Jim Crow. Mayeri shovels through various Supreme Court cases and legal decisions to showcase the pivotal influence of race on the battle for gender equality. More than a mere chronicle of history, the book untangles the multifaceted relationship between "race and sex equality, civil rights and feminism" that Mayeri argues still exists today.
Previous recommendation: The Weeknd.
Got ideas for The Root Recommends? Send them to recommendations@theroot.com.