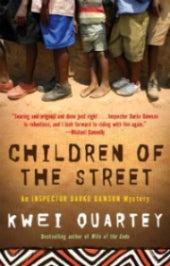 Kwei Quartey's Children of the Street may be a fictional crime drama, but it takes place in the very real slum of Agbogbloshie in the heart of Ghana's capital, Accra. The novel follows Inspector Darko Dawson as he solves a series of mutilating murders, each of the victims killed in the same, brutal way. Children of the Street goes beyond the elements of the Hardy Boys or Nancy Drew with its flawed protagonist, twisting story line and infusion of intimate African and Ghanaian elements.
With an enticing plot, well-stocked with twists and turns, and a dynamic and imperfect protagonist, Children of the Street is a great read for diehard crime-novel enthusiasts and leisure readers alike.
Previous recommendation: Jill Scott's 'The Light of the Sun.'
Got ideas for The Root Recommends? Send them to recommendations@theroot.com.