It is a rare piece of long-form journalism that breaks the internet. But that's exactly what happened when Ta-Nehisi Coates' keen, decisive reportage, "The Case for Reparations," dropped in June 2014, compelling the editors at The Root to give him that year's No. 1 spot.

Part of his The Root 100 bio read:

Two years in the making, Coates begins "The Case"—which set a single-day record for traffic to TheAtlantic.com, as well as swelled newsstand sales—with an individual, whom we follow from his terror-filled childhood in Mississippi through his migration to the redlined ghettos of Chicago. In documenting just how vast and entrenched inequality has been for African Americans specifically, Coates also casts a side eye to the pull-yourself-up-by-the-bootstraps trope favored by so many because … well, there were no boots to speak of. African-American disparity, you see, is "a difference of kind." No. If we are going to talk about reparations, payment for "multicentury plunder of black people in America," we must look to the bedrock of this nation's very foundation and the lens through which we view ourselves.
About a year later, Coates released Between the World and Me, a tome Toni Morrison hailed as "required reading," cementing him as one of America's foremost public intellectuals. The accolades came fast and furious: Coates was tapped to write a Black Panther comic book series, and he won a National Book Award and then a MacArthur Foundation "genius grant," with a $625,000 windfall.

"I won all of that money," he concedes. "That's probably been the biggest change in my life. And I probably have a little bit more name and facial recognition than I had before."

G/O Media may get a commission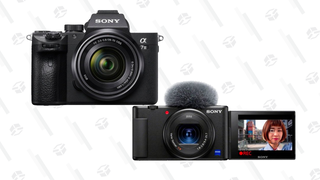 Cyber Monday Deals
Sony Camera Sale
Coates has reportedly had some issues with fame and, frankly, says he's been dealing with his heightened notoriety "not terribly well."
"When you're not a particularly public figure …. [and] you end up with 900,000 Twitter followers, it's different," he tells The Root. "I think you have a number of writers, or people in general, who have fame as a goal, and I'm just being straight with you—this is not false modesty—I just didn't."

The object always, he says, was "to be the baddest motherfucking writer on the planet." Not the baddest black writer, mind you, but the baddest writer on the planet. "Now, this is the sort of thing that could make you famous," he says, laughing, "but I didn't think about that.
"Who cares about writers? That was my perspective," he adds. "Not even saying I got there, but the pursuit is a part of the change that's happened."
These days, in addition to penning an occasional essay for The Atlantic, Coates says that he's looking forward to teaching a class on the essay at New York University's Arthur L. Carter School of Journalism in the fall.

He's also readying for the release of his book We Were Eight Years in Power: An American Tragedy (One World), to be released in October. Coates explains that the title comes from black Reconstruction-era Rep. Thomas Miller, who plaintively noted at the South Carolina Constitutional Convention of 1895, "We were eight years in power," and then questioned why Southern whites despised blacks so much, when their works during Reconstruction were good.
"It had tremendous echoes of what happened with [Barack] Obama," Coates says. "It was the fact that they were so successful that made them targets. I think the book tries to wrestle with that, in addition to my own experiences as a writer during the [Obama presidency]."
Coates is currently working on a script based on the New Yorker magazine piece "Wrong Answer," a school-cheating scandal that saw black teachers and administrators in Atlanta jailed. Acclaimed director Ryan Coogler, who also helmed the highly anticipated Black Panther film, will direct.
"I just have so much respect for his art. Let's just start there," says Coates, who reveals that he and Coogler have been able to forge a friendship. "He's someone I care a great deal about, and you just can't walk away from the opportunity to work with him."
Coates also speaks openly about the recent announcement of the endowment of ex-FBI Director James Comey with a chair at Howard University, a place that has had a seminal influence on Coates' writing.
"I think that's an excellent move for the university," Coates says. "When I was at Howard, the best part about it was the people you disagreed with, the people you got to fight with. So those kids having the opportunity to go back and forth with him, that's going to be awesome.
"And it will be a respectful thing, too," he assures, charging us to watch a video of Rand Paul speaking at Howard in 2015. "They're just gonna let him know they know their shit. I have no doubt they will take him to task. I'm certain of it."
The Root 100 2017 will be announced Sept. 18.