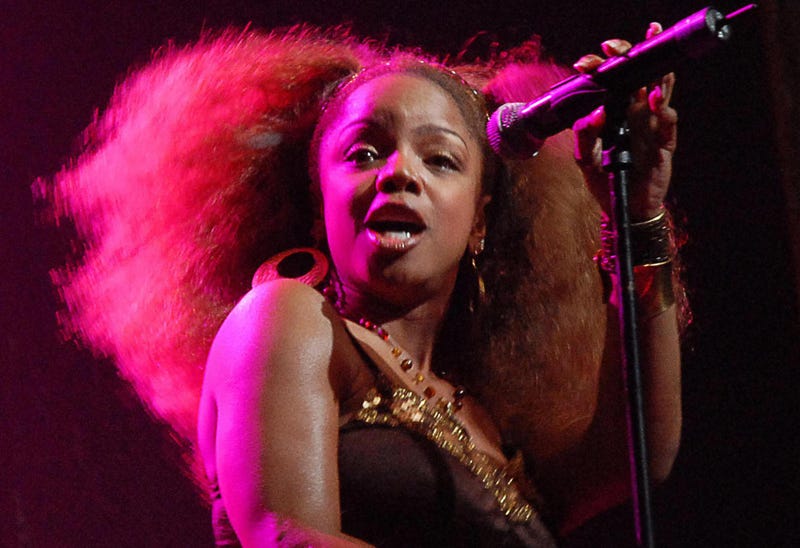 Leela James' last recording, Let's Do it Again, begins with a rendition of Betty Wright's "Clean Up Woman" and closes with the title track, a remake of The Staple Singers' classic. Betty Wright and Mavis Staples are defining examples of a generation of black women singers whose sass and soulfulness stood out as one of the few forms of public gravitas for black women in popular culture in the late 1960s and 1970s.
Much of that musical legacy has been appropriated by watered-down (white) sirens like Amy Winehouse and Joss Stone, who would likely admit to the influences of Wright and Staples on their careers. Nevertheless, hundreds of thousands of those who have purchased music by Winehouse and Stone have never heard of Wright or Staples, let alone James whose stellar, if uneven 2005 debut A Change is Gonna Come, fell largely on deaf ears. In the marketplace of popular desire, James—as an actual black woman singer of throwback soul—will never be as exotic as her white peers. Instead, she lets the music speak for her, and Let's Do It Again, a collection of 11 classic soul and R&B songs, says more about James' stature as a modern soul singer than any amount of record sales could.
Leela James was only 21 when she released A Change is Gonna Come. Despite her youth and svelte frame, James conveyed every stereotypical sensibility about what contemporary R&B singers were supposed to sound like. James told the Chicago Sun-Times, "people tell me all the time that I sound like a big, fat woman." It wasn't just James' voice that sounded out of sync with the modern diluted R&B world, but it was the sense of integrity that suffused her work: She was clearly drawing from a musical sound very different than most of her 20-something peers. Though James wrote a lot of the lyrics on A Change is Gonna Come, musically the recording collapsed under the full weight of her voice. Not surprisingly the most memorable tracks from James' debut were throwbacks, like her rendition of Sam Cooke's "A Change is Gonna Come" and the spiritual "I Know I Been Changed."
Signed to a new label, Shanachie, James' turn to a collection of vintage recordings was a no-brainer. The trend among "mature" R&B performers to record old work has been a strategy ripe with success; Kenny Lattimore's Timeless and The Way I See It, Raphael Saadiq's brilliant collection of "original" throwbacks. There have been some outright failures as well, like Patti LaBelle's Classic Moments and Seal's overproduced Soul. James succeeds, in part, because she rarely strays from material that matches her voice. So "Clean Up Woman" and Bootsy Collins' "I'd Rather Be With You" seem more sincere and organic, than perfunctory.
She's weak when she tries to pay tribute to underappreciated women vocalists such as the late Phyllis Hyman and Angela Bofil, who is recovering from a series of strokes. James' cover of Hyman's "You Know How to Love Me" falls flat. Few have been able to replicate the late Hyman's deft handling of upscale dance music. Bofil's "I Try" is closer to home, but it still doesn't capture the nuance that Bofil (and Will Downing, for that matter) brought to the original. Despite the setback on "I Try," James proves quite adept in her interpretations of ballads, such as James Brown's "It's a Man's, Man's, Man's World" and what is a thoughtful rendition of Al Green's "Simply Beautiful."
But the real surprises on Let's Do It Again are James' covers of Bobby Womack's "Nobody Knows You When You Down and Out" and Foreigner's soft rock classic "I Want To Know What Love Is." The Womack track highlights why he deserved his recent induction into the Rock & Roll Hall Fame, with James showing just how timeless Womack's music is. The track is easily James' best performance on Let's Do It Again. On the original version of "I Want to Know What Love Is," Foreigner is accompanied by the New Jersey Mass Choir and Jennifer Holliday, giving the track a soulful (and over-the-top) feel. James deconstructs the moment, presenting a version that is gritty and moody. Part of the brilliance on this track comes from the band's use of the bass riff from Albert King's "Born Under a Bad Sign."
Let's Do It Again will likely not turn Leela James into a household name like Amy Winehouse, Joss Stone or even Dap Kings' lead, Sharon Jones. At best, the recording will earn James a new generation of committed followers. Let's Do It Again gives us a glimpse of the development of an artist, who at the age of only 25, is clearly destined to be one of the most important voices of her generation.
Mark Anthony Neal is the author of several books including Songs in the Key of Black Life: A Rhythm and Blues Nation. He is a professor of Black Popular Culture in the Department of African & African-American Studies at Duke University.
Mark Anthony Neal is a professor of African and African-American studies at Duke University and a fellow at the Hiphop Archive and Research Institute at Harvard University's Hutchins Center for African and African American Research. He is the author of several books, including Looking for Leroy: Illegible Black Masculinities. Follow him on Twitter.