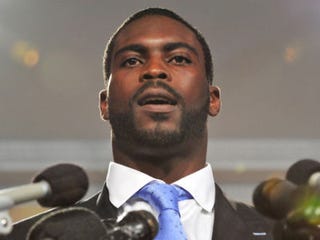 The rehabilitation of Michael Vick: NPR's Sarah Handel is hoping that the football player's incredible image rehabilitation amounts to his actual redemption.
Eighty-two-year-old surrounds house with chicken wire to avoid eviction: This great-grandmother is stopping at nothing to keep her home of 44 years after having entrusted it to predatory lenders.
The Obamas step out for date night: The Huffington Post reports that the president and Mrs. Obama stepped out in Martha's Vineyard on Friday for a private date night. Unfortunately, it was so private that there are no pictures (and not many details for Republicans to scrutinize). All we know is they went to the Beach Plum Inn in Menemsha, Mass. 
Source: District attorney likely to drop Strauss-Kahn case: Prosecutors are likely to drop the sexual-assault case that spurred Dominique Strauss-Kahn to resign as head of the International Monetary Fund and upended French politics before it was riven by questions about his accuser's credibility, a person familiar with the case told the Associated Press on Sunday.
In other news: Vogue Says Sorry For 'Slave Earrings.'