If there's ever been anyone who can speak on the ins and outs of being a television writer and producer, it's Felicia D. Henderson. Henderson's newest show, The Quad, BET's HBCU drama, which she co-writes and executive-produces, has received rave reviews since its premiere. The New York Times said that the show puts important issues in the foreground while "avoiding extremes of either sentimentality or sensationalism," and the Hollywood Reporter called it "BET's energetic and addictive new series."

To call Henderson TV writing and producing royalty would be an understatement. Her credits include writing and executive-producing some of your favorite shows, such as Moesha, Sister Sister, Soul Food, Everybody Hates Chris, Gossip Girl and Fringe. With her newest show, Henderson is looking to shed light on HBCU life, as well as show black students that attending an HBCU is always an option.

Henderson spoke with The Root about The Quad and the evolution of black television drama.
"In the 20-plus years of my career, my goal is always to keep growing as a writer, and you never know what the business is going to become. When I transitioned from comedy to drama, my friends asked how did I know comedy was over. I didn't know that within a couple of years, black family comedy wouldn't be found nowhere on network television," Henderson said about her career transition.

Of course, The Quad isn't the first series to focus on the HBCU life. We all remember A Different World, but that show is considered a comedy. Henderson, along with director Rob Hardy, executive producer of Stomp the Yard, thought it would be cool to have a Friday Night Lights-type show set on an HBCU campus. Hardy, who went to an HBCU, brought his own experience to the show, and Henderson, who paid for her niece and nephew to attend HBCUs, also provided some relevant background to the series.
G/O Media may get a commission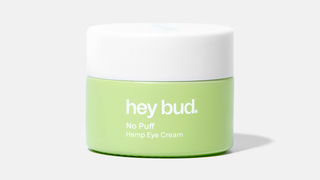 15% off
Hey Bud - No Puff Hemp Eye Cream
Henderson said that it took three-and-a-half years after the pitch to the network for the show to become a reality, and compared it to a feature-film development, but it was definitely worth the wait. Especially when it comes to the feedback Henderson has received.
"Ninety percent of it has been so positive. And not just people who currently attend an HBCU, but adults who have attended in the past," Henderson said. "It makes you feel so good. When the network wanted me to live-tweet during the pilot, I couldn't keep up. We were trending on Twitter, and when we had the big band performance, people got excited. At BET, there are so many people who were educated at BET, and many executives sent me emails saying they were rooting for me."

Henderson said that people were excited about the series as she was writing it with her co-writer, Charles Holland—and then to see the ratings go up from week 1 to week 2, she said, was amazing.
"I hope that what we are demonstrating is what we always say as black people ... that there isn't a monolithic black experience. I hope in words and pictures that we're demonstrating that. Our goal is to show pretty much everything that we are. We aren't still used to seeing us from our point of view. We want to show us in all of our glory and all the ways we present. Just like mainstream America, we have good people, bad people, educated people, decent people. The real goal is to show the entire plethora of experiences that are black experiences," Henderson said.
Henderson feels that the experience of the show's stars and writers who attended HBCUs adds authenticity to the project. In addition, Henderson, who teaches at UCLA, knows a little about faculty politics, so that, too, brings another dynamic to the show's depiction of the university's administrative side.
Back in the day when A Different World was on television, it provided my generation insight into attending an HBCU. In fact, if not for the series, several of my own friends wouldn't have gone to one. Henderson hopes that The Quad, which is filmed on Morehouse's campus in Atlanta, will similarly inspire a new generation of potential HBCU students.

"If I could affect those people who don't think college is an option, my job would be done. Those are the ones who I care about and spend my volunteer time with. Maybe if they saw that there's an opportunity to go somewhere where people look like them and where their excellence and intelligence is normal and not questioned, and that it's expected. That's just a cool thing. And that's one of the things I love about my experience of the HBCU," Henderson said.
Henderson hopes not only to reach potential students but also to give back to students on the campus of Morehouse, which never allowed people to shoot on its campus until The Quad.
"Every day, I want to be worthy of that trust and faith by showing the most quality. We have a responsibility to those students, and we hope if there's a second season, we can get an internship program going," she said. "I stand here as a black woman in America who is able to create a show. I'm reminded that I have no choice [but] to do my best," Henderson says.
And the best is what Henderson has done with her career.