Lincoln University President Robert R. Jennings stirred up a lot of trouble for himself when remarks he made in September to female students insinuating that women lied about rape went viral this week. After much public outrage, he apologized on Tuesday.
Justice Smith Talks New Dungeons & Dragons Movie, The Get Down On That's So Random
 "My message was intended to emphasize personal responsibility and mutual respect," Jennings wrote. "I apologize for my choice of words. I certainly did not intend to hurt or offend anyone."
He added that he would "choose [his] words more carefully" going forward.
I'm glad that people rose up to condemn that inflammatory portion of his speech about rape. And I'm glad Jennings had a "come to Jesus" epiphany, or at least followed the advice of the university publicist, and apologized for his remarks on rape. But there was another segment of the speech that deserved some ire and an apology: the segment about guys liking to have fun with women in short dresses, but going on to marry the women who wear the long ones. 
G/O Media may get a commission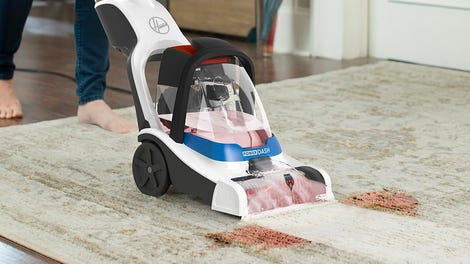 26% Off
Hoover PowerDash Pet Compact Carpet Cleaner
"Men treat you, treat women, the way women allow us to treat them," Jennings told the young women. "And let me let you in on another little secret. We will use you up if you allow us to use you up. Well guess what? When it comes time for us to make that final decision, we're going to go down the hall and marry that girl with the long dress on. That's the one we're going to take home to Mom."
These comments are minor in comparison with the ones about rape. But they caught my attention because they uphold the Madonna-whore stereotype, that women of worth have to be covered up and asexual. God forbid a young woman of legal age with the body to show off in a short dress wears one and explores her sexuality with another consenting adult. This somehow makes her unworthy of marriage.  
The young man in this equation? He gets off scot-free. Boys will be boys, right? So what if he's exploring his sexuality, too, and so what if he explores it with as many women as possible? The conservative woman down the hall with the long dress on? She should be happy to have him, no matter how messy he's been, right? I would love to hear Jennings' speech to the male students. I wonder if there was any mention of "No means no," "Don't rape," "Don't have sex with just anyone," "Respect your coeds" or "Don't judge a book by its cover."
I'm baffled as to why a college president feels the need to focus on the social and sexual lives of his female students. Why are we talking to college-age students about marriage instead of, I don't know, their education, their interviewing and networking skills, and their readiness to enter the professional marketplace?
But I'm even more baffled at the lies we keep telling women, that if we do things by the letter, then we'll get the reward: marriage. There are heaps of educated, hard-praying, knees-covered women who leaned in to that theory and are single. I hear from them daily and they ask, "Why?" and "What did I do wrong?" They all know married women with kids—who might have dropped out of school, might still have their cleavage exposed and a short dress on—and they just don't get it.
These single women bought the hype about the "type" of woman who gets married. They didn't know that the only "type" who marries is the type who wants to be and who finds someone she loves and who loves her back. It happens to all sorts of women, no matter the length of the dress they wear or how closely they uphold the Madonna archetype.
The truth is, the game is rigged against women. If you explore your completely healthy and normal sexuality as an adult—and don't let people actually find out that you do—you're not marriage material. Want to "save yourself" for marriage? At 22 and inexperienced, those women are often called prudes. I hear from them daily. The guys they want to date want to have sex, and as soon as those guys find out that this particular woman isn't having it—literally and figuratively—they bail.
We tell women to focus on building a career. That's fine with everyone until those women at the ripe age of 25 don't have a husband, at which point everyone and their mom asks, "Why are you single?" It's also fine to be professionally driven … until she has too many titles and owns her own stuff, at which point she's told she's "too independent," and has left no room for a man to provide. The New York Post writes articles about the "scrubs" she's forced to date because she's risen too high and too fast. And if a woman doesn't have her own money? She gets called a lazy gold digger trying to profit from someone else's sacrifices.
It's an evil catch-22.
The best advice to give to college-age women? What I wish I was told? (It would have saved me years of heartache and headache.) Don't fumble this opportunity. Learn as much inside the classroom as outside of it. Take your time getting to know people because everyone isn't what he or she seems. Have safe sex (in a speech about sex on college campuses, I find it unfathomable that there was no discussion about safe sex). Be you. Figure out who that is and find someone who loves you—flaws and all. If he won't marry you—if that's what you want—keep looking. You have more options than you think or that you're told about.
Demetria L. Lucas is a contributing editor at The Root, a life coach and the author of Don't Waste Your Pretty: The Go-to Guide for Making Smarter Decisions in Life & Love as well as A Belle in Brooklyn: The Go-to Girl for Advice on Living Your Best Single Life. Follow her on Twitter.