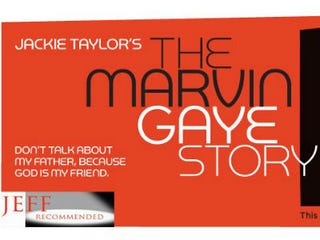 (The Root) — Even with a slew of classic hits, such as "What's Goin' On" and "Let's Get It On," Marvin Gaye still had many demons — including drug addiction and troubling family relations — that he did not conquer during his reign in music. Presumably, anyone chosen to play Gaye has a heavy role ahead of him.
There have been a number of contenders for biopics that never happened, including Jesse L. Martin and Terrence Howard. With plans for a film still not set, the Black Ensemble Theater in Chicago has taken matters into its own hands with The Marvin Gaye Story (Don't Talk About My Father Because God Is My Friend), a play that touches on Gaye's relationship with his late father, Marvin Gaye Sr. In the production, which features an intense plot — starting off with the man of the hour recounting his own death at the age of 44 — Rashawn Thompson stars as Gaye and performs in several musical numbers.
Get tickets for the show, which runs through Aug. 19 at the Black Ensemble Theater Cultural Center.
Previous recommendation: Banks' 'Bittersweet' Is a Story of Triumph.
Got ideas for The Root Recommends? Send them to recommendations@theroot.com.
Like The Root on Facebook. Follow us on Twitter.