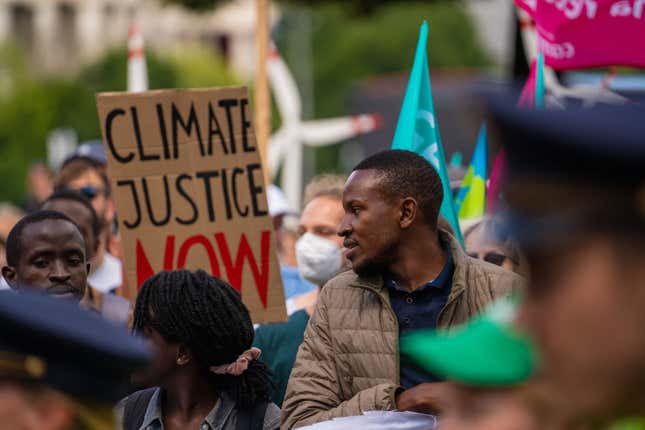 If the late Marvin Gaye could add climate change to his ecological masterpiece "Mercy, Mercy Me," he might ask: Where did all the cool nights go? Heatwaves in the 'hood, no shade from the sky, no AC to keep grandma from dying.

Making Love Songs: The Story Behind Method Man's "All I Need"
Why might the late Motown crooner sing that? Because on Wednesday, the World Meteorological Organization announced that Earth will almost assuredly see its warmest average temperature yet over the next five years. To that end, there is a better-than-even chance that one of those next five years will see the planet temporarily breach limits set by the Paris climate accords to avoid the catastrophic effects of climate change. The Paris Agreement recommended that nations reduce greenhouse gas emissions to hold Earth's warming to 2.7 degrees Fahrenheit (1.5 degrees Celsius) over preindustrial levels.
The heat is already on this year, with the onset of summer still a month away. Las Vegas had a record day of 93 degrees in April. Seattle and Portland, which broke summer records two years ago with 108 and 116 degrees respectively, set new May records in the 90s. Globally, new spring records up to 114 degrees Fahrenheit were set across Portugal, Spain, Morocco Algeria, Vietnam, Laos, Cambodia and Thailand.
Temperatures like that mean death. Extreme heat kills more people in the United States annually than any other weather-related event, such as hurricanes, floods, or tornadoes. In North America, the most recent searing evidence of that was the more than 1,400 deaths under the "heat dome" in 2021 that suffocated Oregon, Washington state, and western Canada.
Because of the demographics of that part of North America, most of the victims of that historic heatwave happened to be white. But close attention to the key factors associated with the deaths in Vancouver, British Columbia, Portland and Seattle, reveals threads all too common with the day-in, day-out conditions of many African Americans. Typically, the victim was a socially and materially deprived elder, had underlying health conditions, and possessed no air conditioning in neighborhoods lacking the cooling effects of greenspace.
Black people share those conditions to the level of being disproportionately sealed under the dome of a hotter world, with dire consequences likely if the nation does not fight climate change. According to a 2021 study of the nation's 175 largest urban areas, people of color in the U.S. were more likely than white people to live on what are called "heat islands." This is the modern term for the "concrete jungle," referring to parts of cities where the concentration of buildings, roofs, roads, sidewalks, and parking lots relentlessly absorb and radiate the sun's heat. Such neighborhoods are often marked by a lack of trees, parks and ponds, creeks, and lakes that naturally cool and moisten the landscape.
Black people, according to the study of 175 cities, have the highest surface urban heat island exposure of any racial or ethnic group, with Hispanics coming in second. It is not an issue of poverty. The nation's history of redlining and many other forms of housing discrimination in neighborhoods that white interests see as cooler—figuratively, and now, literally—have resulted in Black people being marooned on heat islands regardless of their income.
No one yet knows what that means in actual number of deaths. The federal government says about 700 people die annually in the U.S. from heat-related illnesses, but a 2020 study estimated that number is much closer to approximately 5,600 deaths a year. A Los Angeles Times analysis calculated that California alone suffered 3,900 heat-related deaths from 2010-2019.
What we do know is that Black people are being disproportionately affected. In New York City, where the health department says 370 people die annually from heat-related causes, Black people are twice as likely to die from heat stress than their white counterparts. A 2021 New York Times story found a 35-degree difference on a blazing day in August between the 119-degree sidewalk temperature on a tree-less section of the South Bronx and the 84-degree sidewalk temperature on the thickly-treed Upper West Side near the urban forest of Central Park.
In California, racial disparities have been bubbling up like lava from a volcano. From 2005 to 2015, the rate of emergency room visits for heat-related illnesses soared by 67 percent for African Americans, 63 percent for Latinos, and 53 percent for Asian Americans. It should be noted that the rate of Black emergency room visitors was more than twice the 27 percent increase for white Californians.
Technically, these disparities in heat risk are not new. In the 1995 Chicago heatwave that killed more than 700 people, Black residents had an age-adjusted death rate that was 50 percent higher than white residents. The highest risk was for Black seniors, who had a death rate nearly double that of white seniors.
Worse, it's not like Black people don't know they are in the crosshairs of a sizzling climate. A 2020 poll commissioned by the Harlem-based WE ACT for Environmental Justice and the Environmental Defense Fund found that 52 percent of Black respondents were "very concerned" about heatwaves, nearly double the 28 percent of white respondents who were very concerned.
The question is this: Will the part of our nation that enjoys the cooling cross breeze under an oak canopy ever sweat enough to care about climate change? Or even hear the S.O.S. from our blistering heat islands? Mercy, mercy me. Things ain't what they used to be. What about this overheated land? What more abuse from man can she stand?
Derrick Z. Jackson is a former Boston Globe columnist and a finalist for the Pulitzer Prize in commentary.