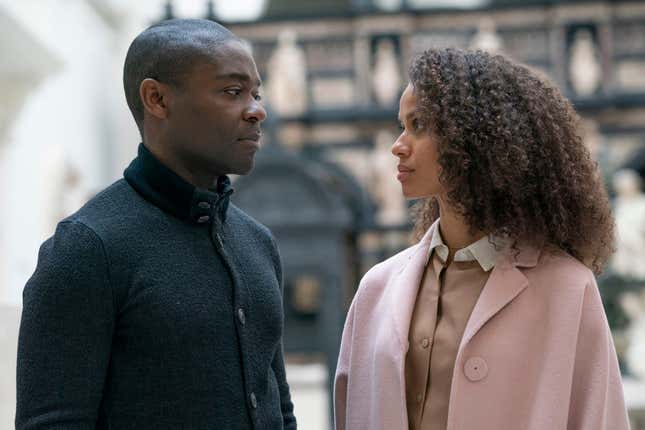 HBO Max has dropped its next limited series we will likely become way too invested in.

Cosby Show & The Resident Star, Malcolm-Jamal Warner, Plays That's So Random
Psychological thriller The Girl Before follows "Jane (Gugu Mbatha-Raw), who gets the chance to move into a beautiful, ultra-minimalist house designed by an enigmatic architect (David Oyelowo). There's just one catch: the occupants must abide by his list of exacting rules. Jane starts to feel the house changing her in unexpected ways, but when she makes the shocking discovery about her predecessor, Emma (Jessica Plummer), she's forced to confront unnerving similarities. As the two women's timelines interweave, Jane begins to question if her fate will be the same as the girl before…"
Based on the JP Delaney novel, all four episodes premiere Thursday, Feb. 10. Delaney writes and executive produces, alongside co-writer Marissa Lestrade. Emmy nominee Lisa Brühlmann (Killing Eve) directs and executive produces.
Ben Hardy co-stars with Mbatha-Raw, Oyelowo and Plummer.

The trailer is a slow burn of suspense, with Jane initially enjoying the idea of a fresh start, but things quickly take a turn when she figures out there's a reason the house was so hard to get into.
Obviously, this would make for a very short series, but anytime someone tells you, "sure you can live here, but these are the specific rules you must follow," that's a giant red flag. Weird stuff is definitely about to happen.
Even if you move in, then find out the previous tenant looked just like you and mysteriously disappeared, move out immediately. Of course, as we said, that wouldn't be a very compelling four episodes of TV.
Mbatha-Raw was most recently seen as Ravonna Renslayer in the Disney+ series Loki, and next appears in the miniseries Surface.
Oyelowo has a busy slate of projects coming up including the film Solitary and the period mystery See How They Run. He also stars in the upcoming AppleTV+ sci-fi drama series Wool.
Is The Girl Before your next binge?