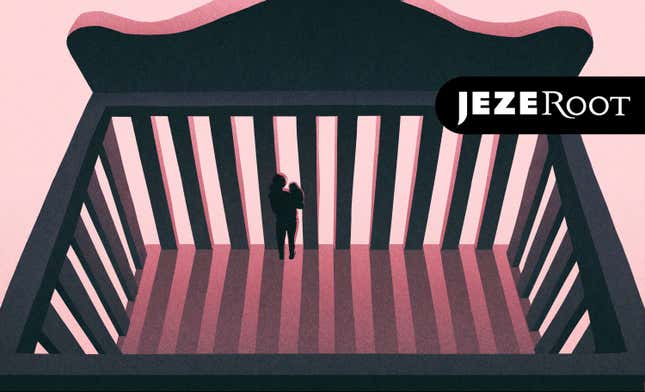 For Women's History Month, Jezebel and The Root are partnering for JezeRoot, a series that focuses on women of color, domestic workers and sex workers.

Fighting "Lie-abetes": How To Spot And Combat Disinformation and Conspiracies In Politics | The 411: Part 2
When she was getting ready to have kids, Erika Washington was not without advice. People cautioned her about the cost of the diapers. They gave her advice on pregnancy and giving birth, about what it would be like when she returned home. They told her about the long nights, about not having time to shower, about how expensive formula is. But they didn't talk to her about child care.

"Nobody talked to me about how much day care was or how hard it was to find a good one or how to keep track of what's going on," said Washington, who has three children. "And then no one talked to me about policy."

The well of advice ran dry when it came to matters like looking for a child care center, or how to navigate family and medical leave. As a young mother in Detroit, Washington found herself relying on a co-worker to help care for her children when she was at work. She tried one day care center that she was unhappy with before finding another in-home day care that she liked so much, she ended up sending all three of her children there. Through it all, Washington was unsure of herself: Was she getting a good deal? Was she asking the right questions? And how would she know?

Today Washington is the executive director of the Make It Work Campaign in Las Vegas, which advocates for policies around economic, racial and reproductive justice. A large part of Washington's work is organizing black women and getting them to talk about their issues with child care, educating them about their options and helping lift up their voices and stories.
The child care system cobbled together in this country is a challenge for all parents, but the stakes are perilously high for working-class women and women of color. As experts I spoke to noted, America's current child care system—a largely privatized patchwork of options ranging from after-school centers to live-in nannies—does more to exacerbate inequality than it does to alleviate the struggles of the working class or offer assistance and nurturing to the children who need it the most.
But it doesn't have to be this way. During the 2016 presidential election, both Bernie Sanders and Hillary Clinton had universal prekindergarten as a major component of their campaign platforms. And this year's recently passed budget, signed by President Donald Trump, includes a $3 billion increase for child care and early-education programs.
As study after study has found, the benefits of high-quality child care are myriad on an individual level and societywide. As Nobel Prize-winning economist James Heckman noted, the positive outcomes, ranging from better long-term health for students to greater earnings for parents, have the additional distinction of impacting two generations simultaneously.

Still, the challenge ahead lies in applying the benefits of high-quality child care more equitably to all Americans, particularly the working-class women and women of color who both provide it and suffer disproportionately from a lack of access to it. The women The Root spoke to have some ideas worth building on.

---
To understand how to create a fairer and more equitable child care system, it's important to understand how the current one works—or doesn't.
Most child care in the United States is privately purchased, and while rates have gone up for Americans of all socioeconomic backgrounds, a recent Quartz article reveals that affluent families pay the lion's share of all child care dollars spent in this country. This also means that they receive the highest-quality child care, and their children reap most of the cognitive and social benefits. Meanwhile, writers Corinne Purtill and Dan Kopf note that the absence of quality, affordable care means that low-income families increasingly rely on relatives or unlicensed caregivers.
In fact, in Las Vegas, Washington notes, it costs less to pay for tuition for one year at the University of Nevada, Las Vegas, than it does to pay for a year of child care.
In the private sector, employers have included more robust child care options in their benefits plans as a way of recruiting and supporting female employees, but this casting of child care as a personal rather than a collective responsibility may be preventing broader changes being made.
Julie Kashen, a senior fellow at the Century Foundation, a progressive, nonpartisan think tank committed to reducing inequality, said that she wants employers committed to child care but notes that placing the responsibility on employers to subsidize or provide on-site care is not the answer for everyone.
"If you think of nail salons, it is not safe for kids to be around chemicals. If you think of dry cleaners, if you think of restaurants, right? There's so many low-paid sectors where on-site child care is just not an option," Kashen said. "And we're just going to be perpetuating the cycles of inequality if we focus too much on that as the only solution."
In many places, government-funded solutions are woefully limited, taking the form of subsidies for low-income families and tax credits for the middle class.
"We kind of have this bifurcated system," Kashen says—and it doesn't reach everyone.
"Even the biggest program that we have, the Child Care Development Block Grant, which is for the lowest-paid families—it only serves 1 out of every 6 eligible families," Kashen continues.
And for the working-class parents who do receive subsidies—in Nevada, Washington explains, this comes in the form of vouchers—they are often faced with a new set of challenges, like finding a day care that will accept the vouchers, or facing stiff penalties if they need care outside of the hours between 8 a.m. and 5 p.m.—something not uncommon in a city like Las Vegas.
The current inequities in America's child care system also disproportionately affect women of color no matter where they're positioned on the spectrum—as people who need child care or those who provide it. While more and more women have become their household's primary breadwinner, black women and Latinas are more likely than white women to fill this role. In fact, the rate was highest for black women; according to one 2016 study, 70.7 percent of black mothers were the sole breadwinner for their family.
Women of color have always served in child care roles, particularly as nannies and caretakers within the home—jobs that have been historically underpaid and undervalued. In the past, this role typically looked like the black "mammy" figure. Currently, black women from the global south continue to fill these positions, part of a larger stream of immigrant women of color who are currently shouldering the responsibility for raising the kids of affluent Americans.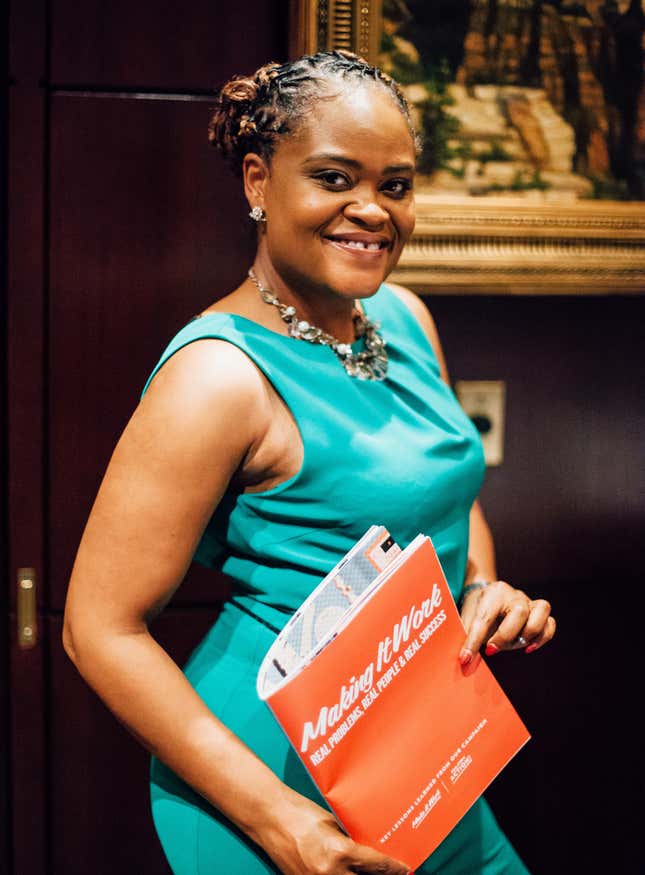 When Washington begins talking to women about child care, she says they often take for granted that it has to be this way.
"People have gotten so used to not being able to afford things or things just costing too much that they don't necessarily think of where the problem stems from, or that it's something [that can] be alleviated," Washington says.
"When we first started talking to folks about affordable child care, it's like, 'Yes, day care is expensive, but that's just what it is.' That's just like saying that one restaurant is really expensive," she added. "Is it, like, because you're getting super-great service and food? And they're like, 'No, that's just how much it costs.'"
Capping the Cost of Day Care for Low-Income Families
That's why one of the proposals both Kashen and Washington mention involves getting financial assistance on a sliding scale basis, capping the cost of child care at 7 percent of a family's income.
Kashen notes that Sen. Patty Murray (D-Wash.) and Rep. Bobby Scott (D-Va.) have introduced this idea in their Child Care for Working Families Act. This would be achieved by mandating increased federal funding—authorizing $20 million (or 0.03 percent of the total $59 billion education budget) in 2018, which would increase to $40 million by 2020.
This sort of assistance would free up working mothers from one hard decision that frequently comes up: having to choose between losing their day care subsidies or getting a slightly better-paying position at work.
"I've heard people say that they didn't take a promotion" so they could keep their vouchers, Washington tells me. "The raise wasn't enough to then cover if they got kicked off the subsidy."
Centering the Working Class
"Most people are working because they have to, whether they want to or not. And we don't have a solution for the fact that kids need to have safe, nurturing places to go while their parents work," Kashen explains. This is particularly true of working-class mothers, who often don't have control of their work schedule and work nontraditional hours.
Just as high-quality care can advance two generations at the same time—freeing up a working parent to develop their career or get further qualifications while their kid receives the nourishment, care and structure that a quality day care provides—the lack of choices can impede both kids' and parents' ability to flourish.
Centering working-class needs would include offering care during nontraditional hours and not penalizing parents by charging higher care rates during those times. Even requiring more day cares to accept child care vouchers would greatly increase the options available to lower-income working women, allowing them to secure higher-quality care in places closer to their workplaces or home.
In making these changes, working mothers would be free to advance their careers and educations in a way that only the affluent can afford to now.
In story after story, working women describe struggling between giving up a job they love, taking on another job or postponing or prolonging their education just to afford child care. In some cases, women have to turn to their personal networks to arrange care—tapping friends, co-workers and family members to fill the gaps. But for women who can't rely on those informal networks, that career instability can hurt their job prospects down the line.
"If you're stagnant for too long, that's like a red flag to folks," Washington says. "So you say no, it's because my day care, a prospective employer is going to look at you like, 'OK, girl.' You like your day care but you didn't want a better job? It doesn't make sense to a lot of people."
Paid Family and Medical Leave
To alleviate the burden on center-based care and to provide working families with more flexibility, there needs to be paid family and medical leave.
Kashen, who's worked with former New Jersey Gov. Jon Corzine on paid family leave and helped write in the first paid sick days for the late Sen. Ted Kennedy's Healthy Families Act, notes that there's been incremental progress on this front: Five states and Washington, D.C., have now passed laws pertaining to paid family and medical leave, with momentum growing in other states.
Giving working mothers the option to take days off for maternity leave, sick days or other family needs means that women can have more time to nurture and bond with their children and spend time with them during summer leave and other days off from school. Apart from alleviating stress, there's a substantial health benefit to this: When that inevitable fever or cold hits, parents can stay home with their children or get them to a doctor rather than send them off to a school or day care, where their sickness spreads and impacts other families.
A Living Wage and Protections for Child Care Workers
Child care providers (this includes nannies as well as day care workers) are too frequently undercompensated despite the incredibly valuable work they do. A key component of providing quality care for children is giving providers a living wage and providing long-denied protections for domestic workers who end up helping with child-rearing. For these workers, this means finally granting them the ability to unionize or extending health and safety protections they've long been shut out from.
There is a clear gender and racial component to this historic exclusion.
"There's absolutely a dynamic, you know, of white women rely[ing] on women of color and immigrant women to care for their kids," Kashen says. "The part of it that is particularly interesting and enraging is that it's a combination of sexism and racism that makes it such an undervalued and underpaid industry and sector."
Universal Preschool and Day Cares
Adding universal preschool and day care is another component of the Murray-Scott Child Care for Working Families Act, and it's a key education proposal for progressives. In the United States, this takes the form of the Head Start program, which studies have shown has helped improve educational outcomes for students. Enrolling children in Head Start accelerates their social, emotional and behavioral development—particularly among African Americans, the Brookings institution found—and increases positive parenting practices for parents from all backgrounds.
Expanding on universal preschool and day care can also supplement the work of our K-12 education system and eases the reliance on vouchers and individual subsidies.
In Kashen's view, our current public education system, while not perfect, could be a good model in terms of helping Americans visualize a system that provides everyone "a fair opportunity, and can be available to everyone at no cost." Some support care for children 6 months old to kindergarten age, while others propose care for children up until the age of 13.
Avoiding the Problems of the K-12 System
Not all child care is built alike, and it's important to remember that poor-quality day care can be worse for kids than no day care at all. As James Heckman observed in one comparative analysis, boys who received low-quality care suffered from worse health outcomes than boys who stayed at home with their mothers (interestingly, girls weren't quite as affected).
So how do we define "high-quality child care"? As stated in the Washington Post, experts vary on their definitions, though Heckman says that a key component of high-quality child care is "empathetic adults who engage meaningfully with their young charges." As children grow older and develop, these providers are able to give them personalized attention.
But it's salient to remember who we're sending to these child care centers—particularly if we're using our public school system as an example. As current demographics show, the majority of children entering these programs will be nonwhite, making cultural competency and staff diversity another necessity for child care providers.
With implicit bias rearing its head in the classroom as early as preschool, the challenge will be building a child care system that can avoid some of the harms that our current education system inflicts on minority children—and unfortunately, no one has a clear answer for this.
"We integrated a system that was never built for us and that was never built to educate us," Washington says. "We could not replicate something that was inherently biased in the first place."
Changing Views of Gender Roles
As the experts I spoke to noted, a reluctance to support women in the workplace or appropriately compensate women has held back a lot of these initiatives.

Nancy Folbre, an economist and author of Valuing Children: Rethinking the Economics of the Family, says that a "legacy of ambivalence" rooted in attachments to traditional gender roles has impeded our ability to create a fairer and more equitable child care system.
There's a "kind of longing to return to some good old days when women could stay home and just provided free care for everybody," Folbre says. That ambivalence, coupled with deep economic inequality and racial divides, has prevented working families from building the sort of political coalitions that could effect change.

"No one's talking about [child care]," Washington tells me. She adds that because so many women are reluctant to talk about their child care struggles, they have no idea of the scope or severity of the issue.

Compounding the shame is the narrative often placed on black and brown women that their struggles are a result of their lack of personal responsibility.
"You demoralize someone for not being able to afford something and say, 'Well, that's your fault,' and they already feel bad about themselves," Washington says—that's why organizations like the Make It Work Campaign strive to broadcast personal narratives around the struggle to secure high-quality child care. In building these networks, Washington and others also hope to get working women more active in engaging with policy.
Kashen believes there's reason to be optimistic that the fight for affordable, high-quality child care will net more wins in the future.
"It's on the map in a way it hasn't been before," she remarks, pointing to the recent budget increase as well as family leave proposals and the Domestic Workers' Bill of Rights that multiple states have passed.
On this point, Washington agrees.
"It all sounds very highbrow to talk about initiatives and lobbying at your federal government or something like that," Washington says.
But she urges, "you don't just need to take everything that's thrown at you."