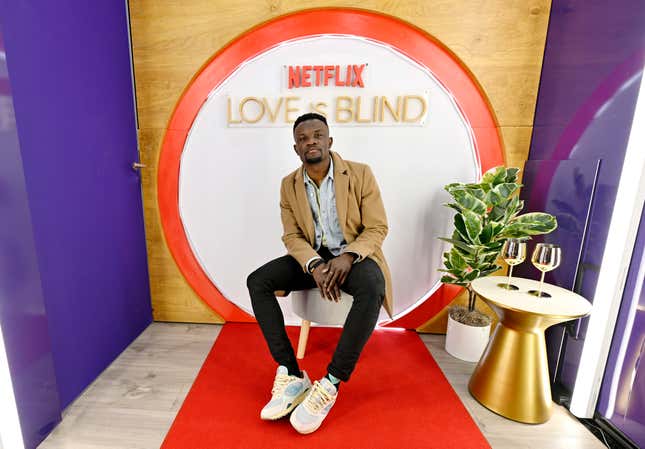 Netflix's hit reality dating show Love is Blind has concluded its fourth season. And we, the Black audience, have ended the show exhausted, yet again, after watching a Black man diminish his Blackness and culture every week to earn proximity to whiteness.
Barack Obama Hosts Working: What We Do All Day, Our TV Pick This Week
Portland native, Kwame Appiano, introduced himself on the show as a 33-year-old sales development manager. Later, he opened up about growing up in Ghana and wanting to use the name Alex in the pods to avoid racial bias and assumptions about him.
The sensation of Love is Blind is that it puts its contestants to the test to see if dating people without physically seeing them can truly create the beginning of a love story. Contestants spend hours dating while sitting in rooms called "pods" with a wall between their room and their date's room. Throughout the season, contestants rotate rooms while getting to know each other. Some even get close enough to a contestant to get engaged, allowing them to leave the pods, meet each other in person, and determine if they want to get married at the end of the experiment.
The disappointing thing about Kwame is that he is a Black person validating the belief that white people should be allowed to stay in their bubble of ignorance of other cultures and races outside of their own. Instead of Kwame talking proudly during the dating process about his name and the opportunities that could emerge to explain the beauty of his culture to one of his dates, he told the world that by presenting himself with the common American name, Alex, he would have a better, less authentic however, chance to date people. He knew his name was a way of people immediately categorizing him as a Black man, something he clearly is not proud of.
Although Kwame claimed he wanted to avoid the "racial talk" in the pods, he not-so-mysteriously ended up in a love triangle with two white women. So obviously, he didn't really put away the racial bias when he knew he had the chance to date and potentially marry a white woman. Kwame wanted so badly to be with a white woman that he accepted any treatment from them in order to keep them. He ended up engaged and married to Chelsea Griffin, whose expectations and dreams didn't align with his. But because he wanted to keep her, he nearly sacrificed his name, his culture and his life plans.
During the rollout of season 4's episodes, Netflix's Strong Black Lead interviewed Kwame, given that social media users didn't take kindly to his admittance that he didn't want to use his Ghanaian name in the dating process. In the video, he said his entire name is Alex Kwame Owusu Ansah Appiah Junior, a name from the Ghanian Akan tribe, meaning "Born on Saturday." He went on to explain that he's used Kwame his entire life. "Having a Ghanaian and an American name, it's always great to be able to lead with the one that means the most to you culturally. So, my entire life, I've always gone by Kwame. Kwame is incredibly important to me, and like, who I am as a person." Given that context, it's clear that even suggesting using the name Alex when you're behind a wall where the person you're dating cannot see you, means that he "culturally" wanted to be perceived as the American "Alex."
Overall, season four of Love is Blind was entertaining. But it was frustrating to have a Black man on television go along with the thought that he couldn't successfully date someone by being his authentic self. Reality shows have to do a better job of finding people who have pride in their cultures and fight off the need to cancel out the unique parts of themselves to date someone who may never be able to appreciate that part of them.