President Crudely Insults El Salvador, Haiti, Africa

The three television network evening news programs led Thursday with President Trump's reported statement calling Haiti, El Salvador and African nations "shithole" countries and saying the United States should instead bring more people from countries such as Norway.

From there the outrage grew in online commentary, in print and on cable talk shows, as well as among newsmakers.

Responding to the furor on Friday, Trump said on Twitter that his language was ''tough,'' but ''this was not the language used.'' He did not specifically deny using the word ''shithole.''
On the "CBS Evening News," White House reporter Major Garrett said that CBS would not repeat Trump's vulgarity, but quoted from a statement by Rep. Cedric Richmond, D-La., chairman of the Congressional Black Caucus, who tweeted, ""@realDonaldTrump's 'shithole' comments are further proof that his Make America Great Again agenda is really a Make America White Again agenda."
G/O Media may get a commission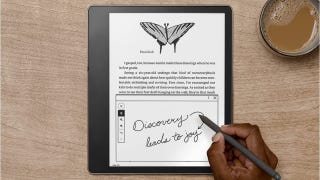 Releases November 30
Borrowing the display from the much-beloved Paperwhite, this screen provides a glare-free experience both indoors and outdoors so you can read by the pool or on the beach on a sunny day. New to this model is the inclusion of a pen. Take notes directly on the pages as you might in a traditional book, but the notes are automatically organized by title in a single place–letting you review and export them with ease.

Only four months ago, media were debating whether it was appropriate for ESPN's Jemele Hill to use social media to call Trump a white supremacist.

Hill was suspended after agreeing with her bosses that her comment was out of line.
But Thursday night, news stories were recounting Trump's history of such remarks. Another tweet quoted April Ryan on CNN: "This is a slap in the face of minority Americans...This is a very, very serious statement from the president of the United States of America." Ryan tweeted the link to a 2012 article from the Center for American Progress, "5 Fast Facts About Black Immigrants in the United States."
Don Lemon's first sentence on CNN Tonight was "the president of the United States is racist," CNN's Brian Stelter reported in his "Reliable Sources" newsletter. "He repeated it: 'He is a racist.' And he said 'a lot of us already knew that.' He said viewers should look up Adam Serwer's piece 'The Nationalist's Delusion...'
"Was this day a turning point?
"I'm not sure yet. But it might have been. Lemon was far from the only person who described Trump's remark as 'racist.' Rachel Maddow said he's an 'openly racist president.' Meanwhile, the top talking point on Fox was that 'this doesn't move the needle at all' (Jesse Watters) and Trump supporters won't leave him (Joe Concha)..."
On the Fox News website, for most of Thursday night the lead story was the nonjudgmentally headlined "Trump's Immigration Anger: President laments entry from 's—-hole countries' during Oval Office negotiations." But below it, "Pelosi mocks 'white guys' leading DACA talks, prompting Hoyer outrage" was tagged "Offensive Jab."
On the Fox television network, Joseph A. Wulfsohn reported for Mediaite, "On Thursday night, Tucker Carlson gave a full-throated defense of President Donald Trump's reported 'sh*thole countries' remark regarding U.S. immigration policy — and how the U.S. admits people from from places like El Salvador, Haiti, and other African nations.
" 'President Trump said something that almost every single person in America actually agrees with,' Carlson said. 'An awful lot of immigrants come from this country from other places that aren't very nice. Those places are dangerous, they're dirty, they're corrupt, and they're poor and that's the main reason those immigrants are trying to come here and you would too if you live there.'
"The Fox News host said that Trump's use of the expletive 'is not surprising' since he 'uses them all the time,' but wondered why ]virtually everyone in Washington, New York, and LA' is treating it like a 'major event.' "
Michael M. Grynbaum of the New York Times reported, "Media outlets on Thursday took the unusual step of allowing the word 'shithole' to be used in print and on air, after a report that Mr.Trump had used the term to describe African nations and Haiti during a White House meeting with lawmakers on immigration.
"The unexpurgated expletive appeared, in capital letters, on the graphics known as chyrons that dominate the lower portion of the screen on CNN and MSNBC. (Fox News spelled the word with asterisks.) It showed up on smartphone push alerts sent by The Washington Post, which broke the story, and The Associated Press. . . ."
Also on CNN, an emotional and obviously disgusted Anderson Cooper told viewers of his time in Haiti and said, "Let me be clear, the people of Haiti have been through more, withstood more, fought back against more injustice... than our President ever has."
A Facebook posting of Cooper's remarks was viewed 533,000 times in its first hour on Facebook and had drawn 2,056 comments.
Cooper went on to quote James Baldwin, "Ignorance allied with power is the most ferocious enemy justice can have."
Additionally on CNN, black conservative Paris Dennard attempted to defend the indefensible before host Erin Burnett shut him down, Sarah K. Burris reported for RawStory.com.
Under the headline, "Trump's 'shithole' comment is his new rock bottom," Chris Cillizza, CNN editor-at-large, wrote, "What's even more appalling is that the White House didn't even try to deny that Trump used that slur, which was first reported in The Washington Post. In fact, in a lengthy statement from White House spokesman Raj Shah, the administration seemed to even defend the sentiment. 'Certain Washington politicians choose to fight for foreign countries, but President Trump will always fight for the American people,' said Shah.
"But it gets even worse. Asked about the 'shithole' comments, a White House official told CNN's Kaitlan Collins this:
" 'The President's 'shithole' remark is being received much differently inside of the White House than it is outside of it. Though this might enrage Washington, staffers predict the comment will resonate with his base, much like his attacks on NFL players who kneel during the National Anthem did not alienate it.'
"Stop. Read that again. Here's what it means: The President's voicing of a racist remark about the sorts of people whom we are letting into the country is actually a good thing because people who like Trump will agree with him.
"Make no mistake: This is the lowest ebb of a presidency defined by a series of low ebbs and defining of the presidency downward. . . ."
Josh Dawsey reported about 4:40 p.m. Thursday for the Washington Post, "President Trump grew frustrated with lawmakers Thursday in the Oval Office when they discussed protecting immigrants from Haiti, El Salvador and African countries as part of a bipartisan immigration deal, according to several people briefed on the meeting.
" 'Why are we having all these people from shithole countries come here, Trump said, according to these people, referring to countries mentioned by the lawmakers.
"Trump then suggested that the United States should instead bring more people from countries such as Norway, whose prime minister he met with Wednesday. The president, according to a White House official, also suggested he would be open to more immigrants from Asian countries because he felt they help the United States economically.
"In addition, the president singled out Haiti, telling lawmakers that immigrants from that country must be left out of any deal, these people said.
" 'Why do we need more Haitians?' Trump said, according to people familiar with the meeting. 'Take them out.' . . ."
The Haitian TImes, founded, published and edited by Garry Pierre-Pierre, a former New York Times reporter and Haitian-American, immediately used Trump's remarks as a fund-raising tool.
"It is no exaggeration to say that Haiti and the Haitian community in the United States are under attack from this regime in Washington. We can't and should no longer remain silent under such withering attacks," he wrote in an emailed letter to potential subscribers.
Chris Sommerfeldt noted in the Daily News in New York, "Trump sang a completely different tune when he attempted to court Haitian-American voters in Miami in September 2016.
" 'Whether you vote for me or not I really want to be your biggest champion,' Trump told a small group of Haitian-Americans at a campaign rally in Miami's Little Haiti neighborhood. . . . "
On Dec. 23, Michael D. Shear and Julie Hirschfeld Davis reported for the New York Times that at a June White House meeting, Trump read aloud from a document listing how many immigrants had received visas to enter the United States in 2017.
"Haiti had sent 15,000 people. They 'all have AIDS,' he grumbled, according to one person who attended the meeting and another person who was briefed about it by a different person who was there.
"Forty thousand had come from Nigeria, Mr. Trump added. Once they had seen the United States, they would never 'go back to their huts' in Africa, recalled the two officials, who asked for anonymity to to discuss a sensitive conversation in the Oval Office. . . ."
---
Support Journal-isms Go Fund Me page.

Richard Prince's Journal-isms originates from Washington. It began in print before most of us knew what the internet was, and it would like to be referred to as a "column." Any views expressed in the column are those of the person or organization quoted and not those of any other entity.
Send tips, comments and concerns to Richard Prince at journal-isms-owner@yahoogroups.com.

Follow Richard Prince on Twitter.
Like "Richard Prince's Journal-isms" on Facebook.
Journal-isms is originally published on journal-isms.com. Reprinted on The Root by permission.