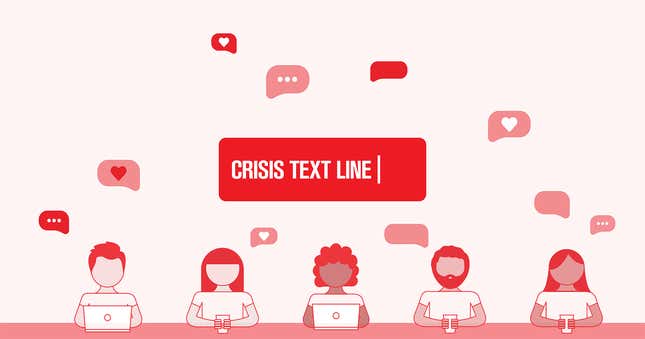 Every day is a journey through contrasting emotions from successes, failures, love, heartbreak, joy, and grief. And as Black people, sometimes those emotions are heightened given the pressure to act normal and carry through life's challenges, but what about the times when that all becomes too difficult to carry alone?

Easy Beauty Hack Doubles As Primer While Protecting Your Skin
Crisis Text Line's Chief Health Officer, Dr. Shairi Turner, sat down with The Root to explain the importance of the Crisis Text Line, how the texting process works, and where the state of the Black community is with mental health.

What is Crisis Text Line?

Crisis Text Line is a free, 24/7 service that connects texters to a Crisis Counselor trained to meet them at your level and talk them through safe ways to work through feelings that may be too difficult to deal with alone.

Crisis Text Line can be reached by texting, online chatting, or WhatsApp by texting the words, "HOME", "HELLO", or "HOLA" to 741741.

The layout of the conversations

According to Crisis Text Line's website, there have been more than 8 million conversations carried out over the last decade, which has helped them to develop a successful routine for their volunteers to help texters.

When a texter first sends messages, they are given a privacy information statement and then immediately asked what crisis they're in. An algorithm then categorizes the issue according to what words are used in their explanation. Then, a volunteer is matched with the texter. The volunteer will then ask more questions to understand the severity of the issue, give some advice, use careful language to ensure that the person feels safe and listened to, and provide resources that the person can use in the moment and in the future.

Once the volunteers and texter agree that the crisis has concluded, the texters have the option to complete an anonymous survey that provides more information about their situation discussed with the volunteer and their demographics such as age, race, and sexual orientation. This information helps Crisis Text Line to improve their processes.

Less than 1% of texters express the possibility of harming themselves, however, volunteers are prepared to try and de-escalate the situation. Volunteers are also supervised by mental health professionals that can take over if the risk of suicide is heightened.

Black texters and the mental health service stigma
Dr. Shairi Turner emphasizes the importance of CrisisText Line being an anonymous resource because of the stigma in the Black community surrounding mental health and receiving care:
"Black people don't feel trusting of mental health professionals because historically what has happened to us and vulnerabilities where we feel like we've been part of experiments. So there's that history for communities of color, there's the religious spiritual element where folks will turn instead to their church. More and more individuals are in need of mental health support. Unfortunately some people don't have access to an insurable mental health professional or they don't feel comfortable or they couldn't find a mental health professional of color who looks like them, who they felt could understand them."
According to a 2021 United in Empathy Report by the Text Line, 14% of all texters are Black and have an alarming higher average than the national average for expressing crisis associated with depression/sadness, isolation/loneliness, anxiety/stress, and suicide. 84% of the Black texters are also female and a majority are between the ages of 14 and 17.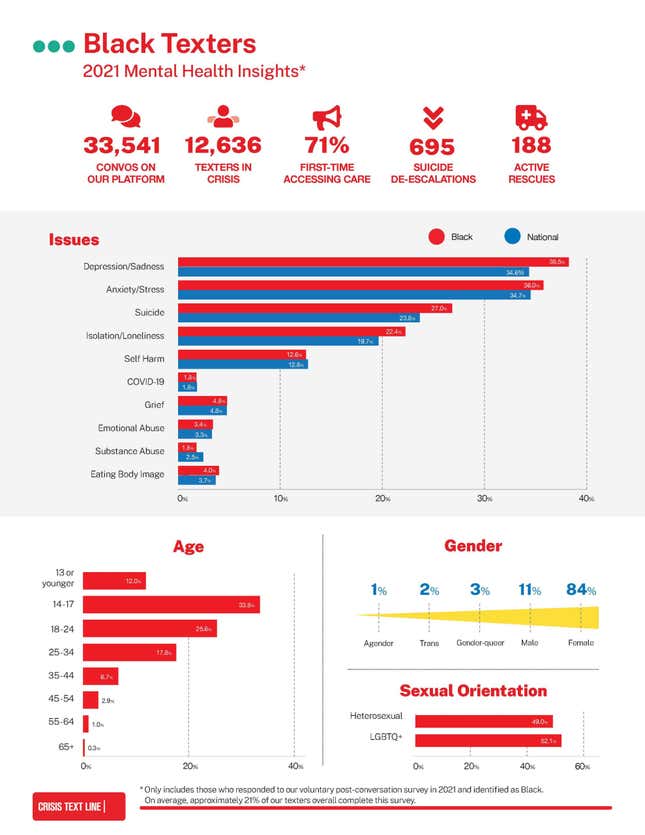 "Texters don't always identify themselves but we give the tools so that our volunteers are culturally aware even if they don't know the actual background. But we do always provide tip sheets that are specific if a volunteer finds out about a texter's race. So let's just say after any sort of racial unrest, like recently with the death of Tyre Nichols or George Floyd's death in 2021. We make sure that our 55,000 volunteers are also prepared for current-day issues, like school shootings.
A PSA to parents
Dr. Turner also drew attention to the unfortunate impact on the mental health of Black and other youth of color at the height of the Covid-19 pandemic on top of the racial injustices in the United States. Many parents of children of color are essential workers and were not home to check on the mental status of their children, leading to the uptick of texters expressing loneliness, anxiety, and grief. According to the Report, "Conversations about grief were 13% more common in 2021 than before the pandemic."
As a mother herself, Dr. Turner wants parents to understand that checking in on their Black children's mental health is no longer a suggestion, but rather an essential part of their child's life:
"I would like people to know that we are in a youth mental health epidemic. It is very significant and severe for the youth of color in particular. Suicidal ideations and depression are not always clearly present in communities of color. So where it can appear as anger or agitation or anxiety when it's really like depression is the underlying issue. I just want us, especially parents to be able to normalize those conversations with our children about their mental health."
How to get involved with Crisis Text Line
If you would like to become a Volunteer Crisis Counselor, you must be at least 18 years old, have a U.S. Social Security and/or a U.S. address, and have a personal computer with reliable internet service. For more information about the application and training process, visit the Crisis Text Line website.