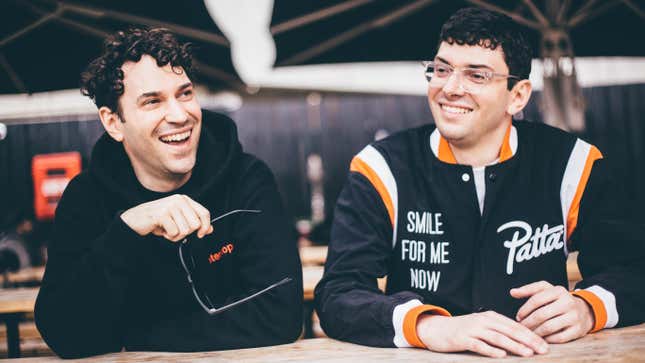 What's the Blog Era? Who were the characters involved? What made it special? Why is it relevant today?
A Look Back At The 2023 Oscars Best Original Song Nominee "Lift Me Up" by Rihanna
These are questions that Eric and Jeff Rosenthal, better known as ItsTheReal, answer in their latest endeavor, The Blog Era Podcast, in partnership with Pharell Williams and OTHERtone. The final episode in the 10-part series releases on Wednesday, June 14. But before we get into the cool things the Rosenthal brothers are doing on their podcast, I just want to speak on the importance of the Blog Era in my life.
Growing up, I always had an interest in hip-hop, but I didn't know how to access it. My parents wouldn't play it on the radio, we didn't have cable, so I couldn't watch MTV or BET, and I didn't have a computer or phone until I was in high school. I had no idea what was happening in the hip-hop world outside of the hits my friends would play at school. But when I got an iPod Touch during my freshman year of high school, I was introduced to a whole new world. There was no need to listen to what was on the radio or check MTV for the most popular songs, the hip-hop world was in my hands.
Blog Era legends such as Mac Miller, Kid Cudi, J. Cole, Wale, Big Sean, Kendrick Lamar, Earl Sweatshirt, A$AP Rocky, Dom Kennedy, The Cool Kids, Big K.R.I.T., B.o.B., Drake, Curren$y, Wiz Khalifa and Joey Bada$$ lived in my headphones. I was officially in hip-hop, all because of this cool thing called the internet.
Why revisit this era of hip-hop?
If I'm a grandchild of the Blog Era, Eric and Jeff are children of it. I didn't experience it until its final years, the Rosenthal brothers were there for its inception.
"It's always been very special to us," said Eric. "I think we knew when we were making sketch videos from 2007 to 2010. We understood that it was a unique environment and that we were all unique individuals. By 'we' I mean bloggers, artists, personalities, all of us who were running around New York City at the time. But as time has gone by, and websites have disappeared, you lose history."
He continued, "Jeff and I wanted to tell a story in a narrative fashion that was a different way to flex our storytelling abilities. We wanted to tell the story of the blogs because we experienced it and know all the players and had the access."
By "access," they mean ACCESS. They spoke to more than 150 artists, bloggers, commenters, and executives, and recorded over 500 hours of original interviews. Some of the guests throughout the 10-part series include Wiz Khalifa, Curren$y, Bun B, Big Sean, Action Bronson, Chuck Inglish, Dom Kennedy, Big K.R.I.T., Charles Hamilton, Ebro, and many more. The duo covers significant moments in the era during each episode. For example, in episode one, they cover Joe Budden's rise and fall with Def Jam, and how the end of his run with major labels represented the changing tide in music.
In Episode Six, they explore the importance of XXL Magazine putting 10 blog-friendly rappers on their renowned freshman cover in 2009, signifying the introduction of Blog Era rappers to a bigger audience. In Episode Seven, they discuss Kid Cudi and Charles Hamilton, and how these two extremely talented MCs went on to go on very two different career paths.
That's just a fraction of what they discuss. They touch every corner and crevice of the Blog Era, from its inception to its end.
"The fun thing about the Blog Era is that everyone has their own experiences on the internet," said Jeff. "There's no common thread. Even though people were around between 2007 and 2012, it doesn't mean that they were paying attention to the same things we're talking about here."
That's the beauty of this era of music. Everyone was experiencing it differently, based on their music tastes, where they lived, and their access to the internet.
Why are the Rosenthal brothers the right people to tell this story?
I already know what some people are thinking: Why are two White guys telling this story about this important era in hip-hop, a genre that was created by Black people, for Black people?
"It's always a conversation," said Jeff. "I think the larger thing is that you stick around and involve yourself in the community, which is something we did early on."
He continued, "In one of the episodes, we discuss when we were 'checked' by someone who was like, 'I don't know these guys. I don't know they're politics. They're not hip-hop.' The way we respond to that is you involve yourself and you accept the fabric of hip-hop for what it is."
"We always made it our mission to build upon what has already been built," said Eric. "I think when you look at our sketch videos, it was always meant to be a net positive. The proof is in the pudding, we're still here, 15 years in. We're a full-fledged part of this community and we want to stay here."
The most important thing about ItsTheReal is that they have not used the culture for only their benefit, they have poured back into it, positively, and this podcast series is a part of it. While they serve as narrators to tell this beautiful story of hip-hop during the Blog Era, it's not only their voices you hear. Black artists, musicians, figures, and executives are heavily involved in telling these stories along with Eric and Jeff.
This is why it's such an excellent series. It's hip-hop in its most enjoyable form. Fans and figures of the genre discuss how and why the genre changed, and what led to it becoming what it is today.