Jimmy Carter
The former U.S. president gets major props for traveling halfway around the globe to help out a brother in a bind: American teacher Aijalon Gomes, who had been jailed in North Korea since January 2010. Carter secured Gomes' release Aug. 26, 2010. (In a side note, apparently Carter is distantly related to President Barack Obama, as are at least several other presidents, presumably through white ancestors.)
JetBlue Fight Attendant Steven Slater
Unless you have been living under a rock, you know that Slater is the JetBlue flight attendant who went off on passengers with his expletive-filled swan song, grabbed two beers and slid away, literally. Not only does he get props for acting out every angry black man's "I quit" fantasy, but he also gets props for being tagged a "hero" because of it. This of course is also a black man's fantasy, because we know the outcome could have been very different had Slater been a brother. We're not haters, just observant, and still bestow the blackest-white-man honor on Slater, the JetBlue flight attendant gone dark.
Hugh Hefner
G/O Media may get a commission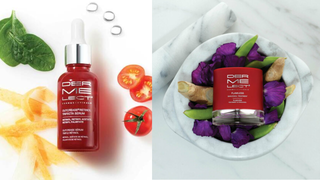 Save $19
Retinol Renewal Kit
The Playboy magazine founder and notorious, blonde-loving bachelor may seem an unlikely civil rights activist, but his earnest approach to addressing American racism in the '60s, as well as his hiring of of black writers (and bunnies), gives Hef more than enough cred.
Christina Aguilera
Following in the footsteps of "vanilla child," '80s songstress Teena Marie, Latina singer Christina Aguilera revealed early on that she had soul. Certainly more than pop-tart singers Britney Spears, Mandy Moore and Jessica Simpson, with whom she was often compared. Aguilera received her official black card when she channeled Patti LaBelle in the remake of "Lady Marmalade," providing the big soul singer sound to the otherwise kitschy ensemble.
Rod Blagojevich
The former governor of Illinois deserves a special place in history for having orchestrated one of the most spectacular political implosions in recent memory. Charged with selling a Senate seat (he was later convicted for lying to the FBI), he remains the gift that keeps on giving — at one point noting that he is "blacker" than President Barack Obama because he "shined shoes" and "grew up in a five-room apartment." He has since walked back his comments.
Glenn Beck
The emotional right-wing talk show was probably the last person on earth we'd put on this list until he discovered that blacks have been all but removed from the history of America's founding, and actually gave a black history lesson on his cable TV show. Yet we suspect we'll have to revoke it after his upcoming rally at the Lincoln Memorial on the "I Have a Dream" speech anniversary.
Rep. Steve Cohen
This second-term legislator from Memphis is one of the few white men representing a majority-black district. Not only has he come correct on that front — hiring a mostly African-American staff — but he kept cool in the face of obvious race baiting from 2008 opponent Nikki Tinker, as well as by 2010 challenger Willie Herenton. He wasn't allowed to join the CBC, but he earns bonus black points for occupying the seat once held by former congressman Harold Ford Jr. On the other hand … have you seen him dance?
Former Rep. Bob Barr
Barr rose to prominence as a chief congressional critic of former President Bill Clinton during his impeachment hearings in 1998. The conservative from Georgia, who ran for president as a libertarian in 2008, has a look that became a hot topic during the campaign. Referring to his full lips, one commentator remarked: "That ain't collagen … that's collards and Coltrane."
Vice President Joe Biden
The minute we heard that Vice President Joe Biden almost scrapped with a pomade-wearing brother named Corn Pop during his days as a lifeguard at a predominantly black swimming pool back in the 1960s — and that before settling the beef peacefully Biden had wrapped a six-foot chain around his arm to show he meant business — well, we had to give him a 'hood pass. Hey, if President Obama could get past that "articulate" comment, so can we.
Ken Burns
He's 56 and looks 40, but, hey, they say black don't crack! Plus, Burns has chronicled jazz and Jack Johnson, not to mention that bridge into Brooklyn. His narrator of choice is Keith David, and he's a generous donor to the Democratic Party. Brotherman is certified, for sure!
James Carville
The Cajun political strategist and pundit, who is known for his down-home folksy shtick, is certainly blacker than Blago. In Joe Klein's 1996 novel Primary Colors, Richard Jemmons, the character based on Carville, tells a black colleague: "I'm probably blacker'n you are. I got some slave in me somewhere, I can feel it."
CoCo
Model Nicole "Coco" Austin got a shoutout in last year's gallery "The Legacy of Loving," an ode to interracial celebrity couples. She and hip-hop pioneer Ice-T met on the set of a video shoot three years prior to their wedding in 2005. Coco's been playing the bootylicious video vixen ever since.
Anderson Cooper
The courageous CNN journalist, though a scion of the Vanderbilts, was first on the ground in Katrina, Niger and most recently, Port-au-Prince. He's not only got the contacts, and the interest in the well-being of others, he's a devoted fan of The Real Housewives of Atlanta. His favorite? None other than NeNe Leakes.
Robert Downey Jr.
In Tropic Thunder, Downey Jr. alternated between dyed-blonde hair and blue contacts and black face to play an Australian actor playing  an African-American soldier in Vietnam. (Got that straight?) It could've been a hot mess, but Downey performed with subtlety and nuance. In one scene that boils down the turbulence of 21st-century racial identity, Downey declares, "I know who I am! I'm the dude playing the dude disguised as another dude!"
Eminem
He's from Detroit. He raps about the hard-knock life. And he rolls with Dr. Dre. Case closed.
Danny Hoch
Brooklyn born poet-playwright-actor Danny Hoch deserves inclusion here for his entire body of urban, urbane and fiery work. But all of his credentials can be boiled down to just one line from his poem, "PSA": "This is a public service announcement: This is Whitey, and I'm tellin' you, 'Yes, it's a conspiracy, motherf*****!' "
Phil Jackson
Something about the way he moves, his confident and laid-back demeanor, and his success in basketball both as a player and as a coach had some folks convinced that the blood of Mother Africa ran through his veins.
Keith Jarrett
For years, we were convinced that jazz pianist Keith Jarrett was one of us. (With that 'fro, he looks just like our uncle did circa 1975.) He's not. We're still in shock.
Kim Kardashian
Never mind the Booty Pop physique. The half-white, half-Armenian celebutante Kim Kardashian makes our list because of the man she keeps on her arm: NFL star Reggie Bush of the New Orleans Saints. The couple's on-again, off-again relationship was recently highlighted in a controversial "Black Love" issue of Essence … "Black Love?" No comment.
Emeril Lagasse
Took soul food and turned it into a Southern cuisine industry. Bam!
Amos Lee
He's from Philly. His name is Amos. And he looks like this. (See left.) When his debut CD came out in 2005, even white music editors were convinced that the singer-songwriter—who describes his music as "folksy R&B"—was a brother.
Madonna
Trendsetter, fashion maven and groundbreaking artist, Madonna has been blowing squares' minds for almost 30 years now. She's certainly not a freedom fighter in the traditional sense, but there's something to be said for Madge's willingness to be herself against decades of conservative backlash. Also, she dated Basquiat, so that's that.
Bill Maher
His obsession with black woman rivals that of Robert DeNiro, and his penchant for weed is close to that of Snoop Dogg.
Teena Marie
The late Teena Marie always sounded like a sista. Her first record label, Motown, famously concocted a story about her being discovered by Rick James in order to give her a ghetto pass. Her first album, Wild and Peaceful, contains no photo of her so there wouldn't be any confusion.
Father Michael Pfleger
Pfleger, pastor of the predominantly African-American St. Sabina Catholic Church in Chicago since 1981, is an outspoken and passionate activist. He's campaigned against merchants and billboards selling alcohol and tobacco to minors, and did everything but campaign for Barack Obama. He invited Rev. Jeremiah Wright to speak at his church, and has returned the favor. But you gotta hear him preach, and then you'd know the truth: Black.
Michael Rapaport
OK, we know what you're thinking. This redhead? But let's take a look at his film credits: Juice, Poetic Justice, Higher Learning, Next Friday and Bamboozled… Yep, welcome to the fam, Michael.
Kid Rock
With his penchant for rap, Jesus, wine and women, Detroit native and onetime breakdancer Robert James Ritchie rocks it hard.
Asher Roth
He's the white Kanye West. Like Kanye, he grew up middle-class. Like Kanye, his sartorial style is more preppy than hip-hop. Like Kanye, he's got absolutely no street cred.
Jeremy Shockey
The New Orleans Saints' tight end catches passes in the NFL, talks beaucoup smack before, during and after games, and played his college football at the University of Miami.
Robin Thicke
See: Robert DeNiro; Bill Maher. Then there's his music…
Justin Timberlake
He grew up in Memphis. His influences are Stevie Wonder, Al Green and Donny Hathaway. And of course, Michael Jackson has inspired his dancing style. Plus, he rocked the curly 'fro and cornrows back in the day.
Jeffrey Toobin
CNN's legal analyst sure does look the part: Curly mini-fro, olive skin. Squint one eye and lean your head to the right. Then again, a couple of years ago, he was the keynote speaker at a black lawyers' gala in Minneapolis. So, maybe…?
Brian Urlacher
In an era when most of the notable white NFL players are quarterbacks and kickers, Urlacher stands out as one of the most well-known and successful linebackers in NFL history. Since the start of his NFL career, Urlacher has been invited to six Pro Bowls, and was the 2005 Defensive Player of the Year. Urlacher's jersey sales rival those of Brett Favre and Michael Vick.
Jason Williams
"White Chocolate." J-Dub has the flashiest game in the league.
Bill Clinton
No.
John Mayer
These aren't the only stars who blur the lines of ethnicity. Check out our 'Race-Bending Beauty Practices' slide show to see more.
Now What? Join The Root!
Have an opinion on what you just read? Register so you can comment and receive The Root's newsletter.
Just want to read more? Check our top stories.