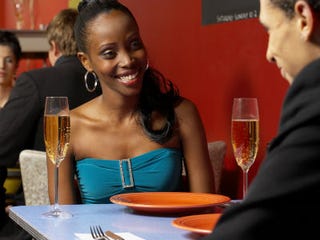 In his column at Essence, Paul "Modern Day Matchmaker" Carrick Brunson tells you what not to do the first time you spend time with someone. The movies are a no-no, and so are funerals (although most people probably could have guessed that one).
The Club
A cool venue, good music, and an opportunity to check out his rhythm… The club sounds like the ideal spot for a first date. Not! Clubs are fraught with trouble: loud music you have to scream over and no experiential learning other than getting an inkling on how he will move between the sheets. Clubs are bad first-date ideas.
An Overnighter
On a first date, no matter how much you "connected," the bottom line is you still don't know each other. Therefore, spending the night is unsafe and statistically the best way not to get a second date. Here are some other words to describe what I think of an overnight first date: asinine, brainless, dimwitted, doltish, dumb, foolish, half-baked, idiotic, ill-advised, imbecilic, inane, irresponsible, ludicrous, mindless, nonsensical, pointless, senseless, unintelligent, chancy, erratic, hazardous, perilous, precarious, risky, shaky, slippery, and treacherous. I think I made my opinion clear.
A Family Function
I recall when one client told me her date took her to his family reunion and everyone asked when they were getting married. (#fail) No reunions, cousin's cookouts, visits to Big Mama's house, and Lord, please, no funerals. Yes, I've heard of first dates happening here.                                                                                                                   
Read Paul Carrick Brunson's entire column at Essence.
Like The Root on Facebook. Follow us on Twitter.