It's that time of year again. White folks are clamoring at Starbucks for their pumpkin-spice lattes, and black folks are calling around to make sure Aunt Sheila is still making her signature turkey this year ... it's Thanksgiving! And while many of us side-eye the massacre and theft masquerading as a family-friendly holiday, we've managed to change it to a time to be surrounded by those we love and food ... glorious food.
And for you sports lovers out there, I think there's some sort of important football game happening? But let's be real, football is not the only form of entertainment during the holidays. Now that we've got all kinds of streaming services, and cable's racking up on "on demand" shows, there are plenty of alternative things to watch. Show some gratitude to some good and diverse entertainment!

Here are some shows that you should be binging on this Thanksgiving:
1. Big Mouth (Netflix)
An adult cartoon on Netflix that's all about the monster you become when you go through puberty. Maya Rudolph's character will make you weak!

G/O Media may get a commission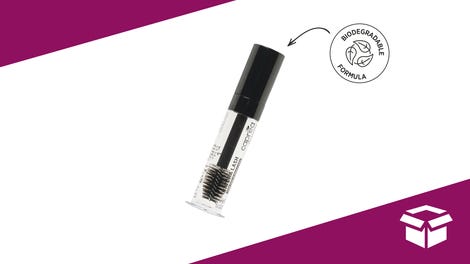 It's $8
20% Off Lash + Eyebrow Serum 2.0 - Caprea Beauty
2. Master of None (Netflix)
Because Aziz Ansari can do no wrong, and there are two seasons! Season 2 takes place in Italy, and who doesn't love Italy?! You can find this one on Netflix.
3. Stranger Things (Netflix)
Get all caught up in this small town sci-fi craziness on Netflix. Also, get into the rising star, Caleb McLaughlin.

4. The Office (Netflix)
There's nothing as awesome as having a long holiday weekend to binge on an older show with many seasons, and The Office is one of those. Steve Carrell is perfect in every way. You can catch The Office and all its seasons on Netflix.
5. Chewing Gum (Netflix)
Michaela Coel is the GOAT. She's an awkward black girl who just wants to lose her virginity, and the result is hilarious! Catch Chewing Gum on Netflix.
6. Black-ish (Hulu)
Y'all, when I watch this show, it's hard to believe I'm watching prime-time television because the show is sooo black. They address things like mass incarceration, slavery, privilege and more. You can watch on Hulu or check your cable provider for on-demand options.

7. Claws (TNT)
Niecy Nash as a nail-salon owner who gets caught up in the world of sex, drugs and Uncle Daddy (yes, this is a character on the show)? Sprinkle in some murder, kidnapping and a little Karrueche Tran ... yes, please! Catch Claws on TNT.

8. Queen Sugar (Hulu)
The Root 100 honoree Ava DuVernay stuck her foot in this show. Queen Sugar is like watching a black-ass family movie every episode. Plus, Kofi Siriboe is in it. Need I say more? You can catch Queen Sugar on Hulu or on OWN.

9. Bob's Burgers (Netflix)
I love a good adult cartoon, and Bob's Burgers is one that any and everyone can get into. Each character offers up a dynamic and unique POV that's side-splitting every time. Watch it on Netflix!

10. The Handmaid's Tale (Hulu)
The best thing about this show is that ... white women are slaves. (Although, unfortunately, some black women are slaves, too. Basically, all women are slaves and it sucks, but it's compelling television!) Intriguing, right? Watch this dystopian show on Hulu.

11. Chef's Table (Netflix)
Since the holiday is all about food, get into some entertainment that does the same! Chef's Table profiles culinary stars who are redefining gourmet food. Watch it on Netflix.

12. Bong Appetit (YouTube)
Don't try to act like you don't plan to get high during the holiday. I mean, if we eatin', we might as well make it munch-worthy! Bong Appetit offers up a marriage of good food and good weed. Watch it on YouTube or at Viceland.

13. Mindhunter (Netflix)
Need to be psychologically stimulated? Get into Mindhunter on Netflix. Unless you're too creeped out to get into the minds of serial killers.

14. Riverdale (CW)
I'm gonna be honest with you: I don't know this show from a hole in the wall, but my really awesome co-workers recommended it. It's based on the Archie comics, small-town life, and the darkness and weirdness bubbling beneath Riverdale's wholesome facade. Sounds good, right? Watch it on CW on demand.

15. BoJack Horseman (Netflix)
You already know how I feel about adult cartoons, and BoJack is definitely for adults. Imagine a washed-up former TV star ... who is a horse ... trying to navigate staying famous. Yes, it is just as good as it sounds.
16. Atlanta (Hulu)
Donald Glover's comedy that's all about his journey trying to just make it in the world via his rapper cousin, Paper Boi, is a lot more hilarious than it sounds. It's topical, surprising and just plain good. Binge it on Hulu!

17. Insecure (HBO on Demand)
Isn't this obvious? From being from the mind of and starring Issa Rae to just how beautifully the show makes black people look on camera, Insecure is a top choice. Catch Insecure on HBO on demand.

18. Will & Grace (NBC)
I'm just as shocked as you are, but this reboot is actually pretty damn good! If you loved the original, then the reboot is right up your alley. Also, let's be real, most of us watch it for Karen. Watch it on NBC!

19. This Is Us (Hulu)
This is the perfect time to binge a show that can and will easily put you all in your feelings. But don't binge this one alone. And make sure you have tissues ... and wine. Catch This is Us on Hulu or NBC on demand.

20. Shameless (Showtime, Hulu or Netflix)
Listen, I am here for any show that shows white people without their privilege. Well, I mean, they're not completely devoid of it, but they don't have much. They're a white Chicago family living in poverty and just trying to keep up with the rest of the world. And there are eight seasons, so catch up! Watch on Showtime, Hulu or Netflix!
21. Westworld (Hulu or HBO)
OK, so this is like an amusement park, in the future, that lets you live out your deepest and darkest fantasies. Uhm, yes. Sign me up! Watch on Hulu and HBO.

22. Sons of Anarchy (Netflix)
Even though Charlie Hunnam is on this show, I don't watch it (sorry, Charlie), but a lot of my co-workers do and they think it's worth it. Set in central California, this Hamlet-on-Harleys show features the criminal, sexual and other exploits of a biker gang; I just might start bingeing this one. Hey, Charlie!

23. Rick and Morty (Hulu or Adult Swim)
You've probably heard someone gush over this cartoon, and with good reason! There's so much going on, but just know that Rick's been gone 20 years, comes back into his daughter's life, and there are all kinds of unbelievable shenanigans that happen. Watch this on Hulu or Adult Swim.

24. Harlots (Hulu)
This is another show I don't watch, but it comes highly recommended. I hear it's about 18th-century sex workers. Say what?! Let me know how you like it. You can catch it on Hulu.
25. Desus & Mero (YouTube)
These two dudes are hilarious. Their show is like a Late Show-Chappelle's Show hybrid. They interview celebrities, tackle trending topics and keep their fingers on the pulse of stoner culture. It's funny, from-the-block humor. You can catch them on Viceland and YouTube.

There are definitely so many more shows to watch, but I don't want to overwhelm you. Which show or shows do you plan to binge-watch over the holiday?