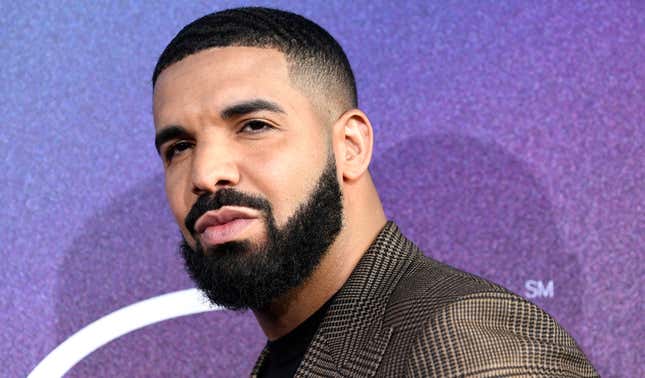 I want a Drake beard. There, I said it.

I want a luxurious, LeBron James-esque, mink-coat-dragging-on-the-floor ass, heal-the-sick-and-raise-the-dead ass, "Momma, I made it!" ass, Drake beard.

I want a beard that belongs in the Louvre.
I want a beard that rocks a shiny suit and busts out with the Harlem Shake in every Bad Boy music video.
If this is the day that the Lord has made, and we're to rejoice and be glad in it, then I'll happily take a Drake beard for Christmas—because I've patiently waited over three decades and deserve to have one, dammit.
So imagine my delight upon checking the mail and finding a whole ass #NoShaveNovember beard kit with my name on it, courtesy of the fine folks at Shea Moisture Men.
After I squealed with glee and crumbled to my knees like Ray J when he had "One Wish," I high-fived the UPS driver, scurried back to my apartment, and began the reclamation project known as Jay's face.

There was hope for my beard yet.
So here's what I found inside, as well as my humble opinion on each of these products after roughly a month of daily use. You're welcome in advance.
I'm not one to gossip, but there are heathens traversing this Earth who wash their face, hair, and ass with the same product. But instead of banishing them from Wakanda or feeding them to Black Twitter, I'm gonna recommend that they use this instead. Why? Because unlike the garbage they use, this was actually made with love and formulated to shampoo, condition, cleanse, and moisturize everything.
Now can you wash your chicken with it? That's probably not a good idea. But if shampooing your hair, washing your face, and moisturizing your body with the same product is somehow your ministry, then today's your lucky day. For research purposes, I did all the above for a week and have absolutely no complaints. I prefer a body wash with a stronger fragrance—to compliment my Drake beard, of course—but considering this product is all-purpose, it's a minor gripe. Next!
For years, I've been told of the healing powers of Lake Minnetonka African black soap, but I've never tried it… until now. As someone whose face refuses to abandon the oily skin or occasional bouts of acne that have tormented me since In Living Color got canceled—yes, they're related—this shit is super official.
I regularly alternate between pricier Kiehl's and ProActiv products and I was pleasantly surprised by how refreshed my melanin felt after using this. Because no joke; this had me feeling like Blue Ivy's trust fund.
For those out the loop, African black soap has been used to treat eczema, acne, oily skin, and other skin-related ailments for centuries. So thank you for finally coming into my life and proving that yes, black lives do matter, dammit.
Okay, so this balm. Because my Drake beard still rides around the house on training wheels, I have no need for this...yet.
It's basically a styling pomade for your face—or a not so subtle reminder that my beard still ain't old enough to get in the club. But unable to set my pride aside, I tried it anyway and it's…thick.
Like Ashanti's Instagram feed thick.
I typically only baptize my beard in oils, but this made my beard feel it needed to blow its nose. So don't touch this unless you've got some majestic, Rick Ross-level facial hair going on. Otherwise, you're only setting yourself up to get your feelings hurt. Speaking of which, I think I'm gonna go cry now.

The only thing worse than parched, ashy elbows is a parched, ashy ass beard. So in order to achieve maximum Drake, staying well moisturized is key.
What I love most about this oil is that it not only does a great job of keeping your beard luxurious, but it also keeps it nice and soft for the ladies. I wish its fragrance was a bit stronger, but if you're committed to the cause enough to also moisturize your beard before bed, that could be considered a plus.
I also appreciate that it's not as shiny as the oil I regularly use. Nobody's trying to leave the house with their beard looking like a Christmas ornament and this strikes a nice balance. Drake would approve.
In my quest to achieve peak Drake-dom, one of the things I've always wondered is how much shampoo and conditioning factors into having a sexy ass beard. Much like the hair on your head, you're only supposed to wash your beard once every few days to retain its natural oils and to prevent dryness and damage.
What makes this wash so dope is that it lathers up, unlike any other face wash I've ever used. All you need is a quick rinse and a drop of this stuff and it's like driving your face through a car wash.
This is a really, really dope product that will have you feeling like you just beat a case or like Oprah every time she checks her bank account.
Yo, I ain't got nothing to detangle. Stop playing with me.
---
In closing, if you're anything like me and have aspirations to one day own a beard with its own hashtag and Instagram account, I solemnly swear that Shea Moisture Men will make you the #1 pick in the 2019 Cuffin Season Draft.

Because life is unfair, and a righteous beard will change your life well before an 800 credit score ever will. Amen.
Editor's note: Shea Moisture is offering deep discounts this Cyber Monday; get 40 percent off of their men's bundles—including beard essentials—and other deals and gift ideas sitewide!