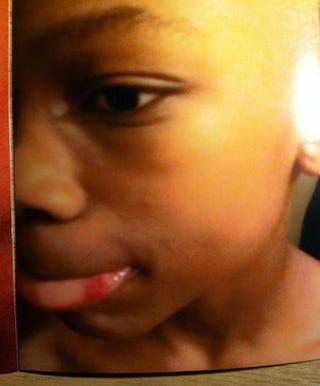 Reginald Wells was chatting in the hallway of his Texas middle school last Friday, when he made a wisecrack about a teacher's favorite football team. That's when all hell broke loose.
According to 12 News, the 12-year-old 7th grader was blindsided by the teacher, to the point where he lost consciousness.
"All of a sudden he just hit me, in my shoulder … and I looked at him like, 'what the heck?' " the boy told the news station. At only 4 feet 11 inches, Wells admits to pushing the teacher's shoulder back. That is when the teacher responded with an uppercut that sent Wells sliding across the floor and into unconsciousness. He woke up a few seconds later.
"The left side of my face was numb … my lip hurt … my head was hurt, like it had been shaken," he said.
Wells' mother was distraught at the news.
"[The principal] said Reginald was punched, in the shoulder, and then hit two times and uppercut, and then slid across the floor," she told 12 News. "It weighed heavy on my heart, because I've never put my hands on my son."
The teacher was escorted off Willie Ray Smith Middle School's campus and immediately fired, but he was not arrested, something that Wells' mother won't let sit.
"For you to just let a teacher do that to him and just walk off, he's fired and walks off, I can't accept that," she said.
The mother has filed a police report with Beaumont Independent School District Police and wants to press charges but claims that no one has contacted her since the incident occurred. 
Read more at 12 News.
Like The Root on Facebook. Follow us on Twitter.