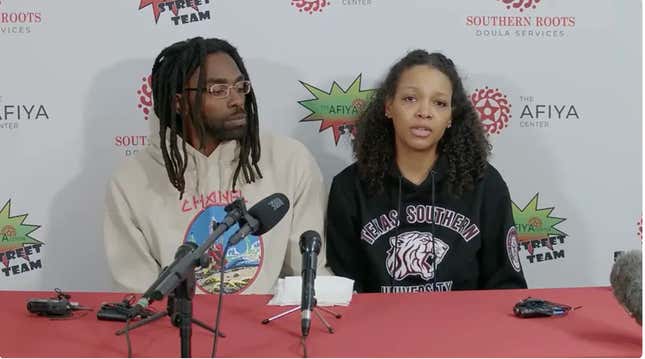 Child Protective Services in Dallas removed a Black infant from her home just two weeks after she was born. And now the parents are calling it a kidnapping that took place because they opted to take medical advice from the midwife who delivered their daughter at home over the recommendation of their pediatrician.

Here's 6 Things You Should Know About Long COVID
Temecia and Rodney Jackson's daughter Mila was born at home on March 21 with help from licensed midwife Cheryl Edinbyrd. There were no complications with the delivery, which mom, Temicia, called "a beautiful birth." But at a newborn checkup just a few days later, their pediatrician, Dr. Anand Bhatt, discovered that Mila had developed jaundice.
The fairly common condition happens when a baby's blood contains an excess of bilirubin, a yellow pigment of red blood cells. For most babies, jaundice clears up within a few weeks, so the Jacksons weren't worried.
"Many of our friends and family have had jaundice. So we left that visit thinking that everything was fine," Temecia said.
But Dr. Bhatt, who has also cared for the couple's two older children, thought Mila's case was serious enough to warrant treatment and recommended they admit her to the hospital. According to Dr. Bhatt, Mila's bilirubin level was 21.7 milligrams. And according to the American Academy of Pediatrics, any level over 20 milligrams for a baby Mila's age requires medical intervention.
The Jacksons say they told Dr. Bhatt they would consult their midwife on the best next steps. According to CBS News, Edinbyrd said Mila's bilirubin levels were "high but not critical" and thought she could be treated at home.
That's when Dr. Bhatt decided to escalate the situation and told the Jacksons that if they didn't admit their baby to they hospital, he would involve Child Protective Services. After a welfare check and visits from CPS, police officers and CPS agents showed up at the Jackson's home and insisted the couple give baby Mila to the authorities. The couple says police officers arrested Rodney, took his house keys and used them to take Mila away.
"When they came in and took her from me, I requested that I needed to see the paperwork. They insisted, 'No, give her first, give her first,'" Ms. Jackson said at an April 6 press conference. "So they took her from my arms and they gave me paperwork. When they left, I looked at the paperwork and the paperwork had another mother's name on it."

Mila is currently is currently being cared for by a foster family. The couple calls what happened to their daughter "a kidnapping" and want to inform as many people as possible about the injustice they faced. "We just want to notify the world what's going on," Mr. Jackson said during the press conference.
The Jacksons other two children are still in the home, and Temecia provides breast milk for Mila during supervised visits. But things are anything but normal as the parents are forced to live without their baby girl until a scheduled April 20 hearing to decide next steps. Neither CPS or the Desoto police are commenting on the case at this time.
"We've been treated like criminals," Rodney Jackson said. "This is a nightmare that I wouldn't wish on anyone."