"The New Promised Land: Silicon Valley," the fourth edition of CNN's Black in America series, debuts Nov. 13 with a reality show featuring eight black Webpreneurs. They were selected by the NewMe accelerator project. It hopes to inspire black entrepreneurs, provide mentorship and connect them to venture capitalists. From that point, the wannabe gazillionaires are on their own.
There are two NewMe companies not part of the CNN show: Central.ly, an aggregating social media site, and AisleFinder, a site to assist shoppers.
The Root has covered several of NewMe's mentors. They are Tristan Walker, the vice president of business development at FourSquare, and Stephen DeBerry, the chief investment officer of Kapor Enterprises. Another NewMe advisor is Terry L. Jones, managing partner of Syncom Venture Partners. Jones was instrumental in turning his firm's $25 million technology investment into $560 million. Full disclosure: I wrote that article.
Recapping the Flap in Silicon Valley and the Black Entrepreneurs Arrington Forgot
Michael Arrington, the founder of TechCrunch, was interviewed by Black in America host Soledad O'Brien for the NewMe show. In a promo clip, Arrington said that he didn't know any black entrepreneurs, and "that the scarcity of black entrepreneurs gives them an edge." 
Arrington was attacked by some for being racist, stupid or both. He replied that CNN sandbagged him and the editing made him look like a racist. O'Brien disagreed mightily but said that "Michael Arrington is right (about one thing) … black entrepreneur role models are crucial."
G/O Media may get a commission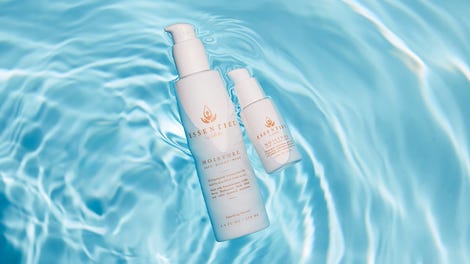 20% off
Essentiel by Adele
Micah Singleton, who happens to be black and the editor-in-chief of the consumer blog Powered by Tech, wrote on Technorati.com why he thought Arrington wasn't a racist. Angela Benton, the NewMe organizer and a contestant, agreed and wrote a blog entitled, "Drama: Why Arrington Is NOT a Racist and Don't Believe the Hype." Meanwhile pro and con Arrington flames wars spread.  
Arrington, on his blog, Uncrunched, wrote, "I don't categorize people as black or white or gay or straight in my head. They're just smart or not smart."
Maybe so. But there are two black entrepreneurs who Arrington knows well and has considered as "smart," yet he still couldn't remember them. Serial entrepreneur Clarence Wooten, who has an Arrington quote on his homepage, has worked with Arrington for years. Wooten is CEO and founder of a new company, Arrived, a friend locater, and is working on another, Groupsite.com, a social collaboration platform.
Tony Gauda is CEO and co-founder of Bitcasa, a cloud storage provider. CrunchFund, an early-stage venture capital firm founded by Arrington and others, invested in Gauda's company. Last September, Bitcasa was a finalist in the TechCrunch Disrupt, an Arrington-inspired event. See Gauda video.
Web Millionaire Tries to Friend Arrington: Gets Blocked
A smart Morehouse College grad (is there any other kind?) who is a Web entrepreneur tried to become Arrington's first black memorable friend, to no avail. Paul Q. Judge is the chief research officer and vice president of Barracuda Networks (and a Root 100 2011 honoree). Barracuda bought Purewire, the company Judge co-founded, just to get the Georgia Tech Ph.D. in network security on its payroll. That was after Judge's first company, Cipher Trust, was acquired for $270 million.
Judge is now co-founder and executive chairman of another company, Pindrop Security. He is shopping for top-tier investors. So he tried to contact Arrington via Facebook, Twitter and email.
Judge's friendly email, found here, said in part, "I just wanted to introduce myself so you can tell your buddies that you now know a black entrepreneur. :) I would also appreciate the opportunity to pitch you and Crunchfund about Pindrop Security. We have a great team solving a big problem and good customer traction." Judge told this reporter that both he and others who saw his post tried to send it to Arrington through all the usual social media means and email. But Arrington had put up an asbestos wall after getting flamed, and no one could reach him.
Here is some advice to Arrington: Lower your guard and meet this entrepreneur. After all, Judge knows that America's favorite color is green. He just hopes that you understand that.
Director Chosen for Miles Davis Biopic
George Tillman Jr. has been selected to direct the Miles Davis biopic. The eldest son of the legendary jazz trumpeter, Gregory Davis — who wrote the book Dark Magus: The Jekyll and Hyde Life of Miles Davis — is partnering with the film's producers. The movie will include music produced by personages Davis influenced during his 50-year career.
Tillman has directed movies including Soul Food, Men of Honor, Notorious, Barbershop, Barbershop 2 and Beauty Shop. Gary Springer, whose public relations firm issued the release announcing Tillman's selection, said that the Tillman movie is not connected or associated with a simultaneous effort by actor Don Cheadle, who intends to direct and star in another movie based on the life of Davis.
Check out other black directors.
Black Boomers Most Likely to Start Community-Involved Business Ventures
A study by Civic Ventures, a think tank on boomers, work and social purpose, said that millions of Americans from 40 through 70 have responded to the weak economy by considering creating their own companies or nonprofit firms to help others.
The report "Encore Entrepreneurs: Creating Jobs, Meeting Needs," was funded by MetLife Foundation and Civic Ventures. A study sidelight reported that African Americans and women, when compared to other potential entrepreneurs, are more likely to be "involved in their communities, motivated by faith and serious about getting started."
Chicago's Last Black Public CEO Resigns, But Black CEOs Still Have Private Control
Last week, Garry McCullough resigned as CEO of the Career Education Corp., a 14,000-employee, educational-service business with 90 campuses. His departure brought the number of black CEOs at Chicago-area public companies down to zero. 
Black CEOs of major organizations still exist in Chicagoland, but they mostly lead the privately held companies they founded. These are the biggest black-owned companies by sector:
Industrial/service: Harpo Inc. ($289 million); Johnson Publishing Co. ($120 million); Promet Energy Partners ($86 million); Blackwell Consulting ($28 million)
Advertising firms: Burrell Communications Group
Financial services: Seaway Bank and Trust Co., Illinois Service Federal Savings & Loan Association, Highland Community Bank
Asset managers: Ariel Investments LLC (publicly traded), Capri Capital Partners LLC, Holland Capital Management LLC.
Investment banks: Taxable and tax-exempt securities: Loop Capital Markets LLC.
African-American Buying Power Approaches $1.1 Trillion
From The Root: News One reported that black buying power is expected to reach $1.1 trillion by 2015, according to "The State of the African-American Consumer" report. The report, the first of annual installments in a three-year alliance between Nielsen and the National Newspaper Publishers Association, showcases the buying and media habits and consumer trends of black Americans.
Booz Allen Hamilton Appoints Noted Technology Expert
Arthur E. Johnson has joined the board of directors for the global management and technology consulting company, Booz Allen Hamilton. Johnson is a former senior vice president at the tech giant Lockheed Martin. The Morehouse Man and former software engineer also worked at Loral and IBM. He was the founding chairman of the board of trustees of the National Defense Industrial Association.
Urban League: What Is the Best City for Black Companies?
The Root 's Lynette Holloway covered this week's National Urban League Policy Institute study that ranked the top metro areas that are conducive to black-owned businesses and recommends ways to replicate their success. The top city? Washington, D.C., followed by Los Angeles and a tie for third: Detroit and Chicago.
Another Positive Economic Sign in Michigan
Rodney O'Neal, the CEO of Delphi Automotive, a global supplier of electronics and technologies for the automotive, commercial-vehicle and other sectors, is about to lead the company in an initial public offering. He hopes to raise about $578 million. Delphi, with more than 145,000 employees worldwide at 150 manufacturing plants, with operations based in Troy, Mich., moved out of bankruptcy two years ago.
Spelman College's Award-Winning Robotics Team Gets Big Bucks
The National Science Foundation has awarded a $525,000 grant to Spelman College's robotics team, the SpelBots, "to fund and expand science, technology, engineering and math-related outreach." Accolades for Spelman's computer and information science program and the Spelbots are expected. Last year, Spelmanites won a national mobile application contest, besting Stanford and Harvard universities.
In 2009, the SpelBots tied for first place in the RoboCup Japan Open tournament. Spelman has a well-regarded engineering-dual degree program with 14 universities. The schools include Georgia Tech, North Carolina A&T University, Columbia University and the University of Michigan. 
The National Law Journal's Minority 40 Under 40 List
In introducing its list of 40 minority lawyers under 40, the National Law Journal noted that all the attorneys selected had been born in the 1970s, the decade "when law schools and law firms were just beginning to welcome minorities in significant numbers." But now ethnically diverse lawyers "currently comprise only about 6 percent of equity partners."
The black lawyers honored were: David Brown of Paul, Weiss, Rifkind, Wharton & Garrison; Jaret Davis of Greenberg Traurig; Gejaa Gobena at the U.S. Department of Justice; Kyrus Freeman of Holland & Knight; Tracy Richelle High at Sullivan & Cromwell; Robert James Jr., district attorney, DeKalb County, Ga.; Leondra Kruger in the office of the U.S. solicitor general; Lauren Sudeall Lucas at the Southern Center for Human Rights; Chi Mgbakof of Fordham University School of Law; Angela Onwuachi-Willig at the University of Iowa College of Law; Brendon Pinkard of Wiley Rein; Vernessa Pollard at Arnold & Porter; and Philippa Scarlett at Kirkland & Ellis.
Howard Physicians Selected by Peers as D.C. Area Super Doctors
Howard University College of Medicine, Howard University Hospital and the Howard University Faculty Practice Plan doctors were cited as "outstanding practicing physicians in the Washington-Baltimore-Northern Virginia area."
Super Doctors, which lists top doctors, sent surveys to thousands of area doctors asking them to nominate peers in 30 categories. The Super Doctors research staff then evaluated each physician within a range of established measures that included peer recognition and professional achievement.
Real Estate Transaction of the Year in Cincinnati Creates Jobs and Income
Cincinnati honored its commercial real estate best and brightest recently. With the Transaction of the Year, the redevelopment of the city's historic Vernon Manor Hotel area, the majority owner of the property, Real Estate Enterprises for African American Leaders Inc., was honored.
Ed Rigaud is president of Real Estate Enterprises for African American Leaders and owns 51 percent of the property. The project's contracts with black-owned companies are worth an estimated $3 million. A Cincinnati Herald article reported that contracts with minority, women and small business, excluding duplications, are worth about $6.4 million. Many black, women and other minority workers will also be hired. 
Rigaud is president of EnovaPremier, an automobile parts assembly company, and is a former vice president of Food & Beverage at Procter &Gamble. Watch Rigaud speak about the project.
Radio One Opens Its 54th Station, in Houston
Black-owned and publicly traded Radio One Inc. (NasdaqGM: ROIAK) will launch a full-service, 24-hour news station under the name News 92 FM on Nov. 14. The company already owns two other radio stations, Majic 102 and 97.9, the Box, in Houston.
Frank McCoy writes about business for The Root.