Before we begin, we should first acknowledge that all Beckys are the same. Maybe one day in the near future we will have a complete listing of the different kinds of Beckys, but for today, you should just know that according to the National Academy of White Women Arts and Sciences, Taylor Swift is rated as a Class C Becky, which is a midlevel ranking that corresponds to her milquetoast, passive-aggressive whiteness.

Toheeb Jimoh Talks The Power, Acting With Toni Collette, & Ted Lasso on That's So Random
For comparison, if Swift were a drink, she'd be a room temperature Mr. Pibb. If Swift were a dance, she'd be the two-step. If Swift were sex, she'd be a dude with his T-shirt and socks on fucking in the missionary position while the woman has her eyes closed with her hands on his chest to stop him from "going too crazy."
But for all her alabaster averageness, Swift sits in the Beckydom somewhere between Megyn Kelly and the white woman at your job who secretly complained to HR when you wore a Black Lives Matter T-shirt on casual Friday.
On Thursday, Taylor Swift released the first single from her expected-to-be-a-hit album Reputation. Although no one has heard it, it is expected to be another compilation of angst-filled songs calling out her ex-boyfriends, and tunes waxing rhapsodic about how hard it is for a young, blond, millionaire white woman to get ahead in the world.
G/O Media may get a commission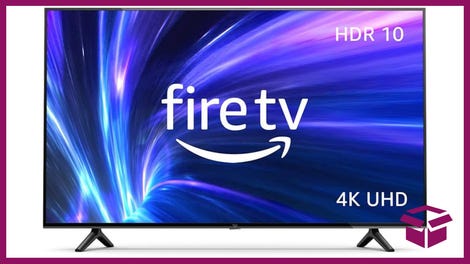 42% Off
Amazon Fire TV 50" 4K Smart TV
Here's the problem: The album will be released on Nov. 10, which is (probably not) coincidentally 10 years after of the death of nemesis Kanye West's mother, Donda, to the exact day.
If you recall, Kanye and Taylor have a long history that dates back to Kanye interrupting Swift at the 2009 MTV Music Awards when she won Best Female Video over Beyoncé's "Single Ladies." I'd like to point out that no one even remembers which song Swift won the award for, while "If you like it, then you should've put a ring on it" has cemented itself in the mainstream cultural lexicon. Since then, Swift has called Kanye out for saying he "made that bitch famous" and then backpedaled after a video surfaced of a phone call in which she told him she didn't have a problem with the song the lyric came from.
If you're thinking "that's kinda tasteless and petty," of course, Black Twitter thought so, too, and of course, they let the world know:
But when she dropped her single, complete with segregated dancers and images eerily similar to Beyoncé's "Formation," Black Twitter had a field day with the photo that looked like it came from a Queen Bey tribute album called Unsweetened Lemonade.
---
Imma let you finish, but ... we now pause this story for an interlude of a Beyoncé- and Taylor Swift-inspired song, with music by Beyoncé and lyrics by The Root's own Corey Townsend:

Y'all haters corny with that white supremacy mess. KKK check my fly and how my white sheets are pressed.
I'm so reckless when I steal the black people's mess. I'm so reckless so I eat this unseasoned breast.
I got mayonnaise in my bag. I see it I steal it. I whine 'til I own it. I complain hard, 'til AppleCare said I owned it.

Ok Becky now let's get segregating. 'Cause we steal. Ok Becky now let's get segregating.
Prove to me you got no coordination. Steal Becky or you get eliminated
Three seconds later he fucked me so I took his ass to Golden Corral
Drop him off at the mall, let him buy khakis & polos 'til he ball out.

Might steal your song and get it played on another radio station. (Segregation)
Might be a young Donald Trump in the making.
I see it I steal it. I don't work hard and I still own it. I don't go hard. I take what's theirs. They're the real stars. Cause I steal.
---
OK, here are a few more:

Stay tuned for the avalanche of white tears.