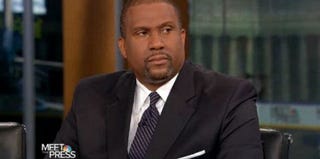 Despite the outrage over his Twitter attack on President Obama's remarks on race in America following George Zimmerman's acquittal, Black America Web reports that Tavis Smiley defended his comments Sunday during an appearance on Meet the Press.
During the interview, he restated his tweet, saying he thought the president's remarks were too little, too late, "as weak as presweetened Kool-Aid." He then went on to criticize the president's role as a leader.
"I appreciate and applaud the fact that the president did finally show up," Smiley said. "But this town has been spinning a story that's not altogether true. He did not walk to the podium for an impromptu address to the nation. He was pushed to that podium. A week of protests outside the White House, pressure building on him inside the White House, pushed him to that podium."

Smiley goes on to say the president is failing to lead on this issue and should "step into his moment."

"But when he left the podium, he still had not answered the most important question, that Kingian question, where do we go from here? That question this morning remains unanswered, at least from the perspective of the president. And the bottom line is, this is not Libya. This is America. On this issue, you cannot lead from behind. What's lacking in this moment is moral leadership. The country is begging for it. They're craving it.
Read more at Black America Web.