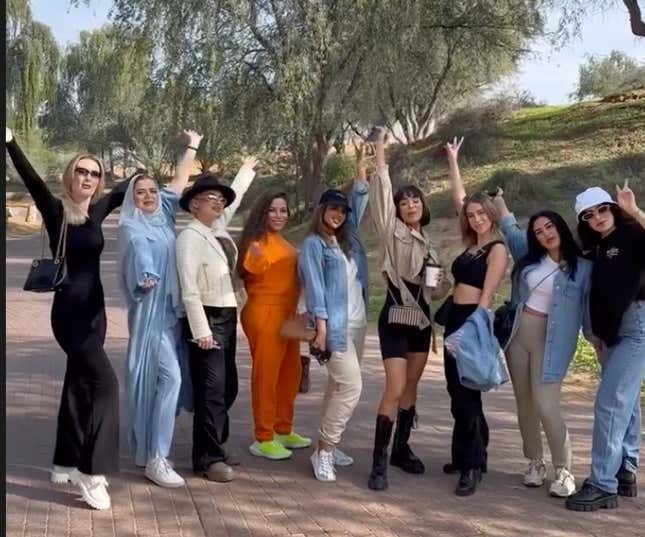 Tarte Cosmetics is catching heat this week for hosting beauty influencers from the U.S. and Europe on an over-the-top trip to Dubai. A collab with Sephora Middle East, the lavish jaunt included an Emirates business class flight and a private villa at the Ritz-Carlton Ras Al Khaimah, Al Hamra Beach, for invitees and their guests. All of that opulence is in honor of the launch of Tarte's new Maracuja Juicy Glow Foundation and Blush Tape. In case you were wondering, a business-class flight from JFK to Dubai on American Airlines would cost you over $12,000 if you tried to book it today.

A Little Fragrance Wax That Goes A Long Way
If your mouth is wide open from the shock of it all, I should tell you that Tarte is not new to this. The cosmetics brand has sponsored over 20 influencer trips since 2015, only taking time off during the height of the COVID pandemic. And the company gets a major return on its investment. The beautiful backdrop has provided the perfect setting for the company and its popular guests to post videos of their gorgeous beachfront rooms filled with sunshine and tons of Tarte swag.
Just one TikTok from influencer Meredith Duxbury during her time on the trip was viewed 1.7 million times.
But while the influencers were out there living their best life, others were left wondering if sending people on such a swanky trip when the rest of us can barely afford the price of gas or a dozen eggs is totally tone-deaf.
In an interview with Glossy, Tarte founder Maureen Kelly defended the company's decision, saying their marketing budget is better spent impressing influencers than buying a 30-second ad. "Every day, brands make decisions about how to spend their marketing budgets. For some companies, that means a huge Super Bowl commercial or a multi-million-dollar contract with a famous athlete or celeb. We've never done traditional advertising, and instead, we invest in building relationships and building up communities," she said.
This isn't the first time Tarte has come under fire for being out of touch. In fact, Black people canceled the cosmetics company a long time ago for the lack of diversity in their color palette.
We can't forget the disappointment that was Tarte's highly-anticipated Shape Tape concealer, which dropped in 2018 with 15 shades and only 3 for women of color. The Insta-hate came so fast and furious that the brand had to disable the comments. Tarte went back to the lab and came back with a few more inclusive shades, but it was too little too late.
But bringing it back to the Dubai trip, it wasn't lost on us that almost all of the guests were white. Monet McMichael, an influencer with nearly 3 million TikTok followers, seems to be one of the only people of color on the trip.
This left us wondering why other great beauty influencers of color like Bex Campbell and Whitney Madueke were not included.
But in a world where people of color have so many amazing brands to choose from, like Fenty Beauty, Mented, Beauty Bakerie and Pat McGrath Labs, do we really need to worry about whether or not Tarte wants our hard-earned cash?