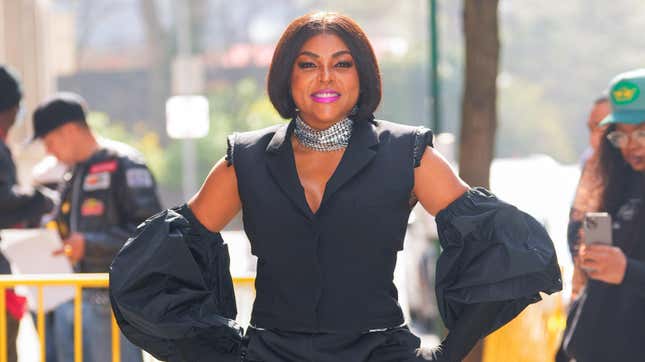 Golden Globe-winning actress Taraji P. Henson has always been a woman for the people and a woman who's intentional about mental health. If it wasn't evident through her popular Facebook Watch series, Peace of Mind with Taraji, then allow her latest partnership with Kate Spade New York to do some further convincing.
Comedian & Star of Netflix's You People, Sam Jay, Plays That's So Random
Speaking in a new interview with Instyle, the Empire star dished on her new initiative with the popular fashion brand and her mental health-centric Boris Lawrence Henson Foundation, which seeks to create more access to culturally competent mental health resources for women and girls by jointly launching the first-of-its kind program on HBCU campuses across the country. Henson's foundation and Kate Spade first joined forces back in January 2022 when she announced as a founding member of Kate Spade New York's Social Impact Council. The Council is comprised of influential women who "champion the integration of mental health into the empowerment agenda of women and girls globally" and "are experts in the fields of mental health and women's issues locally and around the world."
The initial launch for this new initiative officially kicked off at Alabama State University, where they unveiled "She Care Wellness Pods," which will provide:
· Free mental health virtual and in-person therapy sessions for women students experiencing an exacerbation of stress, anxiety and depression.
· Hangout spaces will provide psychoeducation sessions that allow students to connect with peers and mental wellness professionals to address students' specific challenges.
· Self-regulatory practices including yoga, meditation, art, sound and dance therapy, all provided by certified practitioners.
· Workshops and seminars on a variety of student requested topics.
· Rest pods for silence and respite, to reset from daily stressors.
"We prepare these young women to get their diplomas and degrees, but we're not preparing them," Henson explained to Instyle. "They have all these dreams, because I was once in school and I was like, 'Oh my god, once I get my degree, I'm going to go out into the world, I'm going to make a whole bunch of money.' But no one was telling me about the disparity in the job and the pay. No one is telling me about the disparity in healthcare. We want to prepare these women for everything to expect in the world or what they don't even expect in the real world."
She later added, "I have shared and been open with my struggles because I feel like I know people are suffering in silence. And I feel like the more we talk about it, the more people feel they're not alone."
For more information about the initiative and resources available, visit borislhensonfoundation.org.