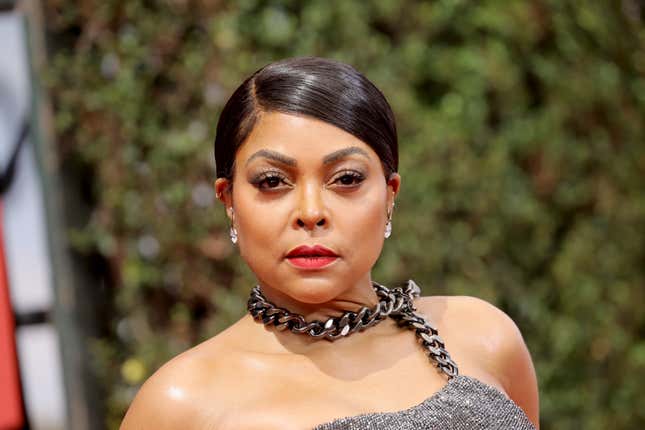 Taraji P. Henson has never shied away from conversations about mental health. The actress recently dropped by the Angie Martinez IRL Podcast, and the two got real right away. In the emotional, nearly 50-minute interview, Henson talked about her ongoing issues with anxiety and depression, and the work she's doing now to make self-care a priority.
Henson revealed that she hasn't been truly happy in a long time – not something you'd expect to hear from a person who always appears to be the life of the party. "It got so dark that I couldn't see and I was afraid, because for the first time, the person who everybody thinks is so strong was not, and I was scared for myself," she said. The Golden Globe Award-winner admitted that she has always done her best to pull others up, even when she's not feeling her best. And while that's compassionate AF, Henson said it can also be exhausting.
Marlon Wayans Sings The White Chicks Anthem, Talks The Daily Show on That's So Random
"I love to make people happy and smile, but what about me?" she said. "Because then I go home in the shadows and the four corners of my room. Who's there to lift me up?"
The Empire actress says finding happiness can be difficult in a world where people are flooded with images of the lives their friends curate on social media.
"Social media is where people post. And they live this fantasy realization. It's not real. Nobody's posting their pain," she said. "They're posting all the good or posting when they come out on the other side. But no one is posting the darkness."
When Martinez asked how happy she was on a scale of 1 to 10, Henson paused before explaining, "I thought I was happy, but the things that I thought was making me happy, they don't cut it anymore," she said fighting back tears. "To be quite honest, I haven't been happy, like purely happy, in a long time."
But Henson said she remains committed to doing the work to make things better. And as part of her commitment to self-care, she is preparing for a month-long solo trip to Bali, the first time she's traveled alone. "It's my own spiritual journey," she said.
Henson said she wants to use the time away to focus on herself without considering anyone else. "I gotta find my happiness," she said. "It's not in my friends. It's not in my momma. It's me. And this is the work I gotta do."
When asked what she's hoping to get out of her excursion, Henson said, she wants to take a break from being the life of the part in hopes of reclaiming some of her innate happiness. "I'm fighting for my joy every day," she said.