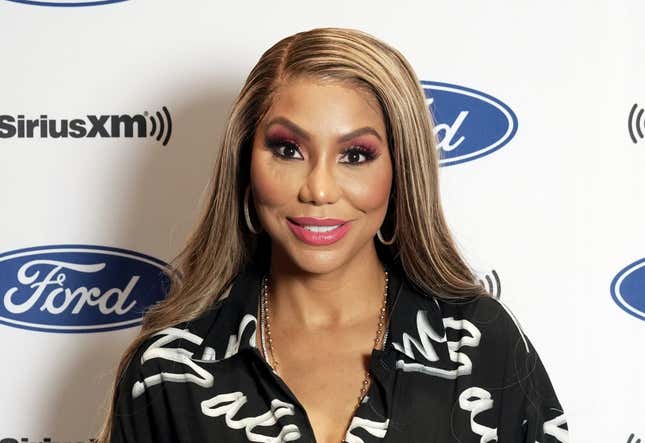 From 90 Day Fiancé, to Love Is Blind, to The Bachelor franchise, TV is full of dating series. It's no secret that the couples from these shows typically don't last. But maybe Tamar Braxton can beat the odds? In the final episode of Peacock's Queen's Court, the singer got engaged to contestant Jeremy "JR" Robinson.

Is That Black Enough for You?!? Is Our TV Pick This Week
The series features Tamar, reality TV personality Evelyn Lozada and singer Nivea dating 21 men while they search for love. Like many other shows in the genre, it ended with a proposal.
"I prayed for somebody to understand me and not look at me and my flaws and just accept me for who I am," Tamar told JR. "And then I met you. And then I saw every single thing that I ever prayed for as a child."
He responded with an equally sweet declaration of love, saying, "I'm not only willing, I'm ready. So much so that I don't wanna be your friend. I wanna be your husband. I'm here forever because I don't see my life without you. And I love you, Tamar. Tamar, will you marry me?"
"I can't believe I found what I was looking for," she said while accepting his proposal.
Look, we've all seen the headlines that come up like a week after The Bachelor/Bachelorette ends its latest season. Usually, the couple you've just spent three months watching breaks up before the show is even finished airing. However, Queen's Court checked in with Tamar and JR and they're not only still together, they're "busy planning their wedding!" It seems I may have to press pause on my cynicism, because these two might prove me wrong.
On Friday, the "Love and War" artist posted an Instagram video of JR wishing her a happy birthday. She wrote, "It's my birthday but I have to post the one who puts this cheesy smile on my face. It took me a while to realize that this wholesome, Traditional love is the kind that I wanted and needed. We have 6 children between the two of us and they mean EVERYTHING to me. So miss me with the he has 4 baby mamas!! Thank God for them. We are blessed And drama free thank God for my best friend, life partner and fiancée @rarebreednola the happiest birthday to me ever my [love] don't miss our whole love story on @peacock #queenscourt streaming now."
It looks like Tamar really has found true love on a dating show, and I genuinely hope it all works out for her. If you want to go back and follow these relationships, Queen's Court is available on Peacock.