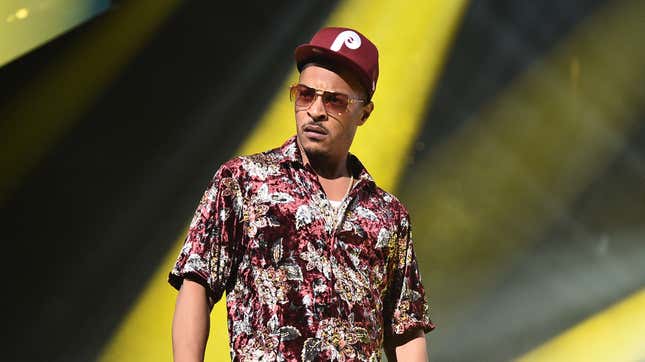 Updated, Wednesday, 11/6/19 at 6:54 p.m., ET: Upon further reflection, it's not "as stupid as." It's much, much worse.
T.I. needs better sex education—or at the very least, healthier boundaries. This is all I can deduce after the rapper, producer, entrepreneur and philanthropist—lauded as an innovator in all of those arenas—showed how ass-backward he is when it comes to women's sexuality and reproductive systems. (For our purposes, we're referring to individuals assigned "female" at birth.)
As reported by Buzzfeed, on Tuesday, T.I. joined Nazanin Mandi and Nadia Moham on their podcast, Ladies Like Us, and disclosed his antiquated and arguably toxic approach to having the "sex talk" with his daughters—using his 18-year-old daughter Deyjah Harris as an example.
"[Y]es, not only have we had the conversation, we have yearly trips to the gynecologist to check her hymen," he said. "Yes, I go with her."
Umm...say what, sir?
T.I. went on to recount that after Deyjah's 16th birthday party (she's now in her first year of college), he "put a sticky note on the door that read: 'Gyno. Tomorrow. 9:30.'"
And what exactly happens in the course of these parentally supervised exams?
"So we'll go and sit down and the doctor comes and talk, and the doctor's maintaining a high level of professionalism," T.I. explains. "He's like, 'You know, sir, I have to, in order to share information'—I'm like, 'Deyjah, they want you to sign this so we can share information. Is there anything you would not want me to know? See, Doc? Ain't no problem.'"
(Please excuse me while I take a moment to retch... Okay, I'm back.)
If, like me, you're wondering about the doctors who don't tell this entirely overbearing father about the myriad ways a hymen can be broken other than sexual penetration, don't worry. T.I. has been told (likely at each visit), but he'll still have that hymen check, thank you.
"And so then they come and say, 'Well, I just want you to know that there are other ways besides sex that the hymen can be broken like bike riding, athletics, horseback riding, and just other forms of athletic physical activity,'" he said. "So I say, 'Look, Doc, she don't ride no horses, she don't ride no bike, she don't play no sports. Just check the hymen, please, and give me back my results expeditiously.'"
And according to T.I., his virginity-policing tactics are working: "I will say, as of her 18th birthday, her hymen is still intact," he boasted.
As if there are no other methods of sexual activity or penetration (since even the hymen check involves digital penetration)? Or instances where the hymen doesn't break with penetration? Or does break with the use of, say, tampons? And what if a woman's hymen is broken through sexual assault, and she prefers not to disclose that fact? What about the fact that some women are born without a hymen? What would that mean for your precious results, T.I.?
In other words: Dad, please remove your attention from your daughter's vagina and train it on a medical book. According to the National Institutes of Health (in a 2019 report aptly titled "The little tissue that couldn't—dispelling myths about the Hymen's role in determining sexual history and assault"), the hymen isn't the virginity litmus test it has long been believed to be—and doctors shouldn't be agreeing to perform them.

An examination of the hymen is not an accurate or reliable test of a previous history of sexual activity, including sexual assault. Clinicians tasked with performing forensic sexual assault examinations should avoid descriptions such as "intact hymen" or "broken hymen" in all cases, and describe specific findings using international standards and terminology of morphological features.

We call on clinicians to consider the low predictive value of a hymen examination and to: 1) avoid relying solely on the status of the hymen in sexual assault examinations and reporting; 2) help raise awareness of this issue among their peers and counterparts in law enforcement and the judicial system; and 3) promote fact-based discussions about the limitations of hymenal examinations as part of clinical education for all specialties that address the sexual or reproductive health of women and girls.
Nursing professor Carol Roye also debunked the mythology of the hymen as a symbol of virtuousness in a 2008 article that bemoaned the many parents who'd requested she perform "virginity checks," as well as the growing and dangerous trend of hymenoplasty (hymen restoration surgery) among grown women.
What strikes me about this surgical trend–and what I don't hear being discussed enough–is the extent to which it shows how little anyone really seems to know about this particular body part.

Because of many women's ignorance about the hymen, they may be having their hymens "restored" to a condition they may never have had to begin with. People often do not know what it looks like or what really happens to it when virginity is lost.
Roye goes on to explain what T.I.'s doctors are apparently too afraid to. For one, she notes that the hymen isn't even the intact barrier so many of us grew up imagining it to be.
"Usually, the hymen looks like a fringe of tissue around the vaginal opening. It is not an intact piece of tissue draped across it," Roye writes, pointing out that were it entirely intact, menstruation would be impossible. "Some girls are born without a hymen, others have only a scanty fringe of tissue. Moreover, for all its fabled mystery, the hymen is just a body part."
Second, like all of our other body parts, each woman's hymen differs, meaning some girls are born with more hymen than others—or none at all.
"It is not so easy to tell whether a girl is a virgin, because hymens are so varied," Roye writes. "If there is not much of a hymen I have no way of knowing what happened to it. Was it a boyfriend or a bicycle? Or, perhaps, this girl did not have much tissue there to begin with."
But perhaps most important, what messages are T.I. and other parents like him teaching their daughters about their bodies? That they are not their own, and they are therefore not entitled to sexual autonomy or the agency to make their own decisions (as if there's not already enough of that going around)? And what messages does it give them about consent?
Another NIH report finds that the effects of hymen checks—and the belief systems that compel them—have far-reaching effects on a woman's psyche, even correlating them with sexual assault. (Ironic, I know.) This is particularly true in countries (or perhaps, families) where virginity is equated with worthiness.
This review found that virginity examination, also known as two-finger, hymen, or per-vaginal examination, is not a useful clinical tool, and can be physically, psychologically, and socially devastating to the examinee. From a human rights perspective, virginity testing is a form of gender discrimination, as well as a violation of fundamental rights, and when carried out without consent, a form of sexual assault.
While that correlation may feel extreme to some, this is not a case of "Blurred Lines." Make no mistake: for T.I. to literally insert his patriarchal ideals into his daughter via virginity inspections isn't protection. It's a violation of her womanhood and sexual development, as well as very dangerous messaging about her worth and ability to own her own body and developing sexuality (She's 18!!!). We won't even get into how much of a violation it is for your father to disclose such intimate details about your genitalia in a public arena.

Thankfully, the internet will give him plenty to think about; social media has been ablaze with criticism of T.I.'s parenting practices, with both "She's 18" and "Tiny" trending (calling on Deyjah's stepmother, Tiny Harris, to intervene). But if for whatever reason you think hymen checks are in any way right, rational, or even relevant...
Check yourself.