I spent my Easter Sunday deviating between inhaling jelly beans and watching Kanye pass out communion wafers through a peep hole. But it looks like recording artist, community activist and serial entrepreneur T.I. spent his Resurrection Sunday being far more impactful.
The Hill reports that the Trap Music Museum founder joined forces with New Birth Missionary Baptist Church and Love and Hip Hop: Atlanta star Scrapp Deleon to raise $120,000 in order to bail out 23 nonviolent offenders.
The New Birth Missionary Baptist Church partnered with the Atlantan rapper as well as Scrapp Deleon of VH1's "Love and Hip Hop," initially seeking to raise $40,000 to bail out nonviolent, predominantly first-time offenders. By the end of Lent, however, they had reached $120,000, enough to bring seven women and 16 men home for Easter Sunday, according to the news outlet.

The program will also connect each beneficiary to a mentor for weekly meetings and put a portion of the donations toward college savings for beneficiaries' children, according to Fox 5.
"For people to just reach out, willing to help out of the blue, them not knowing you from nobody [...] that's a blessing," Tyron Pollard, one of the individuals bailed out by the program, told Fox 5. "I was doing drugs before I got locked up […] but I don't want to do nothing but do right and strive to be a model citizen for my kids."
The program came as a complete surprise to those of whom it bailed out.
After being accused of stealing a car, Anthony Gordon expected to spend the rest of his weekend in the DeKalb County Jail. But just before the holiday, he recalls hearing over the intercom to "pack it up" since he was on his way home.
G/O Media may get a commission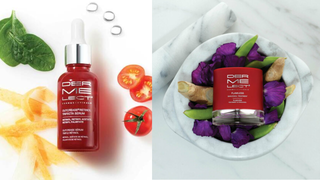 Save $19
Retinol Renewal Kit
"I came back down, and I hit the little intercom and said, 'Are y'all sure you're calling me?'" he said.
New Birth senior pastor Dr. Jamal Bryant said he was pleased with how many people the program was able to help and was moved by the gratitude of its recipients.
"It's almost like finally meeting the good Samaritan—somebody who you don't know that you didn't see coming," Bryant said.
But the "Bail Out" program is doing much more than just giving first-time offenders their freedom. Each individual is assigned a mentor for ongoing, weekly check-ins, and a portion of the money raised will be set aside to help their children attend college in the future.
"They're appreciative to be able to press the refresh button," Bryant added.